Rishi Sunak accused of Cop27 'failure'
Britain showing up to work with world leaders is an opportunity to grasp. Not an event to shun: Labour leader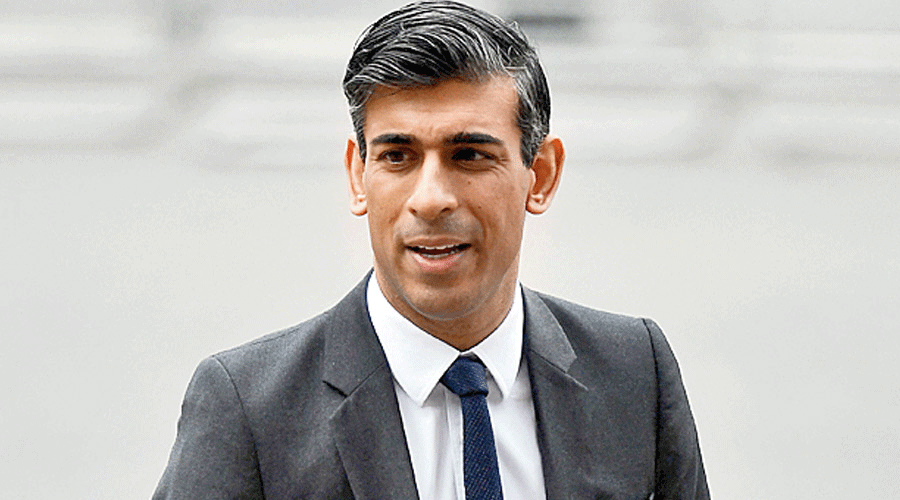 ---
London
|
Published 30.10.22, 12:56 AM
|
---
Rishi Sunak has been accused of "a failure of leadership" for not attending Cop27 in the Egyptian resort of Sharm el-Sheikh from 6-18 November or even allowing King Charles to go to the global climate change conference.
But the Prime Minister his defended his decision to stay away despite widespread criticism, pointing out: "I just think, at the moment, it's right that I'm also focusing on the depressing domestic challenges we have with the economy. I think that's what people watching would reasonably expect me to be doing as well."
He stressed that he remains "very passionate" and "personally committed" to leaving behind "a better environment for our children and grandchildren".
Rishi's spokesman at 10, Downing Street, explained the Prime Minister was focusing on domestic issues including preparations for the autumn budget, which has been delayed from October 31 to November 17. "The Prime Minister is not expected to attend Cop27 and this is due to other pressing domestic commitments including preparations for the Autumn Budget."
Britain will be represented by Alok Sharma, who has been president of COP26, both under Boris Johnson and Liz Truss, but Rishi has stripped him of both his cabinet rank and ministerial position – possibly for backing Boris's return to Downing Street.
Rishi was attacked by the Labour leader, Keith Starmer, who said: "Britain showing up to work with world leaders is an opportunity to grasp. Not an event to shun."
Labour's shadow climate change secretary, Ed Miliband, twisted the knife: "This is a massive failure of climate leadership. We were the Cop26 hosts and now the UK Prime Minister isn't even bothering to turn up to Cop27.
"What Rishi Sunak obviously fails to understand is that tackling the climate crisis isn't just about our reputation and standing abroad, but the opportunities for lower bills, jobs, and energy security it can deliver at home."
Green MP Caroline Lucas poured "shame on" Rishi, adding: "The first test of leadership is to turn up. The new PM's decision not to attend Cop27 makes a mockery of any government claims on continued climate leadership – and what a shameful way to end the UK's Cop presidency."
The UK hosted Cop26 in Glasgow last November. This was attended by Prince Charles, who has long been a passionate advocate of action to combat climate change. Although Charles is thought to be keen to go to Egypt, Rishi is sticking with Truss's decision that the King should not attend Cop27 for reasons that are not entirely clear.
Rebecca Newsom, the head of politics at Greenpeace UK, said the move suggests Rishi does not take climate change "seriously enough".
She said: "The UK Government is supposed to hand over the Cop presidency to their Egyptian counterparts at next month's summit. For Rishi Sunak not to show up is like a runner failing to turn up with the baton at a crucial stage of the relay," she added.
A Number 10 spokesperson reiterated on Friday that the King would not be attending. "As is standard practice, government advice was sought and provided under a previous PM, and it was unanimously agreed that it would not be the right occasion for the King to visit in person."
The British delegation to Cop27 will include the environment secretary Theresa Coffey, who was Truss's closest ally and deputy prime minister.
She said: "Normally the big COPs tend to be every five years. The United Kingdom hosted that last year where we had attendance from many members of the Royal Family. But in between, it tends to be more of, I'm not going to say low key, but not quite the same level of heads of state and prime ministers attending."
Meanwhile, Rishi's wife, Akshata Murthy continues to be news despite trying to keep a low profile.
Saturday's Daily Telegraph revealed she "has received a payout of almost £7m from her father's IT company".
It added that Akshata "owns 39 million shares in Bangalore-based Infosys, or roughly 0.9pc of the business, according to public filings. She benefited from the company's decision to pay a half-year dividend of 16.5 rupees per share on Thursday, entitling her to about £6.8m before tax.
"The payment is on top of another £12m in dividends she received last year. Ms Murthy's stake in Infosys, believed to be the primary source of her wealth, is currently valued at £618m.
"Ms Murthy publicly vowed to voluntarily pay British taxes on all her worldwide income in April, despite being legally entitled not to do so as a non-domiciled resident and Indian citizen."