Republicans refashion a fringe conspiracy theory
Three shootings, three different targets — but all linked by one sprawling, ever-mutating belief now commonly known as replacement theory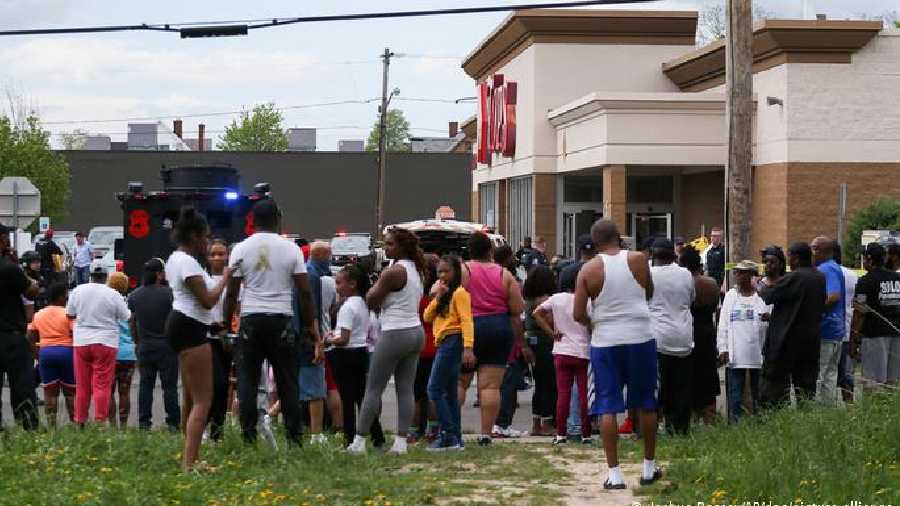 A picture from the shooting spot in Buffalo
File Photo
---
Published 17.05.22, 12:46 AM
|
---
Inside a Pittsburgh synagogue in 2018, a white man with a history of anti-semitic Internet posts gunned down 11 worshipers, blaming Jews for allowing immigrant "invaders" into the US.
The next year, another white man, angry over what he called "the Hispanic invasion of Texas", opened fire on shoppers at an El Paso Walmart, leaving 23 people dead, and later telling the police he had sought to kill Mexicans.
And in yet another deadly mass shooting, unfolding in Buffalo on Saturday, a heavily armed white man is accused of killing 10 people after targeting a supermarket on the city's predominantly black east side, writing in a lengthy screed posted online that the shoppers there came from a culture that sought to "ethnically replace my own people".
Three shootings, three different targets — but all linked by one sprawling, ever-mutating belief now commonly known as replacement theory. At the extremes of American life, replacement theory — the notion that western elites, sometimes manipulated by Jews, want to "replace" and disempower white Americans — has become an engine of racist terror, helping inspire a wave of mass shootings in recent years and fuelling the 2017 Right-wing rally in Charlottesville, Virginia, that erupted in violence.
But replacement theory, once confined to the digital fever swamps of Reddit message boards and semi-obscure white nationalist sites, has gone mainstream. In sometimes more muted forms, the fear it crystallises — of a future America in which white people are no longer the numerical majority — has become a potent force in conservative media and politics, where the theory has been borrowed and remixed to attract audiences, retweets and small-dollar donations.
By his own account, the Buffalo suspect, Payton S. Gendron, followed a lonelier path to radicalisation, immersing himself in replacement theory and other kinds of racist and anti-semitic content easily found on Internet forums, and casting black Americans, like Hispanic immigrants, as "replacers" of white Americans.
Yet in recent months, versions of the same ideas, sanded down and shorn of explicitly anti-black and antisemitic themes, have become commonplace in the Republican Party — spoken aloud at congressional hearings, echoed in Republican campaign advertisements and embraced by a growing array of Right-wing candidates and media personalities.
No public figure has promoted replacement theory more loudly or relentlessly than the Fox host Tucker Carlson, who has made elite-led demographic change a central theme of his show since joining Fox's prime-time line-up in 2016.
A Times investigation published this month showed that in more than 400 episodes of his show, Carlson has amplified the notion that Democratic politicians and other assorted elites want to force demographic change through immigration, and his producers sometimes scoured his show's raw material from the same dark corners of the Internet that the Buffalo suspect did.
"It's not a pipeline. It's an open sewer," said Chris Stirewalt, a former Fox News political editor who was fired in 2020 after defending the network's decision to call Arizona for then-candidate Joseph R. Biden.
"Cable hosts looking for ratings and politicians in search of small-dollar donations can see which stories and narratives are drawing the most intense reactions among addicted users online," Stirewalt said.
Social media sites and Internet forums, he added, are "like a focus group for pure outrage".
In just the past year, Republican luminaries like Newt Gingrich, the former House Speaker and Georgia congressman, and Elise Stefanik, the Centre-Right New York congresswoman, have echoed the replacement theory.
(New York Times News Service)