Religious freedom on Pompeo's lips
Mike Pompeo on Wednesday called for the need to "stand up together for religious freedom"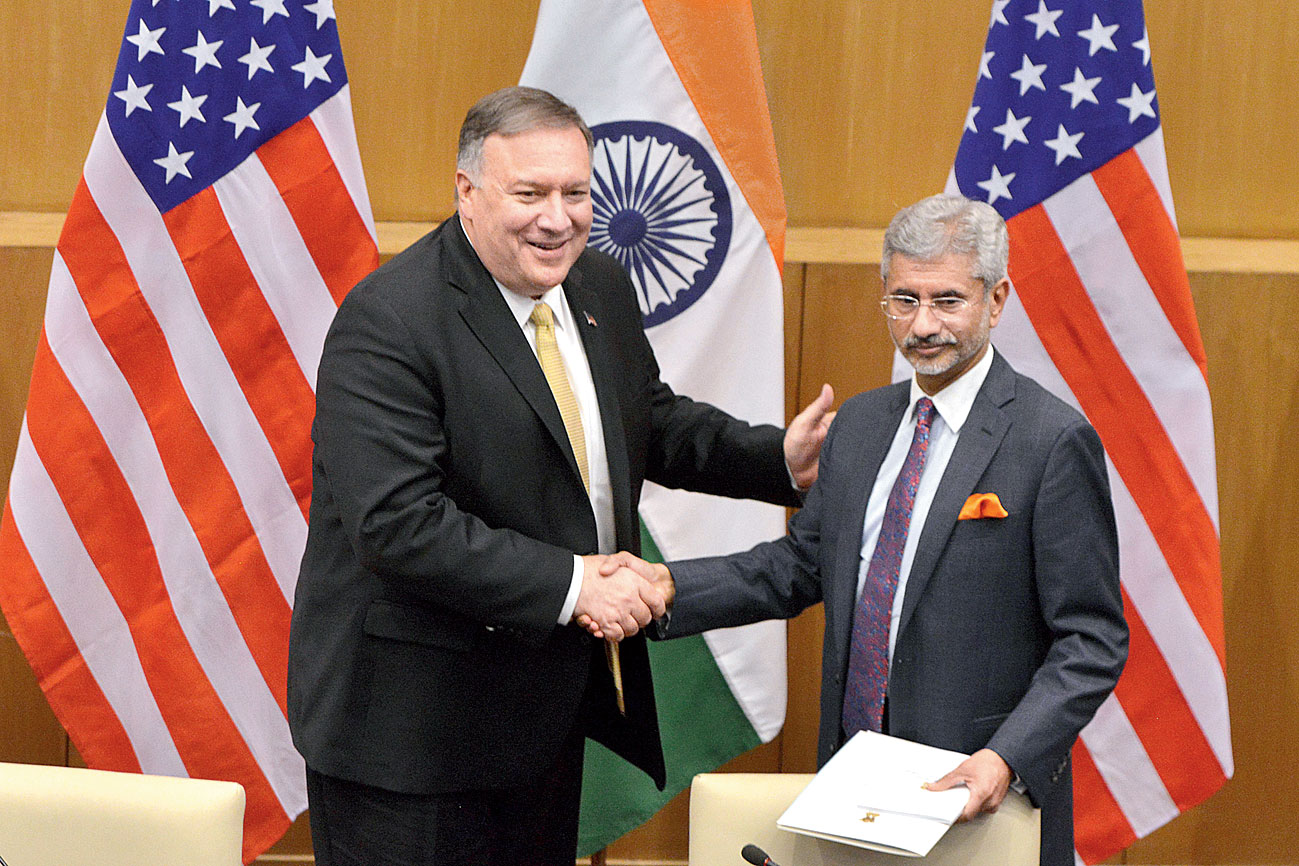 US secretary of state Mike Pompeo (left) with Indian foreign minister S. Jaishankar in New Delhi on Wednesday
(Picture by Prem Singh)
---
New Delhi
|
Published 26.06.19, 09:40 PM
|
---
US secretary of state Mike Pompeo on Wednesday called for the need to "stand up together for religious freedom", his assertion from Indian soil coming days after New Delhi had told off America that such issues were part of the country's internal matters.
"India is the birthplace of four major world religions," Pompeo said, delivering what was billed as an "India policy speech".
"Let's stand up together for religious freedom for all, let's speak out strongly together in favour of those rights for whenever we do compromise those rights, the world is worse off."
India had on Sunday said no foreign country had the locus standi to comment on religious freedom in India, responding to a report of the United States Commission on International Religious Freedom. The state department oversees the USCIRF.
The report, released by Pompeo on Friday, had criticised BJP office-bearers for hate speech and alleged state protection to cow vigilantes.
Diplomatic sources had on Tuesday told reporters that India had no intention of raising the issue with Pompeo during his day-long visit as New Delhi viewed religious freedom within the country as an internal matter.
The statements by Pompeo and foreign minister S. Jaishankar earlier in the day made no mention of the report.
Pompeo's comment on religious freedom towards the fag end of his visit was the only perceivable discordant note on a day of engagement that saw the two sides make every effort to project differences on trade issues and sanctions on Iran and Russia as par for the course in a relationship that is based on deep and broad convergences.
"Obviously, there will be some issues on which we have our individual perspectives but I think for us today both as countries and as Foreign Ministers harmonising our interest and our views, that is really the task of diplomacy and I think Secretary Pompeo would agree with me today that we have earned our pay," Jaishankar noted in his press statement.
Pompeo in his statement said: "We see each other not just as bilateral partners but as friends who can help each other all around the world. Great friends are bound to have disagreements. The US seeks greater market access and removal of trade barriers in our economic and trade partnership. We addressed these differences in the spirit of friendship and we will keep working for a good outcome."
Asked how the US reconciled its talk on the importance of the India relationship with the decisions it has taken vis-à-vis sanctions on Iran and Russia that affect New Delhi as also the missives on the trade front, Pompeo said: "No relationship is free of issues. We had a chance to talk and try to plot a path forward."
Jaishankar tried to play down differences on the trade front by describing them as inevitable among big trading partners. "But the sign of a mature relationship is your ability to negotiate your way through that and find a common ground," he said.
"Perhaps that's not been as effective as it should and could have been in the recent past but both of us are leaving this meeting convinced that we both need to tell our governments that they need to try harder and make this happen."
Both insisted the "noise" around the relationship in recent months didn't capture the full range of the engagement but there were clear indications that on Iran the two countries don't see eye-to-eye, although India has cut back on oil imports from the Gulf country.
While Jaishankar dwelt on energy security, when asked about Iran — stressing that it was important to ensure that global energy supplies remained affordable and predictable — Pompeo dwelt on Iran's terror links.
"We know that Iran is the world's largest sponsor of terrorism and India has suffered because of terrorism," he said.