Queen's 'quite bumpy year'
At a personal level too, 2019 will be a year the Queen will want to forget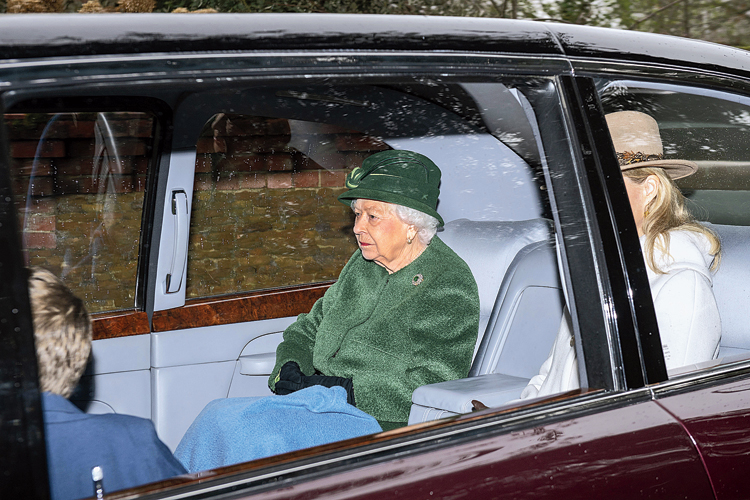 Queen Elizabeth leaves after attending a service at St Mary Magdalene Church in Norfolk on Sunday.
(AP)
---
London
|
Published 23.12.19, 08:04 PM
|
---
Queen Elizabeth, who likes to use coded language, will say she has had a "quite bumpy" year in her Christmas Day message which will seek to heal the divisions in her disunited kingdom brought about by Brexit.
But this is also thought to be a reference to the scandal surrounding her son, Prince Andrew, who stands accused of damaging the institution of the monarchy through his association with a convicted sex offender, the late Jeffrey Epstein, and his "car crash" interview with the BBC denying he had slept with a 17-year-old girl, Virginia Roberts (married name Virginia Giuffre).
Andrew, who once visited Calcutta in his role as a trade ambassador for his country, has stepped down from all his royal duties. Others say he has effectively been sacked.
The Queen, who is 93, recorded her message at Windsor Castle but before her 98-year-old husband, Prince Philip, was taken to hospital in London for "a pre-existing condition".
It is not just Brexit which has divided the nation, broken up friendships and even caused disharmony in families. At a personal level, 2019 will be a year the Queen will want to forget.
Quite apart from the media focus on Prince Andrew, the Duke of Edinburgh was involved in a dramatic car accident, the Duke and Duchess of Sussex spoke about their struggles living in the public eye and Harry even admitted he and his elder brother, Prince William, "are on different paths".
Harry and his wife Meghan are not even in the country. They have missed the Christmas lunch the Queen holds for her family as well as the gathering at her estate in Sandringham and are instead taking an extended break in Canada with their son, Archie.
The British people always understand the real meaning behind the Queen's words.
Speaking about the life of Jesus and the importance of reconciliation, she will speak about "how small steps taken in faith and in hope can overcome long-held differences and deep-seated divisions to bring harmony and understanding".
She will add: "The path, of course, is not always smooth, and may at times this year have felt quite bumpy, but small steps can make a world of difference."
This will the first time the Queen will have referred to controversies that have touched her family.
Commentators will recall she referred to 1992 as her "annus horribilis" after the marriages of three of her children collapsed. In that year Princess Anne divorced, Prince Andrew and his wife, Sarah Ferguson separated, as did Prince Charles and Princess Diana — and Windsor Castle went up in flames.
The Queen will be happier referring to the 75th anniversary of D-Day, which was marked in June.
According to Buckingham Palace sources, she will say: "For the 75th anniversary of that decisive battle, in a true spirit of reconciliation, those who had formerly been sworn enemies came together in friendly commemorations either side of the Channel, putting past differences behind them.
"By being willing to put past differences behind us and move forward together, we honour the freedom and democracy once won for us at so great a cost."