Pro-junta monk targets rebels
Sagaing is a stronghold for the People's Defence Force, which represents Myanmar's exiled National Unity Government, overthrown by a military coup in 2021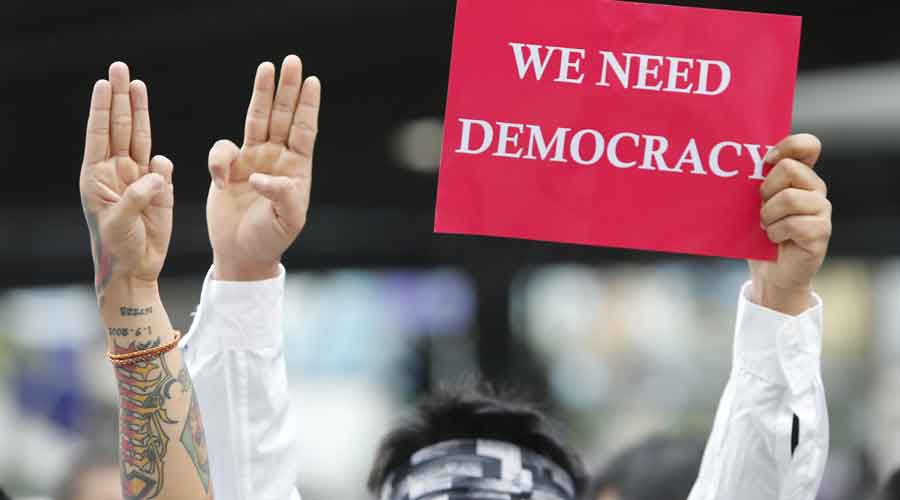 Representational image.
File Photo.
---
London
|
Published 27.01.23, 12:33 AM
|
---
An "evil" Buddhist monk has emerged as the leader of pro-junta militias operating against democracy activists in Myanmar.
The ultra-nationalist known as Warthawa and other monks have been branded "evil" by residents of Sagaing region, where they operate. He uses violence and coercion to force the people of the region to join militias, according to Radio Free Asia.
Sagaing is a stronghold for the People's Defence Force (PDF), which represents Myanmar's exiled National Unity Government, overthrown by a military coup in 2021.
But extremists like Warthawa are now using religion to sway rural and uneducated villagers against the resistance movement. He is the leader of a group of militias called Pyu Saw Htee.
"He deludes the people, telling them that our country will become part of India [if they do not fight]," one PDF fighter in Sagiang said.
Many villagers have fled, said the fighter, who added that each household was being required to supply one person to serve in the militias. Videos have emerged showing Warthawa with other members of the Buddhist extremist group Ma Ba Tha visiting pro-junta villages in the Sagaing region to help train militias.
The monks reportedly boasted to the residents that PDF forces had set fire to nearby villages and killed civilians. "These monks made people delusional through the use of religion, but they are evil monks," said a resident of neighbouring Taze township.
Before the military coup, Warthawa was the leader of Ma Ba Tha, also known as the Patriotic Association of Myanmar.
It is known for stoking hatred and violence towards Muslims and ethnic minority Rohingyas, according to the advocacy group Justice for Myanmar, precipitating the Rohingya genocide that began in 2016.
Since August 2021 Warthawa has reportedly used his standing with the junta to revive the Buddhist ultra-nationalist agenda, which promotes the supremacy of Theravada Buddhism.
Opium production
The production of opium in Myanmar has flourished, with the cultivation of poppies up by a third in the past year as eradication efforts have dropped off and the faltering economy has led more people towards the drug trade, according to a report by the UN Office on Drugs and Crime.
In 2022, Myanmar saw a 33 per cent increase in cultivation area to 40,100 hectares.
The Daily Telegraph in London