Pro-Bolsonaro protest in Brazil fizzles amid boosted security
Despite calls for a 'mega-protest' to 'retake power' turnout was significantly low in major cities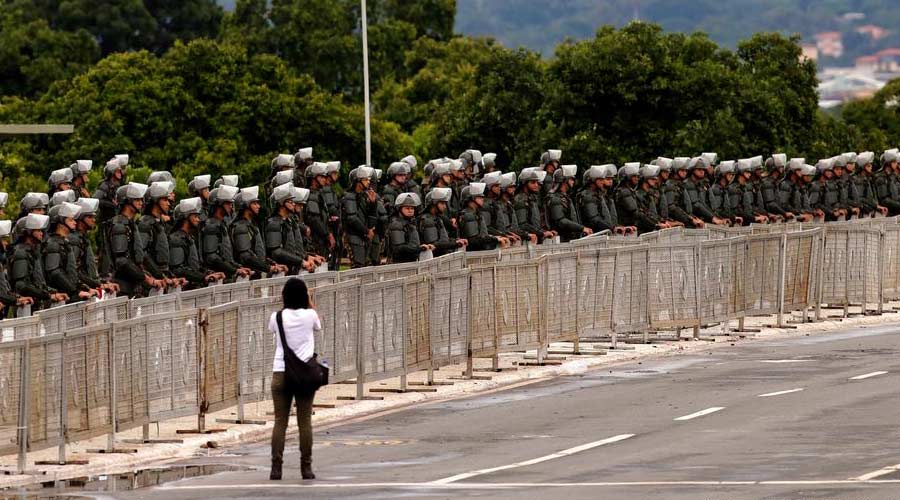 Despite being widely announced by social media, the protests did not take place and did not have supporters of the former president.
Deutsche Welle
---
Published 12.01.23, 02:30 PM
|
---
Security was heightened in Brasilia on Wednesday as supporters of former president Jair Bolsonaro ramped up their efforts to launch a new wave of protests.
The call to hold a "mega-protest" in several cities "to retake power" circulated on social media. Anticipating what was being touted as a major mobilization, security officials stood geared up with helicopter backup. Only a small number of demonstrators turned up at the planned protest sites.
Journalists outnumbered protesters at Rio de Janeiro's Copacabana beach, where less than 10 protesters showed up, according to media reports.
The AFP news agency said there was "virtually no turnout" in Brasilia, Rio de Janeiro and Sao Paulo.
Just one couple showed up in Brasilia's esplanade, which is surrounded by federal government buildings, the Associated Press news agency reported.
"We were surprised to be the only ones here today," the AP quoted as saying Eunice Carvalho, a 58-year-old housewife who was joined by her husband. "People got scared after the imprisonments, which were excessive."
Brazil authorities feared fresh unrest
Thousands of Bolsonaro supporters stormed the presidency, Congress and Supreme Court in Brasilia on Sunday.
About 1,500 people were arrested by the next day.
Fearing a repeat of Sunday's violence, authorities sought to quell any efforts that could have resembled Sunday's rampage, in which hundreds of protestors stormed the government's three most important buildings.
Since Bolsonaro's defeat in the last presidential election, his supporters have been clamoring for the military to launch a coup against Bolsonaro's successor Luiz Inacio Lula da Silva.