Prince William and Harry lash out at BBC over Diana interview
An inquiry by Lord Dyson, a former supreme court judge, found that journalist Martin Bashir used forged bank statements to help him secure probably the scoop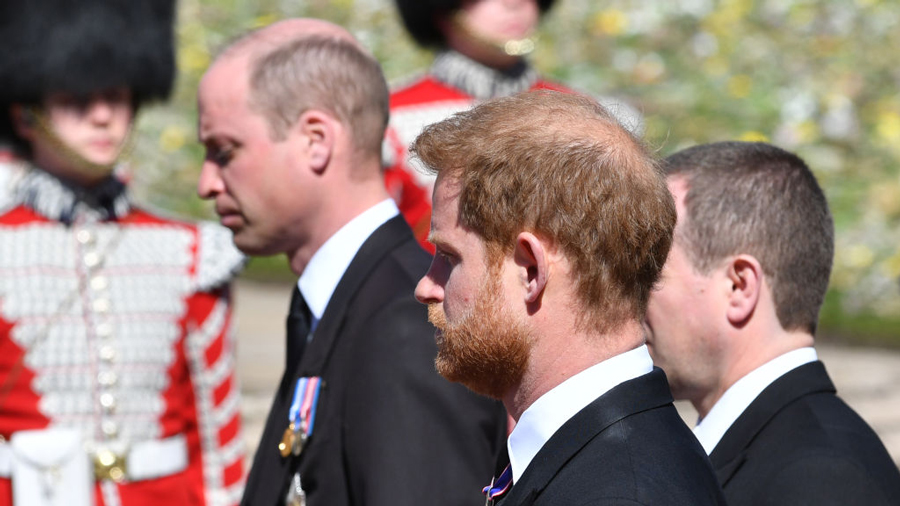 ---
|
London
|
Published 22.05.21, 01:05 AM
---
Prince William and his younger brother Prince Harry have lashed out at the BBC over the sensational Panorama interview conducted 25 years ago with their late mother, Diana, Princess of Wales, by the journalist, Martin Bashir.
Two years after the interview, Diana was killed in a car crash in Paris. Bashir's detractors say the history of the royal family might have been different if only Diana had not been duped into giving that fateful interview.
An inquiry by Lord Dyson, a former supreme court judge, found that Bashir used forged bank statements to help him secure probably the biggest scoop in British TV history — his exclusive interview with Princess Diana on November 20, 1995, in which she dropped a bombshell by saying hers was a "crowded marriage" because there were "three of us in this marriage" — a reference to Prince Charles's mistress and now wife, Camilla, Duchess of Cornwall.
The fake documents were used to convince Diana's younger brother, Earl Charles Spencer, to gain access to the princess and convince her that her staff were being paid by the tabloid press and others, including the intelligence service, MI6, to spy on her. She got rid of security provided by the royal family.
In early 1996, the BBC carried out an internal inquiry but this cleared Bashir and Panorama of wrongdoing.
Dyson was appointed by the BBC on November 20, 2020, to look into the controversial circumstances surrounding the 1995 interview.
William said in a televised statement that the interview fuelled his mother's paranoia and made a "major contribution to making my parents' relationship worse".
"But what saddens me most, is that if the BBC had properly investigated the complaints and concerns first raised in 1995, my mother would have known that she had been deceived," he said. "She was failed not just by a rogue reporter, but by leaders at the BBC who looked the other way rather than asking the tough questions."
In his view, the deceitful way the interview was obtained "substantially influenced what my mother said" in response to Bashir. He added that the original Panorama interview programme had "no legitimacy" and should never be aired again.
Following publication of the Dyson report on Thursday, Harry issued a separate statement from Los Angeles, where he now lives with his wife, Meghan.
Harry said the "ripple effect of a culture of exploitation and unethical practices" at the BBC ultimately took his mother's life. 
"Our mother lost her life because of this, and nothing has changed. By protecting her legacy, we protect everyone, and uphold the dignity with which she lived her life."
The scathing Dyson report found that the BBC basically covered up Bashir's deceit: "By failing to mention on any news programme the fact that it had investigated what  Bashir had done and the outcome of the investigations, the BBC fell short of the high standards of integrity and transparency which are its hallmark."
The curious aspect of the whole inquiry is that Dyson acknowledges that Diana did very much want to give the interview — though the manner in which Bashir obtained it is strongly condemned as is the subsequent behaviour of the BBC. On Thursday night, Panorama broadcast an investigative documentary revealing its own failings.
In his report Dyson deals with the note written by Diana on Kensington Palace notepaper on December 22, 1995, in which she stated: "Martin Bashir did not show me any documents, nor give me any information that I was not previously aware. I consented to the interviews on Panorama without any undue pressure & have no regrets."
"At the heart of this Investigation lie two bank statements which were faked at the request of Mr Bashir by Matt Wiessler, a graphic designer."
In his summary of principal conclusions, Dyson says: "Mr Bashir commissioned the fake bank statements and showed them to Earl Spencer; he acted as described … so as to deceive Earl Spencer and induce him to arrange for Mr Bashir to meet Princess Diana; by gaining access to Princess Diana in this way, he was able to persuade her to agree to give the interview; and by behaving as described, Mr Bashir acted inappropriately and in serious breach of the 1993 edition of the Producers' Guidelines on straight dealing."
Bashir, 58, who returned to the BBC as religion editor after several years in the US, resigned last week on "health grounds". He has had quadruple heart bypass surgery.