Sri Lanka: Gotabaya Rajapaksa agrees to quit after palace stormed
President plans to step down on July 13, says Speaker Mahinda Yapa Abeywardena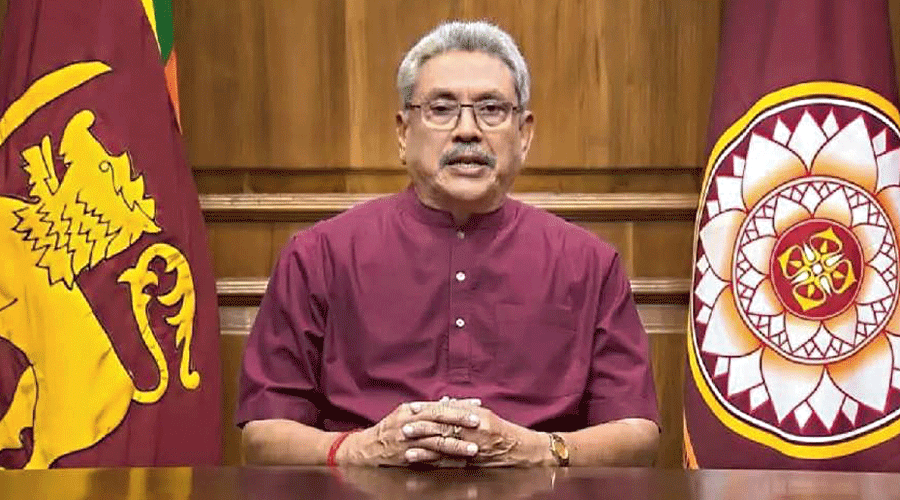 Gotabaya Rajapaksa.
File picture
---
Colombo
|
Published 10.07.22, 03:11 AM
|
---
Thousands of protesters stormed the Sri Lankan President's official residence and set the Prime Minister's private home on fire in Colombo on Saturday as anger intensified over the country's worst economic crisis in seven decades.
President Gotabaya Rajapaksa plans to step down from the presidency on July 13, the Speaker of the country's parliament said on Saturday, just hours after protesters stormed into the presidential house.
Speaker Mahinda Yapa Abeywardena, in a video statement, said Rajapaksa had informed him that he would step down from his post on Wednesday.
"The decision to step down on 13 July was taken to ensure a peaceful handover of power," Abeywardena said. "I therefore request the public to respect the law and maintain peace."
Prime Minister Ranil Wickremesinghe is willing to resign to make way for an all-party government, his office said in a statement on Saturday evening, although it was not immediately clear if this or measures proposed by the parliamentary Speaker would resolve the crisis.
The country's political leaders, including Rajapaksa's own lawmakers, too, have asked him to resign, two lawmakers confirmed.
Two defence ministry sources said Rajapaksa had been moved out of his official residence on Friday for his safety ahead of the planned weekend rally.
His whereabouts could not be ascertained but a video circulating on social media suggested a VIP motorcade had arrived at Colombo airport where a SriLanka Airlines aircraft was parked.
Protesters holding Sri Lankan flags and helmets broke into Rajapaksa's residence, some of them scaling the boundary walls, video footage from local NewsFirst TV channel showed.
Protesters also broke into Wickremesinghe's private residence and set it on fire, the Prime Minister's office said. The Prime Minister had been moved to a secure location, a government source told Reuters.
At least 39 people, including two police officers, were injured and hospitalised during the protests, hospital sources told Reuters.
Thousands also broke open the gates of the sea-front presidential secretariat and finance ministry, which has been the site of a sit-in protest for months, and entered the premises, TV footage showed.
Military personnel and police at both locations were unable to hold back the sloganeering crowd.
A Facebook live-stream from inside the President's house showed hundreds of protesters, some draped in flags, packing into rooms and corridors, shouting slogans against Rajapaksa.
Video footage of protesters standing — and some bathing in the swimming pool inside the President's home — was widely circulated on social media. The protesters were occupying the premises in the evening without violence or vandalism, reports said.
Hundreds also milled about on the grounds outside the colonial-era, white-washed building. No security officials were visible.
Wickremesinghe held talks with several political party leaders to decide what steps to take following the unrest.
"Wickremesinghe has told the party leaders that he is willing to resign as Prime Minister and make way for an all-party government to take over," his office said in a statement.
Speaker Abeywardena said in a letter to Rajapaksa that several decisions had been made at the meeting of leaders from parties — including the President and the Prime Minister resigning as soon as possible and parliament being called within seven days to select an acting president.
"Under the acting President the present parliament can appoint a new Prime Minister and an interim government," said the letter released by the Speaker's office.
"Afterwards under a set time an election can be held for the people to elect a new parliament," the letter  added.
Leaders of several Opposition parties have also called for Rajapaksa to resign.
"The President and the Prime Minister must resign immediately. If that does not happen political instability will worsen," said Sri Lanka Freedom Party leader and former President Maithripala Sirisena, speaking before Wickremesinghe had offered his resignation.
Economic collapse
The island of 22 million people is struggling under a severe foreign exchange shortage that has limited essential imports of fuel, food and medicine, plunging it into its worst economic crisis since independence in 1948.
Soaring inflation, at a record 54.6 per cent in June and expected to hit 70 per cent in the coming months, has heaped hardship on the population.
Political instability could undermine Sri Lanka's talks with the International Monetary Fund seeking a $3-billion bailout, a restructuring of some foreign debt, and fund-raising from multilateral and bilateral sources to ease the dollar drought.
The crisis comes after Covid-19 hammered the tourism-reliant economy and slashed remittances from overseas workers. The problem has been compounded by the build-up of huge government debt, rising oil prices and a ban on the import of chemical fertilisers last year that devastated agriculture. The fertiliser ban was reversed in November last year.
Local media has reported the deaths of at least 15 people in fuel queues, from heatstroke and other causes, since the beginning of the crisis.
Many blame the country's decline on economic mismanagement by Rajapaksa. Largely peaceful protests since March have demanded his resignation.
In May, the President's brother and then Prime Minister Mahinda Rajapaksa was forced out of office, but only after a large group of his supporters marched out of his residence and attacked the camps of peaceful protesters.
The clashes unleashed a wave of violence and vandalism, raising fears that Sri Lanka could break into outright anarchy. Mahinda fled to a military base in the middle of the night.
Curfew lifted
The police had earlier lifted the curfew imposed in seven divisions in the country's Western Province, including Colombo, ahead of the planned anti-government protests, after facing sustained pressure from top lawyers' associations, human rights groups and political parties.
On Saturday, the police used tear gas and water cannons and fired shots in the air but were unable to stop the angry crowd from surrounding the presidential residence, an eyewitness said.
The protesters also clashed with railway authorities in the provincial towns of Galle, Kandy and Matara, forcing authorities to operate trains to Colombo.
Despite a severe shortage of fuel that has stalled transport services, demonstrators packed into buses, trains and trucks from several parts of the country to reach Colombo.
Sampath Perera, a 37-year-old fisherman, took an overcrowded bus from the seaside town of Negombo, 45km north of Colombo, to join the protest.
"We have told Gota over and over again to go home but he is still clinging onto power. We will not stop until he listens to us," Perera said.
The organisers of the movement, "Whole country to Colombo", said many people were walking from the suburbs to join the protesters at Colombo Fort.
"I came here today to send the President home," said Wasantha Kiruwaththuduwa, 50, who had walked 16km to join the protest.
The US ambassador to Sri Lanka, Julie Chung, had on Friday urged the country's military and police to allow peaceful protests.
"Violence is not an answer.… Chaos & force will not fix the economy or bring the political stability that Sri Lankans need right now," she had tweeted.
Violence is not an answer. If you are going to protest, please do so peacefully. And reminding military & police to grant peaceful protesters the space and security to do so. Chaos & force will not fix the economy or bring the political stability that Sri Lankans need right now.

— Ambassador Julie Chung (@USAmbSL) July 8, 2022
On Friday, the United Nations too had urged the "Sri Lankan authorities to show restraint in the policing of assemblies and ensure every necessary effort to prevent violence".