Pfizer, Moderna booster jabs avert Delta, Omicron infections
According to the data published by Centers for Disease Control and Prevention, extra doses are effective against hospitalisation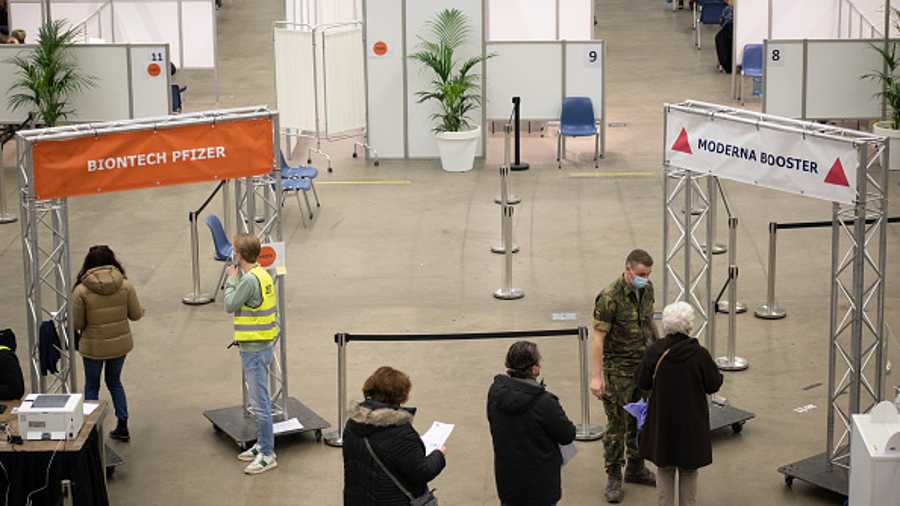 The entrance for the vaccination booths with BIONTECH PFIZER and MODERNA BOOSTER banners. Vaccination center.
Getty Images
---
New York
|
Published 22.01.22, 02:00 AM
|
---
Booster shots of the Pfizer-BioNTech and Moderna vaccines aren't just preventing infections with the contagious Omicron variant —  they're also keeping infected Americans from ending up in the hospital, according to data published on Friday by the Centers for Disease Control and Prevention.
The extra doses are 90 per cent effective against hospitalisation with the variant, the agency reported. Booster shots also reduced the likelihood of a visit to an emergency department or urgent care clinic. The extra doses were most effective against infection and death among Americans aged 50 and older, the data showed.
Over all, the new data show that the vaccines were more protective against the Delta variant than against omicron, which lab studies have found is partially able to sidestep the body's immune response.
It is generally accepted that booster shots keep people from becoming infected, at least for a while. Data from Israel and other countries have also suggested that boosters can help prevent severe illness and hospitalisation, especially in older adults.
"Data from other countries have also shown significant benefit of getting the booster, but this is really showing it in the US," Akiko Iwasaki, an immunologist at Yale University, said. "These numbers should be very convincing."
On Thursday night, the CDC published data showing that in December, unvaccinated Americans 50 years and older were about 45 times more likely to be hospitalised than those who were vaccinated and got a third shot.
Yet less than 40 per cent of fully vaccinated Americans who are eligible for a booster shot have received one.
Friday's results are based on three new studies led by the CDC. In one study, researchers analysed hospitalisations and visits to emergency departments and urgent care clinics in 10 states from August 26, 2021, to January 5, 2022.
Vaccine effectiveness against hospitalisation with the omicron variant fell to just 57 per cent in people who had received their second dose more than six months earlier, the authors found. A third shot restored that protection to 90 per cent.
It's unclear whether protection from the boosters might also wane as it did after two shots, noted Natalie Dean, a biostatistician at Emory University. "We just have to recognise that all these estimates of omicron third-dose protection are going to be people who are pretty recently boosted," she said.
New York Times News Service