Rebuke to clan of autocrats
Nobel Peace Prize awarded to Russian, Ukrainian and Belrusian activists
Award has echoes of the Cold War era, when prominent Soviet dissidents such as Andrei Sakharov and Alexander Solzhenitsyn won Nobels for peace or literature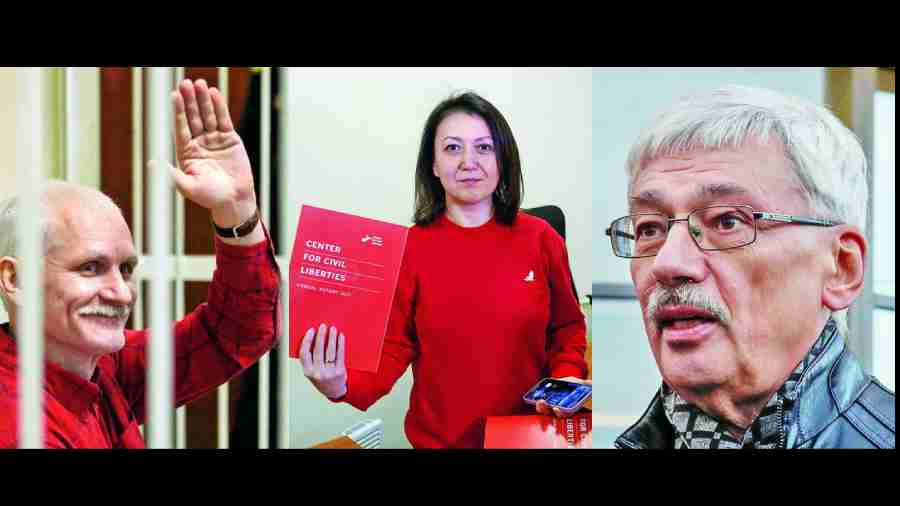 (From left) Ales Bialiatski, Natalia Yashchuk and Oleg Orlov
Agencies
---
Oslo
|
Published 08.10.22, 01:41 AM
|
---
The Nobel Peace Prize was awarded on Friday to human rights advocates in Russia, Ukraine and Belarus who have become symbols of resistance and accountability during the largest ground war in Europe since World War II, set off by Russia's invasion of Ukraine.
The laureates — Memorial, a Russian organisation; the Center for Civil Liberties in Ukraine; and Ales Bialiatski, a jailed Belarusian activist — have emerged as some of the starkest challengers to the widespread misinformation and harmful myths disseminated by authoritarian leaders.
The award has echoes of the Cold War era, when prominent Soviet dissidents such as Andrei Sakharov and Alexander Solzhenitsyn won Nobels for peace or literature.
The prize will be seen by many as a condemnation of Russian President Vladimir Putin, who was celebrating his 70th birthday on Friday, and Belarus President Alexander Lukashenko, making it one of the most politically contentious in decades.
"The Peace Prize laureates represent civil society in their home countries," Berit Reiss-Andersen, the chair of the Norwegian Nobel Committee, said in announcing the awards. "They have for many years promoted the right to criticise power and protect the fundamental rights of citizens."
The committee said its choices reflected its desire to honour the champions of "human rights, democracy and peaceful coexistence" in the neighbouring countries of Belarus, Russia and Ukraine.
"It is not one person, one organisation, one quick fix," she said in an interview. "It is the united efforts of what we call civil society that can stand up against authoritarian states and, or, human rights abuses."
She called on Belarus to release Bialiatski from prison.
The latest Peace Nobel winners' work has taken on new significance since February, when Putin invaded Ukraine, displacing millions of people and destabilising the region.
The prize was an implicit rebuke to Putin, whose tenure has been punctuated with violent crackdowns on dissidents and critics at home.
"On Putin's 70th birthday, the Nobel Peace Prize is awarded to a Russian human rights group that he shut down, a Ukrainian human rights group that is documenting his war crimes, and a Belarusian human rights activist whom his ally Lukashenko has imprisoned," Kenneth Roth, former executive director of Human Rights Watch, said on Twitter.
In response to a question on the birthday overlap, Reiss-Andersen said: "This prize is not addressing President Putin, not for his birthday or in any other sense — except that his government, as the government in Belarus, is representing an authoritarian government that is suppressing human rights activists."
The Center for Civil Liberties in Ukraine has engaged in efforts to document evidence of Russian war crimes since the invasion, Reiss-Andersen said, adding that the group was "playing a pioneering role with a view to holding the guilty parties accountable for their crimes".
The committee praised the organisation for taking a stand to "strengthen Ukrainian civil society and pressure the authorities to make Ukraine a full-fledged democracy".
Belarusian security police in July last year detained Bialiatski, 60, and others in a new crackdown on opponents of Lukashenko.
Bialiatski's wife told Reuters he may not even know of the news, which she tried to break to him in a telegram to a Belarusian prison.
Authorities had moved to shut down non-state media outlets and human rights groups after mass protests the previous August against a presidential election that the Opposition said was rigged.
In Geneva, the Russian ambassador to the United Nations said Moscow was not concerned about the award. "We don't care about this," Gennady Gatilov told Reuters.
In Belarus, the award was not reported by state media.
Memorial, Russia's best-known human rights group, was ordered to be dissolved last December for breaking a law requiring certain civil society groups to register as foreign agents, capping a year of crackdowns on Kremlin critics the likes of which had not been seen since Soviet days.
Memorial board member Oleg Orlov called the prize "moral support", but when asked by reporters if it would help protect his organisation or its work, he said: "I fear not."
(New York Times News Service and Reuters)