Pakistan PM reaches for IMF lifebelt as economy goes into freefall
Shehbaz Sharif says he's willing to accept global lender's tough bailout terms to avert collapse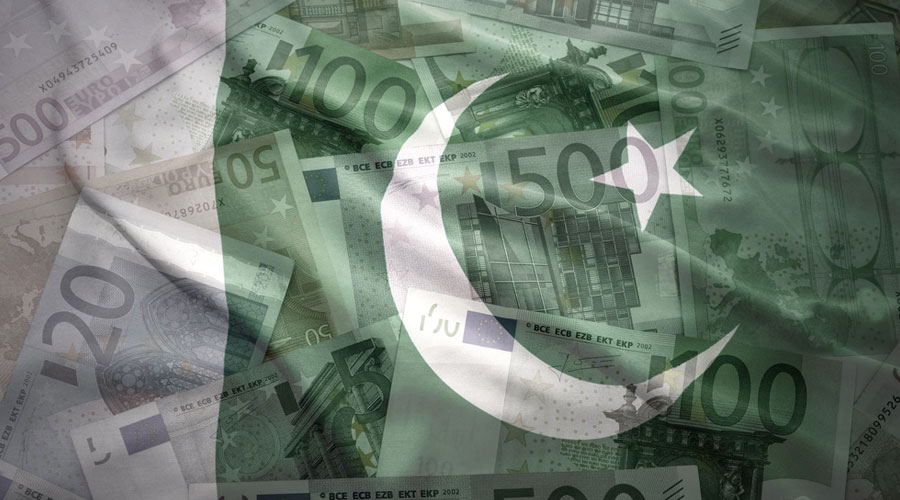 Representational image.
Shutterstock
---
Published 26.01.23, 11:53 AM
|
---
Pakistan Prime Minister Shehbaz Sharif has clearly peered over the edge of the precipice and doesn't like what he's seeing. So he's waved the white flag of surrender – not to us – but to the International Monetary Fund (IMF) which holds Pakistan's future in its hands. 
Sharif says his government has "no other options" but to agree to the IMF's tough bailout terms to stave off risk of a debt default – even though this could mean his party's defeat in the next elections. He will hike the price of electricity and natural gas, both moves that will have a crushing impact on Pakistanis who are already reeling from sky-high inflation.
The lights going out all over Pakistan on Monday –the second grid failure in three months -- somehow seemed to symbolise how the country's economy has been vanishing into a dark hole. Pakistan's interest rates are running at 17 per cent, the highest in a quarter-century; inflation is near 27 per cent; the currency is at a low of Pak Rs 231 to the dollar; and the foreign exchange coffers have only enough funds to cover 25 days of imports.
Companies halt production
The situation's so grim that many companies stopped production starting in early December because they weren't getting permission to import raw materials and parts due to the foreign exchange crunch. And the poorest have been hit by flour and other foodstuff shortages. There have even been "flour riots".
Sharif held an emergency cabinet meeting Tuesday to discuss the crisis and the conclusion was it's impossible for the government to come up with fixes to the mounting economic difficulties without the IMF loan. "We are ready and want to sit down regarding your (IMF's) conditions so that can be concluded and Pakistan moves forward," Sharif said.
"Pakistan is in a doom loop," was the apocalyptic assessment of Princeton economist Atif Mian, who's a Pakistani-American. Adds Dawn newspaper: "It's a symptom of our stalled progress and development that nationwide power blackouts are now considered par for the course."
Imran backs IMF role
Ousted prime minister Imran Khan, meanwhile, has told Bloomberg he's confident of winning the next elections, expected after August. He says he supports a role for the IMF to bolster the economy – though he's not saying he'd accept the agency's harsh bailout terms. He says he's preparing a "radical" plan to prop up the economy. While he's been drawing big crowds, Khan would need the support of the all-powerful military to assume office – no sure thing as the breakdown of his relationship with the army led to his exit last year. 
More than 150 textile companies have shut down in recent weeks because they can't get permission to bring in raw materials like colours for dyeing and printing cloth. Also, they can't get the letters of credit from banks to send export consignments. The textile industry plays a huge role in Pakistan and employs almost 7 million people in the country of 190 million people. Many textile workers have now been laid off or sent home temporarily because the sector's being squeezed so hard. Textiles are Pakistan's largest export industry.
Tariq Yousuf, the President of the Karachi Chamber of Commerce, reckons that 6,000 containers are held up at Karachi port (many for over 60 days) because importers can't get foreign exchange to pay for them, though the chairman of the State Bank of Pakistan (the equivalent of our Reserve Bank) denies it has stopped allowing foreign exchange transactions. Inevitably, stuck containers also mean that importers have to pay for demurrage till they can unload the cargoes.
Pak- Suzuki stops production
The auto companies are in a similar bind. Pak-Suzuki has stopped automobile production for almost a full month and their motorcycle plant has just got back into action. But the company has stopped taking fresh two-wheeler bookings – even though demand has shot up as people are switching back from cars to cheaper-to-run motorcycles. Another company, Beco Steel, announced a few days ago it was stopping production. The company's notice to the Karachi Stock Exchange said: "The company has decided to temporarily halt production activities from January 16, 2023 and continuing until further order."
One Pakistan trade expert reckons that industrial production has tumbled by between 25 per cent and 30 per cent. Says Atif Mian: "There's a temptation to look at financing or current account deficits and say, 'we are short X billion dollars, let's bridge that gap through administrative actions by curtailing imports.' " But he warns this strategy can backfire big-time: "A restriction on imports will inevitably strike at the heart of production networks. If an exporter cannot import raw material, or an intermediate input for production – the entire export chain will break down."
Even worse could be on the way if the IMF rescue package isn't put together quickly. The Pakistan Ship Agents' Association has warned that shipping lines may stop sailing to Pakistan if the country doesn't quickly pay the dollar freight charges. The shipping agents have said foreign lines are already looking at bypassing Pakistan because cargo volumes have slid. Don't forget that Pakistan and India have almost completely stopped trade and nothing comes in from Afghanistan. So, Pakistan is heavily dependent on its sea traffic.
Oil industry faces difficulties
There are reports, too, that the oil industry – though it has been categorised as a priority sector – is also facing difficulties and that some tankers have suffered delays in opening letters of credit. So far, the government insists there aren't oil shortages but many analysts say the rural areas are being starved of fuel.
If all this isn't bad enough, how about Pakistan's outstanding debts? That's where it becomes clear that the country's staggering from one day to another. It owes $23 billion that has to be repaid by June. Out of this, $15 billion has been repaid and creditors have agreed to roll over or postpone payments for about $3 billion. That still leaves the country about $5 billion short and it currently has foreign exchange reserves of only $4.3 billion.
"It is clear that Pakistan is facing huge challenges and if we have taken responsibility, we will make all-out efforts to steer the country out of the difficulties," said Sharif.
IMF to the rescue
Will the IMF come galloping to the rescue now that Sharif has signalled he will accept their terms? Almost certainly. Everyone agrees heavily nuclear-armed Pakistan is a geopolitically strategic country and can't be allowed to become a failed state. But can a country that is acutely poor and already hit by rampant inflation afford to pay hugely hiked gas and electricity bills? The government is expected to increase electricity tariffs by 30 per cent and raise gas prices by 60-70 per cent in a looming mini-budget. And there's no predicting where the rupee will end up if it's put into a free float as demanded by the IMF. The Pakistan rupee was 176 to a US dollar in the second half of January 2022 and it's now at 231. Some economists gloomily forecast it could crash to 300 to the dollar if it's allowed to float freely.
All this comes just months after devastating floods that submerged a large part of the country of 207 million people and destroyed thousands of acres of crops. That's left poor farmers and others even poorer than before.
How does all this affect India? After all, we don't trade with Pakistan and Indian companies aren't affected by our neighbour's economic woes. But could it be that Pakistan's parlous economic situation is pushing their leaders to take a more accommodating line with India? Sharif even told Dubai-based Al Arabiya TV that after three wars his country had learnt its lesson. There are also whispers about behind-the-scenes manoeuvres to settle differences between the two countries pushed by former army chief Jawed Bajwa. India seems to be welcoming Pakistan's shifted stance. We have already issued an invitation to Pakistan for the Shanghai Cooperation Organisation (SCO) foreign minister's meeting in Goa in May.
Peace an unusual by-product 
Could the spinoff from Pakistan's economic woes be an increased desire for better relations with India? For India too having to worry less about its borders with Pakistan would mean India could turn more of its military focus to the disputed borders in Ladakh and Arunachal with China. Peace would be an unusual by-product of Pakistan's economic meltdown but a welcome one.