Pakistan boosts blasphemy laws
Those who insult Islam or its founder face jail time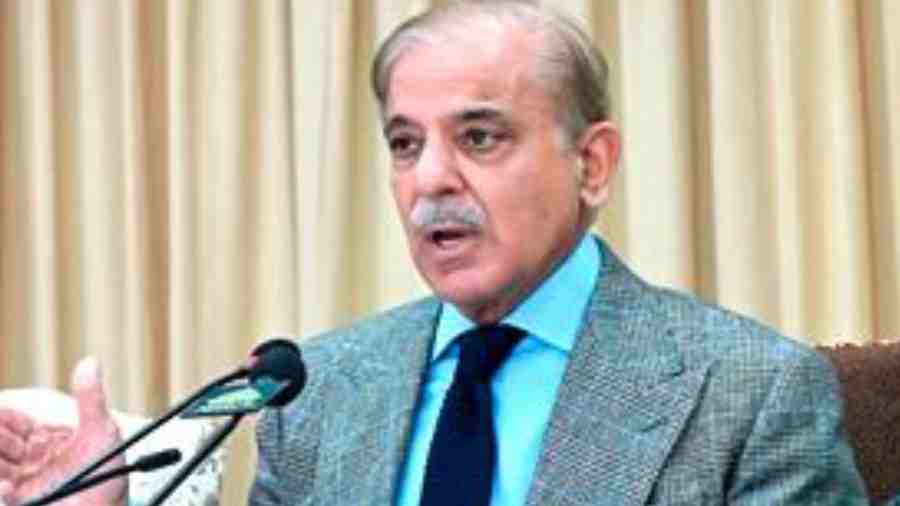 Pakistan Prime Minister Shehbaz Sharif
AP/PTI file picture
---
Islamabad
|
Published 22.01.23, 12:04 AM
|
---
Pakistan's blasphemy laws, which can already mean death for those deemed to have insulted Islam or the Prophet Mohammad, can now also be used to punish anyone convicted of insulting people who were connected to him.
The move this week by parliament to further strengthen the nation's strict blasphemy laws, which are often used to settle personal scores or persecute minorities, has raised concerns among rights activists about the prospect of an increase in such persecution, particularly of religious minorities, including Christians.
As Pakistani society has turned more conservative and religious in the past several decades, religion and the display of religiosity in public life have become ever more pronounced.
Those convicted of insulting the prophet's wives, companions or close relatives will now face 10 years in prison, a sentence that can be extended to life, along with a fine of 1 million Pakistani rupees, roughly $4,500. It also makes the charge of blasphemy an offence for which bail is not possible.
"The punishment for disrespecting these sacred personalities was almost nill earlier," said Abdul Akbar Chitrali, a lawmaker belonging to a religious political party and author of the bill.
The deputy Speaker, Zahid Akram Durrani, called the legislation "historic" as he congratulated the lawmakers for carrying out what many saw as their religious duty.
Rights activists said the latest development left them further alarmed.
"The new legislation is very worrying," said Saroop Ijaz, the senior counsel for Human Rights Watch in Asia. "Pakistan's existing blasphemy laws have enabled and encouraged legal discrimination and persecution in the name of religion for decades."
Those accused of blasphemy against Islam risk becoming targets of mob justice, fatally tortured or shot by angry mobs before legal proceedings can play out.
In many cases, the accusations have arisen out of personal enmities or feuds overland. Not infrequently, the majority Muslim population has clashed with the minority Christian population.
There is also sometimes a political dimension.
Former Prime Minister Imran Khan survived an assassination attempt in November at a political rally. The accused attacker, as well as some officials in the current government, have characterised the shooting as religiously motivated.
Fawad Chaudhry, a former federal minister and a senior leader of Khan's political party, said the government of the current Prime Minister, Shehbaz Sharif, had runa campaign on state-run television last year claiming that Khan had committed blasphemy during his political rallies— an accusation that Khan and his party deny.