Nepal communicates 'formal objection' over Tripura CM Biplab Kumar Deb's comment
He had claimed that the Union home minister Amit Shah, has plans to take the BJP overseas and form governments in the Himalayan country and Sri Lanka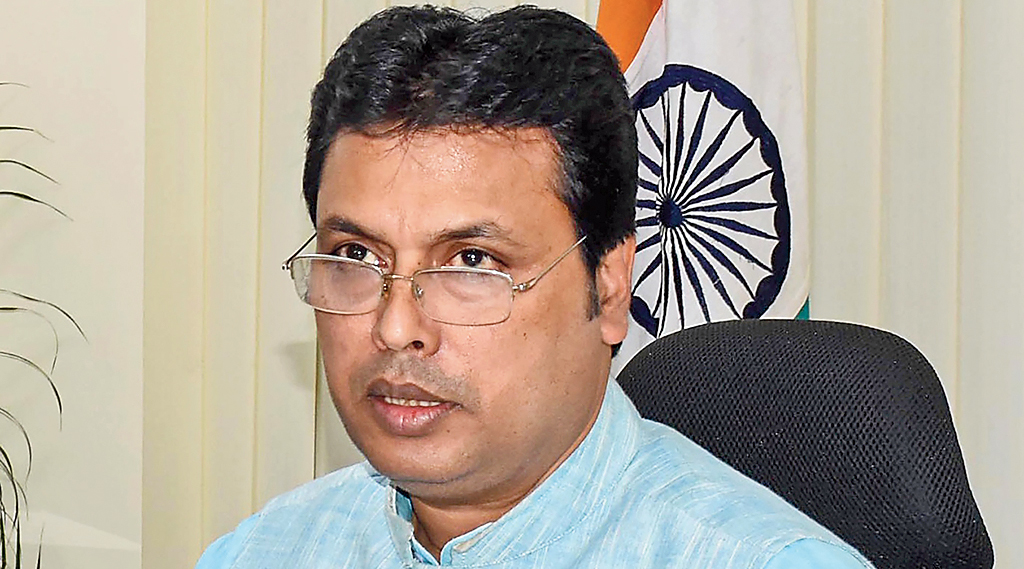 Biplab Kumar Deb.
PTI file photo
---
New Delhi
|
Published 17.02.21, 02:14 AM
|
---
Kathmandu has communicated its "formal objection" to India over Tripura chief minister Biplab Kumar Deb's comment that the BJP plans to expand its footprint to Nepal and win elections there.
On Sunday, Deb had claimed that the Union home minister Amit Shah, has plans to take the BJP overseas and form governments in Nepal and Sri Lanka. Addressing a party meeting in Agartala, Deb had said: "We were discussing about the party at the guest house in Agartala when he (Shah) was the national president. Someone from among us pointed out to Amitji that BJP was doing well in the country...
"In response, Amit Shah said there is still Sri Lanka... Nepal is left. We have to take the party there… we have to win there also. That is his (Shah) mindset, to take the party across the world. Under him BJP became the largest political party in the world, bigger than the bigger communist party."
Nepal's foreign minister Pradeep Gyawali on Tuesday disclosed that Kathmandu had recorded its objections while responding to a tweet drawing attention to a report on Deb's claims. 
"Noted. Formal objection has been already conveyed,'' he tweeted without disclosing any details. The Nepali mission in New Delhi is understood to have raised the issue with the external affairs ministry but there was no official statement.
There has been no denial either of the statement from the BJP since Deb made the claim which is in line with the RSS's idea of Akhand Bharat, that includes Pakistan, Bangladesh Nepal, Afghanistan, Myanmar, Sri Lanka and Tibet. 
On August 15, 2020, the pro-RSS weekly, Organiser, had said: "The idea of Akhand Bharat was originated by the master of the Arthashastra, Chanakya. At the time, the 3rd century BC, the Indian subcontinent — which covered what are now the modern-day nations of Afghanistan, Pakistan, India, Nepal, Burma, Tibet, Bhutan, and Bangladesh — was divided into many independent kingdoms. Chanakya articulated the idea of an Akhand Bharat, which means all states in the region being under one authority, rule, and administration.''
Deb's remarks comes at a time when India and Nepal are trying to mend fences after a year-long strain in their bilateral relationship.
that saw the two countries draw up maps to claim rights over disputed areas and Nepal's Prime Minister K. P. Sharma Oli accuse New Delhi of trying to destabilise his government.