Muslims celebrate overturning of Trump immigration ban
By one count, 42,000 people were prevented from entering the US from 2017 to 2019, mostly from Muslim-majority nations like Iran, Somalia, Yemen and Syria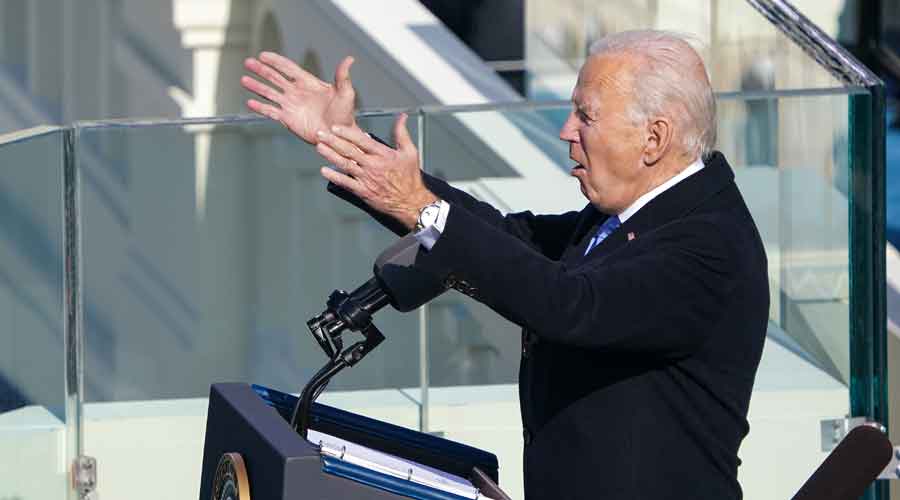 ---
Nairobi
|
Published 25.01.21, 12:11 AM
|
---
As the results of the American presidential election rolled in on November 4, a young Sudanese couple sat up through the night in their small town south of Khartoum, eyes glued to the television as state tallies were declared, watching anxiously. They had a lot riding on the outcome.
A year earlier, Monzir Hashim had won the state department's annual lottery to obtain a green card for the US only to learn that President Donald Trump, in his latest iteration of the "Muslim ban", had barred Sudanese citizens from immigrating to the US.
The election seemed to offer a second chance, and when Trump was eventually declared to have lost the vote, Hashim and his wife, Alaa Jamal, hugged with joy and erupted in wedding-style ululations.
But the couple were on a knife's edge for the next 11 weeks as fraud allegations, legal challenges and the mob attack on the Capitol seemed to cloud the results. Alaa, compulsively checking Facebook, had to stop herself. "I couldn't stand it anymore," she said.
She dared to look on Wednesday when Joseph R. Biden Jr, hours after being sworn in as President, rescinded the entire raft of Trump-era orders that had blocked people across the world, mostly Muslims like herself, from entering the US. She wept with joy.
"Finally, happiness," she said over the phone. "Now we start planning again."
Few foreigners welcomed Biden's election victory as enthusiastically as the tens of thousands of Muslims who have been locked out of the US for the past four years as a result of the Trump-era immigration restrictions popularly known as the "Muslim ban".
By one count, 42,000 people were prevented from entering the US from 2017 to 2019, mostly from Muslim-majority nations like Iran, Somalia, Yemen and Syria. Immigrant visas issued to citizens of those countries fell by up to 79 per cent over the same period.
But the human cost of Trump's measures, stitched into the fabric of disrupted lives stained with tears and even blood, can hardly be counted — families separated for years; weddings and funerals missed; careers and study plans upended; lifesaving operations that did not take place.
Biden said in his order revoking the restrictions that Trump's measures undermined American security, jeopardised its global alliances and presented "a moral blight that has dulled the power of our example the world over".
For some, the reversal simply came too late.
Negar Rahmani had planned to sit out the Trump presidency. After the first immigration directive in January 2017 targeted her country, Iran, Rahmani, a graduate student of neuroscience at the University of Rhode Island, set aside plans to return home. She urged her parents to make do with video calls until a new American President had been elected.Then the pandemic struck and in November Rahmani's 56-year-old mother in Iran was hospitalised with Covid-19, leaving her daughter with an agonising dilemma. If Rahmani, 26, flew home she risked being shut out of the US for good. But her mother's condition was deteriorating rapidly.
Torn, she wavered for two weeks until the disease intervened, and her mother died.
Now Rahmani is wracked by different feelings, she said in an interview: regret at not going home while her mother was alive, and a deep contempt for Trump and the immense pain his policy had caused her.
"I feel like I have been in a cage for four years," she said, breaking into sobs. "I could have gone back every summer. My mom could have visited me. I feel the travel ban in my bones and skin."
Other stories of broken hearts and dashed dreams are scattered across West Asia and Africa, mostly in its most vulnerable and war-torn corners.
By the end, after over 100 court challenges and several iterations, Trump's "Muslim ban" had become an African one, too. It barred entry to most citizens from Iran, Libya, North Korea, Somalia, Syria and Yemen; halted immigration from Eritrea, Kyrgyzstan, Myanmar and Nigeria; restricted selected people in Tanzania; and included Venezuela, too.
Since the doors were flung open last week, many prospective visitors have been picking up the pieces to try again. A travel agent in Libya said there had been a sudden interest in American visa applications. In Nigeria the Biden election will likely "flood the visa offices", said Olajumoke Yacob-Haliso, a political-science professor at Babcock University in Ogun state.
New York Times News Service