Morris, the 'all well' Everest reporter, dead
He has written 40 books, including a notable trilogy about Britain's empire, Pax Britannica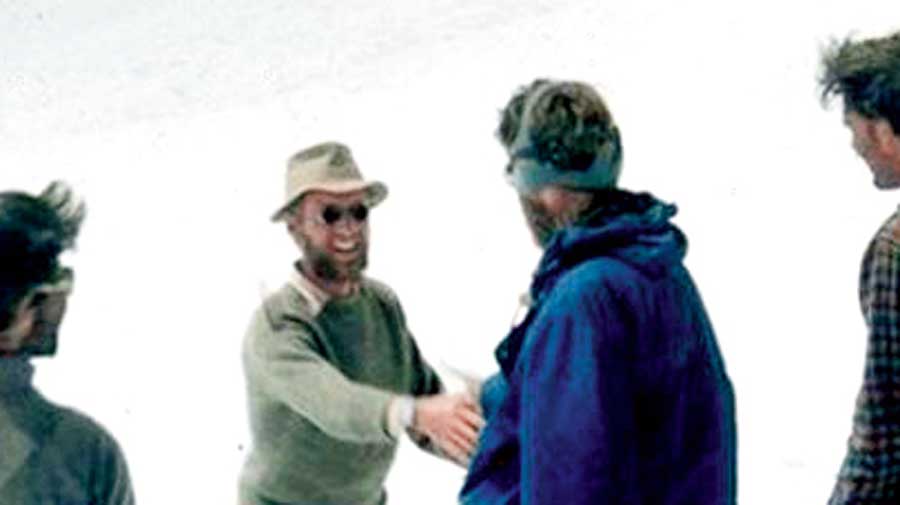 Morris (left) congratulating Hillary after his climb.
Picture credit: Royal Geographic Society
---
London
|
Published 22.11.20, 02:29 AM
|
---
Jan Morris, who scooped the Everest conquest in 1953, has died in Wales, aged 94.
One of Britain's finest travel writers, Morris was famous for two events above all in a colourful and varied life.
One was the world scoop he secured as a 27-year-old reporter for The Times newspaper in London — that on Friday 29 May, 1953, at 11.30 local time, Edmund Hillary and Tenzing Norgay of the British Mount Everest Expedition, led by Col John Hunt, set foot on the highest point on Earth.
The other was his sex change operation in 1972 which saw him "transition from male to female" and James becoming Jan.
The Everest story was held back so that it could appear on June 2, 1953, to coincide with the coronation that day of Queen Elizabeth II at Westminster Abbey.
For James, the only journalist embedded with the expedition, it had meant a hazardous descent in fading light from an altitude of 22,000ft on the mountain.
He did not want rival newspapers to get a whiff of his story so he sent a coded message which was understood by The Times news desk in London: "Snow conditions bad. Advance base abandoned yesterday. Awaiting improvement. All well!"
His scoop appeared, not on Page 1, which was reserved for advertisements, but on Page 6, headlined: "Everest Conquered. Hillary and Tensing Reach the Summit."
The first paragraph read: "A message was received by The Times last night from the British Mount Everest Expedition, 1953, that E.P. Hillary and the Sherpa Tensing Bhutia reached the summit of the mountain, 29,002 feet high, on May 29. The message added: 'All is well.' "
Many years later, Morris, now Jan Morris, told the story behind the story. The coded message had to be sent by runner more than 32km to Namche Bazaar, transmitted by radio to Kathmandu and telegraphed from there to the UK.
"You weren't allowed to use a radio so I had to organise runners to take my dispatches back to Kathmandu," she told BBC Radio.
"It was rather romantic, really, because of the dash down the mountain with the news from Camp Four above the icefall."
She went on: "I had to get down that evening to get the thing away. Anyway it was getting dark, you know, and I was going to go down by myself but (expedition member) Mike Westmacott... said it would be crazy and he would come with me.
"And it was very nasty and the icefall was beginning to melt and I was hopeless, I kept falling over. Halfway down I said, 'Oh, you go ahead, Mike, I'm not going to go any further. I'll stay here for a bit,' and he just said. 'Don't be ridiculous.'
"I was no climber, was not particularly interested in mountaineering. I was there merely as a reporter.
"I guess I would certainly have died. I'm sure. And we went on down together through the developing dusk and nightfall, on down to the camp with the news that only I knew.
"I had to get it through to London. The excitement of it. The romance of it. The Queen was going to be crowned. Can you imagine it all?"
Morris and his wife, Elizabeth, with whom he had five children, were forced to divorce but continued to live together as a devoted couple after he became Jan following surgery at a clinic in Casablanca.
In the 1960s, Morris left journalism, preferring to be simply known as a "writer who travels" rather than a "travel writer".
Morris wrote 40 books, including a notable trilogy about Britain's empire, Pax Britannica.
One of their children, Twm, a poet and musician, announced Jan's death on Friday: "This morning at 11.40 at Ysbyty Bryn Beryl, on the Llyn, the author and traveller Jan Morris began her greatest journey. She leaves behind on the shore her life-long partner, Elizabeth."
Jan Morris's publisher Faber Books paid tribute to her in a statement: "A trailblazer and an extraordinary life force, her wonderful, generous books opened up the world for so many people. We are honoured to have been her publisher for over 60 years."
On India, Jan Morris once wrote: "I have had nothing but kindness in the cities of India, the odd robbery apart, although I never was an admirer of the Indian civilisations, their multiplicity of gods and dogmas, the gaudy elaboration of their architectures. My heart used to sink when I was debouched into the tumultuous streets of yet another immemorial capital, or confronted by the rituals of another holy shrine. This is because I was always there specifically in search of a single brief period among the countless successive layers of Indian history — the period of the British Raj. It was the bungalows, the clubs, the cricket pavilions, the commissioner's offices, the barrack blocks, the steepled churches, the pompous hotels, the drains, canals and railway stations of imperialism that I was after, not your temples, ghats and maharajas' palaces.
"Where are they all now, when I go back to India, having spent 10 years writing about that lost dominion?
"The mighty Viceroy's House in Delhi is mighty as ever, as the residence of India's president. The cricket grounds are livelier and more crowded than ever they were. The ever-kindly Indian people display no resentment, as they show me a half-crumbled bungalow, or direct me to the remains of a long-besieged Residency. And even in Mumbai, Kolkata or Varanasi beside the Ganga river, they only smile tolerantly if I talk about Bombay, Calcutta, or Benares on the Ganges."