Modi's visit 'very very successful': Bhutan PM Lotay Tshering
'After Modi's visit, there is clarity in and consolidation of the India-Bhutan relationship'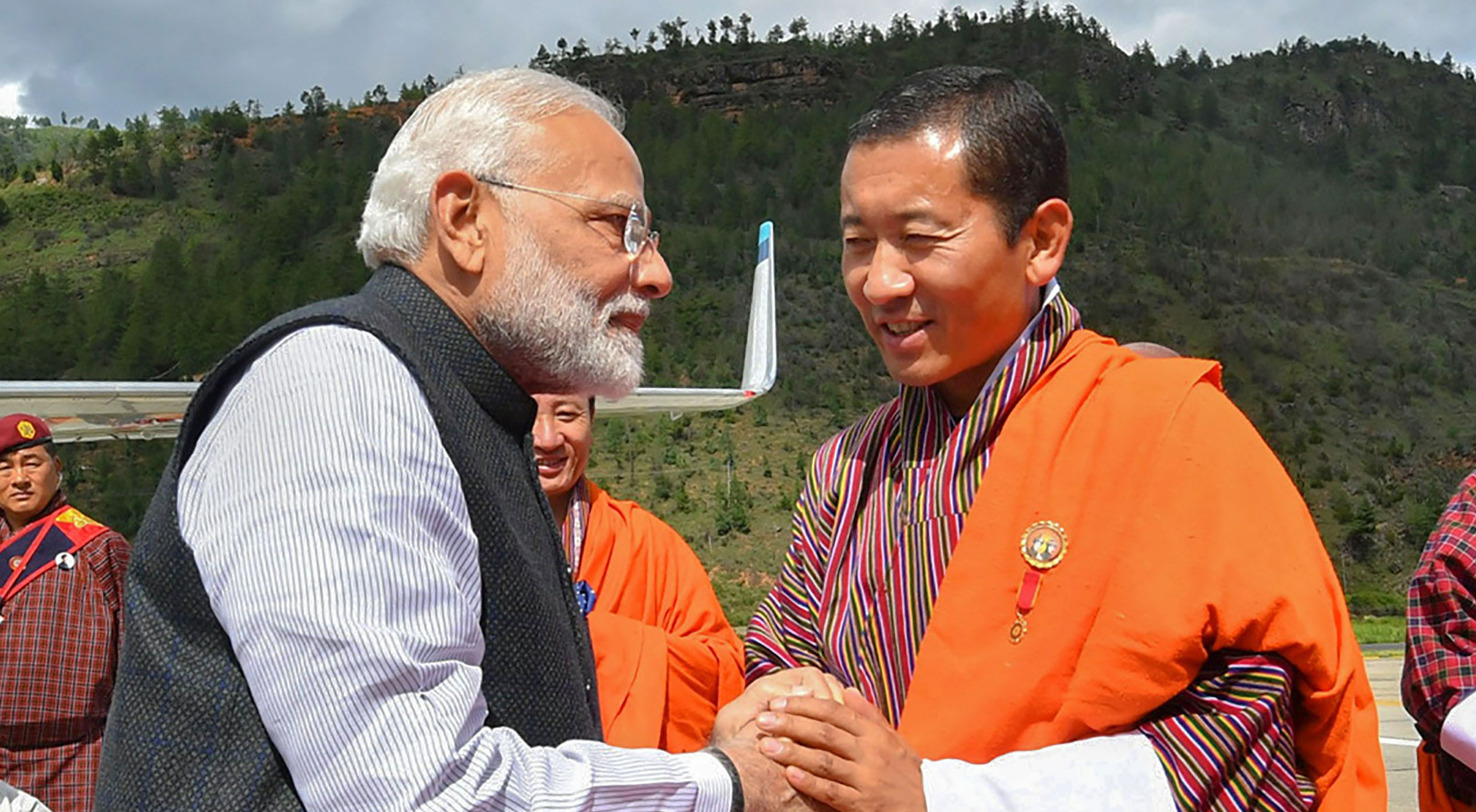 Prime Minister Narendra Modi greeted by dignitaries as he prepares to leave for Delhi, in Thimphu, on August 18, 2019.
(PTI)
---
Thimphu(Bhutan)
|
Published 18.08.19, 07:55 PM
|
---
Bhutan Prime Minister Lotay Tshering on Sunday described Narendra Modi's visit to the Himalayan country as "very, very successful".
Not that the Bhutanese establishment was worried about the possible takeaways from the Indian Prime Minister's visit, but the trip was important for Tshering, who heads the Druk Nyamrup Tshogpa government that came to power last year in a surprise poll outcome.
With Tshering came a new team at the helm and Modi's trip was the first high-profile bilateral engagement for the fledgling government.
"It was a very very successful visit…. We could give what he wanted. We could get what we wanted," Tshering told a news conference that was held within minutes of Modi taking off from Paro airport in an Indian Air Force flight.
Unlike in India, politics is not that competitive in Bhutan, where the monarchy plays an important role in defining foreign affairs, especially relations with India. That's why during his visit, Modi had the audience of Bhutanese king Jimge Khesar Namgyel Wangchuk and his father, the fourth king Jigme Singye Wangchuk.
Modi's state visit to Bhutan was extremely important for Tshering — who came to power on the promise of change and a new deal for the Bhutanese people, especially the youth, in areas such as health, education and job creation. Bridging the digital divide in the country and managing water resources efficiently were the two other prominent pledges of Tshering.
Given Bhutan's links with India, these promises can become reality only with the active support of New Delhi. Observers in Thimphu believe that Modi's message that India would keep in mind Bhutan's priorities would not only boost Team Tshering, but also clearly spell out the future of India-Bhutan relations.
After last year's elections, there had been speculation on whether Thimphu would maintain its close ties with New Delhi or embrace China.
"After Modi's visit, there is clarity in and consolidation of the India-Bhutan relationship. All the speculation is now a thing of the past," an observer said.
According to him, the two-day trip was well thought out, as India's approach looked in sync with Bhutanese concerns.
Unlike in the past, talks on the hydropower sector were only a footnote, while an entire gamut of new issues — from cooperation in space research to knowledge sharing in agriculture — entered the bilateral agenda, which reinforced India's status as a trusted friend.
Several opinion-makers in Thimphu told this correspondent that the biggest takeaway from the trip was Modi's address to youths at the Royal University of Bhutan on Sunday morning, where he spun dreams for the next generation in the Himalayan nation.
"It is even a matter of great happiness that young Bhutanese scientists will travel to India to work on designing and launching Bhutan's own small satellite. I hope that someday soon, many of you will be scientists, engineers and innovators," the Indian Prime Minister said.
Observers believe that the twenty-five minute speech, which was broadcast live, was a clincher as Modi iterated several key messages of the fourth king, who is highly respected in Bhutan, which has seen benevolent royals.
"The percentage of youths in our population is very high. Our fourth king has always laid stress on youths…. At times, Modi was almost echoing him besides prodding the Bhutan youths to pursue their calling," said a Bhutanese official who was present at the morning session.
In his address, Modi also reminded the youths about the two country's history of sharing knowledge. Repeated mention of his respect for the royals and Tshering endeared Modi to the audience.
"I learnt so much about the connection between the two countries…. I must say, after this morning, my interest in India has increased," said Karishma Subba, who is pursuing a teachers' training course in the university.
Her comment will be music to Modi's ears as the Prime Minister had landed in Bhutan with the objective of winning the hearts of the youths. The fact that the mission was successful was evident in the tone and tenor of Tshering's address to the media after Modi left.