Mercenary group won Ukrainian town of Soledar, admits Kremlin
Arguments between Wagner and the Russian army have intensified over the past few months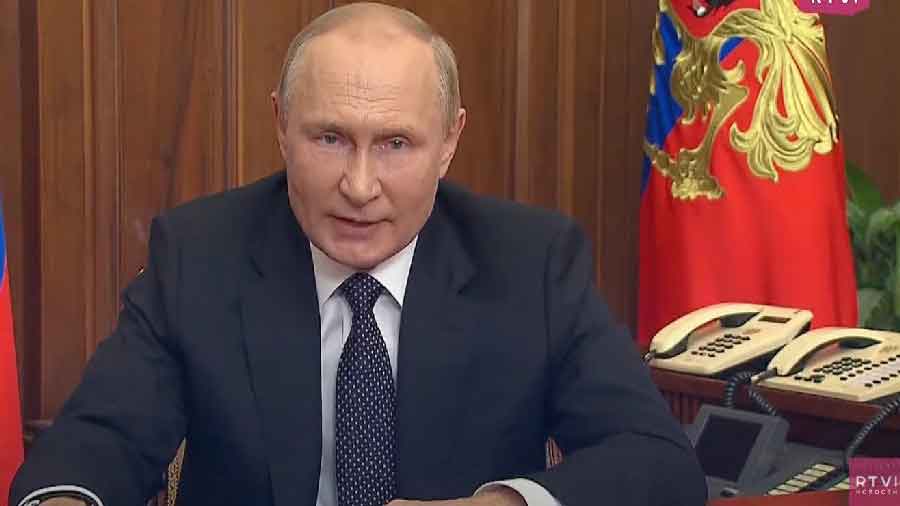 Vladimir Putin.
File picture
---
London
|
Published 15.01.23, 12:42 AM
|
---
The Russian military was forced to concede last night that an increasingly powerful mercenary group had captured the Ukrainian town of Soledar on Moscow's behalf, in a row that overshadowed Vladimir Putin's first battlefield breakthrough in six months.
After Ukrainian forces withdrew from Soledar on Saturday, Russia's ministry of defence proclaimed that its "brave paratroopers" had "liberated" the small salt mining town in Donbas without mentioning the Wagner Group.
But the version of events was swiftly contradicted by Yevgeny Prigozhin, head of Wagner, who said "not a single paratrooper" was involved. In a humiliating admission and rare recognition of the private force, the Russian military later published a statement saying: "This combat mission was successfully implemented by the courageous and selfless actions of the volunteers of the Wagner assault squads."
The public row threatened to undermine the Kremlin's first significant victory since declaring the Luhansk region of Donbas conquered in July. Since then, the Russian army has routed from around Kharkiv in the northeast and has withdrawn from Kherson in the south.
It also highlights the growing power and influence of the Wagner Group, which has the Kremlin's backing but operates separately from the army. The Kremlin had ordered Wagner out into the mainstream earlier this year to reinforce its regular forces, allowing it to recruit openly across Russia and from its prisons, but the Wagner chain of command slowly separated and now only answers to Prigozhin.
Confidence in the Russian military has fallen after the battlefield defeats and the chaotic mobilisation of 320,000 men in September. Putin has tinkered with his military commanders in Ukraine, appointing his third general to run the invasion this week.
Sergei Markov, a well-connected former Kremlin adviser and political commentator, revealed the meeting in St Petersburg between Prigozhinand Putin that "recognised the heroism of the Wagner soldiers".
Arguments between Wagner and the Russian army have intensified over the past few months. Prigozhin, known as "Putin's chef", has regularly accused the Russian military of incompetence and promotes Wagner fighters as an army of heroic can-dos.
The Russian military viewsPrigozhin and Wagner with disdain, as a ragtag bunch of untrustworthy ex-convicts. Wagner mercenaries have regularly been accused of war crimes. Some analysts have said that the capture of Soledad may allow Russian forces to outflank Ukrainian soldiers.
The Daily Telegraph in London