May 'worst post-war PM'
History may be kinder if successor fails over Brexit deal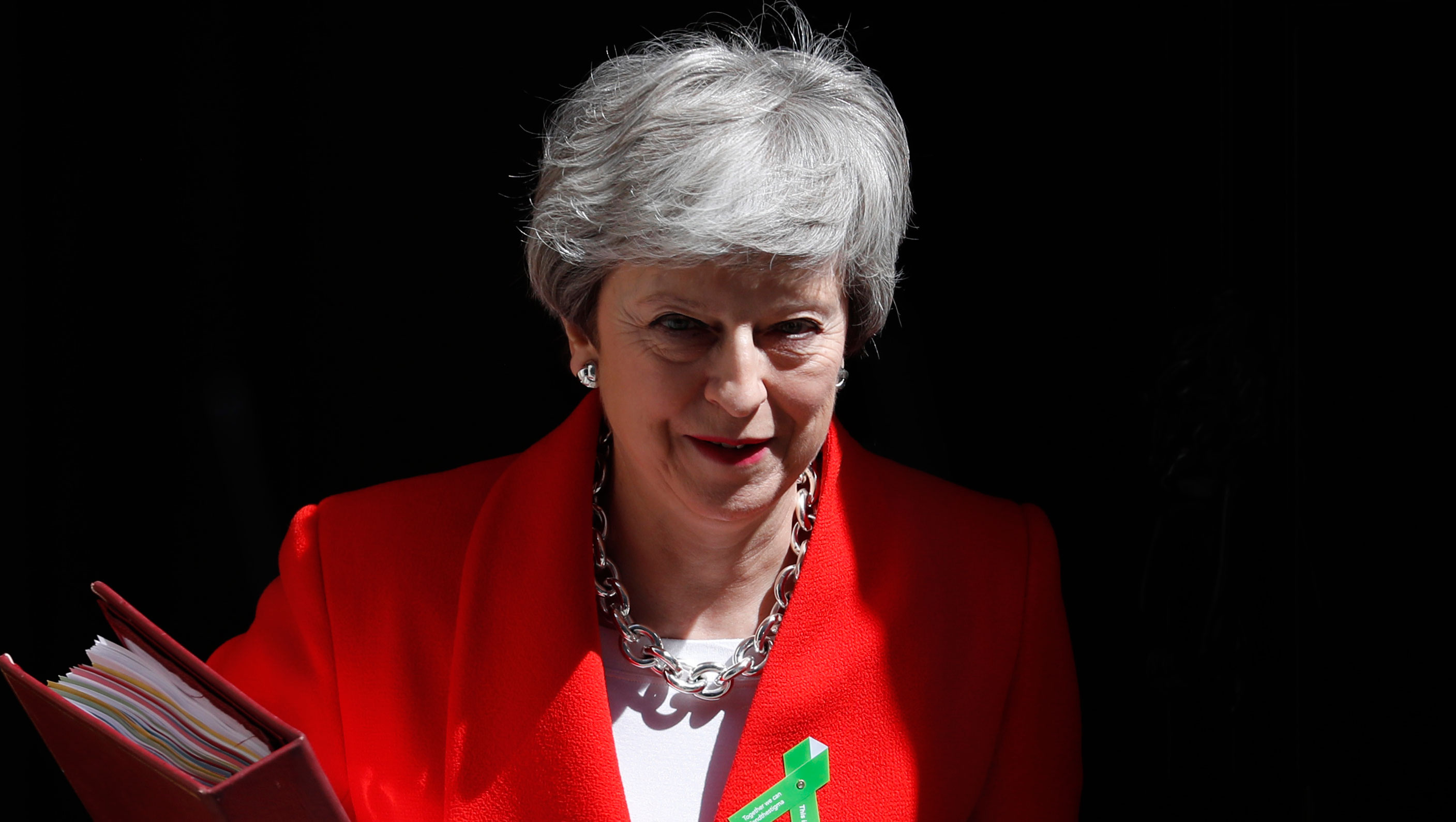 Britain's Prime Minister Theresa May leaves 10 Downing Street for her weekly Prime Minister's Questions in the House of Commons in London, on May 15, 2019.
(AP)
---
London
|
Published 07.06.19, 08:13 PM
|
---
June 7, 2019, will go down in British history as the day when Theresa May stepped down as Tory Party leader, though she will remain caretaker Prime Minister until her successor — most probably Boris Johnson — is elected by the end of July.
History, however, might be kinder to her if it turns out that whoever follows her into 10 Downing Street is unable to achieve a Brexit deal any better than the one she negotiated with the EU but which was rejected three times by the Commons.
For now, she suffers the ignominy of being described as "the worst Prime Minister in post-war Britain" by the Daily Express, a Conservative supporting paper, after a poll of its readers.
The satirical magazine Private Eye marked her departure by bringing out a "Theresa May Memorial Issue", and leaving the cover blank under the headline, "The Prime Minister's Legacy in Full". "Er…That's It," is the comment at the bottom.
Each week during her three troubled years as Prime Minister, Private Eye has published a spoof newsletter from "Mrs T May, MA Oxon, Headmistress (at the time of writing)", of "St Theresa's Independent State Grammar School for Girls (and Boys)".
In the current issue, "Temporarily Closed Down" is proclaimed in red across the name of the school, while under Head Teacher, it reads "situation vacant". Under "The Headmistress Writes", her letter begins with an indirect reference to the 36 resignations from her government: "It is with great sadness that I accept the resignation of yet another member of the senior staff. Myself.
"I have tried to talk myself out of it but in the end it's a matter of principle. I can no longer support the policies that I've been pursuing for so long.
"I would also like to thank myself for my selfless and unwavering dedication to the school and for sticking with me through the good times (the first five minutes) and the bad (the rest)." It is signed Theresa May, "Future Ex-Headmistress (at the time of writing)."
The Daily Express, meanwhile, listed all of Britain's post-war Prime Ministers from Clement Attlee to Winston Churchill, Anthony Eden, Harold Macmillan, Alec Douglas-Home, Harold Wilson, Edward Heath, James Callaghan, Margaret Thatcher, John Major, Tony Blair, Gordon Brown, David Cameron and Theresa May.This was probably not a fair exercise, but asked to nominate "Britain's worst Prime Minister", 42 per cent of readers named May, followed by 23 per cent for Blair (because of Iraq, presumably, though he won three general elections) and 10 per cent for Brown. The paper introduced the poll findings by remarking: "Mrs May's poll disaster came as the Tories were trounced in the Peterborough by-election last night — a sad end to her troubled reign as Prime Minister."
Nigel Farage's Brexit party had high hopes of getting its first MP elected to the Commons in a by-election held in Peterborough on Thursday but Labour (with 10,484 votes) narrowly retained the seat with a narrow majority of 683 on a 48 per cent turnout. But the Brexit party (9,801) pushed the Tories (7,243) into third place. The fear is that at this rate the Tories could be massacred at the next general election, thereby ushering not Farage but Labour leader Jeremy Corbyn, with his allegedly extreme Leftist policies, into Number 10.
From the point of view of Indians in the UK, May has been a Jekyll and Hyde character, who, during her six years as home secretary, spoke sympathetically when she turned up at numerous Asian functions, invariably dressed in Indian clothes picked from her extensive wardrobe.
But on immigration, she introduced a "hostile environment" and deported West Indians who had lived in Britain for many decades and had every right to stay in the UK. Some were even denied NHS treatment for cancer.
It is true that the Brexit problem was one she inherited from Cameron, whom she succeeded unchallenged as Prime Minister on July 11, 2016. But in the end the failure to deliver Brexit brought about her downfall.