May, Corbyn meet to break Brexit deadlock
Two Tory MPs resign in protest against British PM's decision to speak with 'enemy'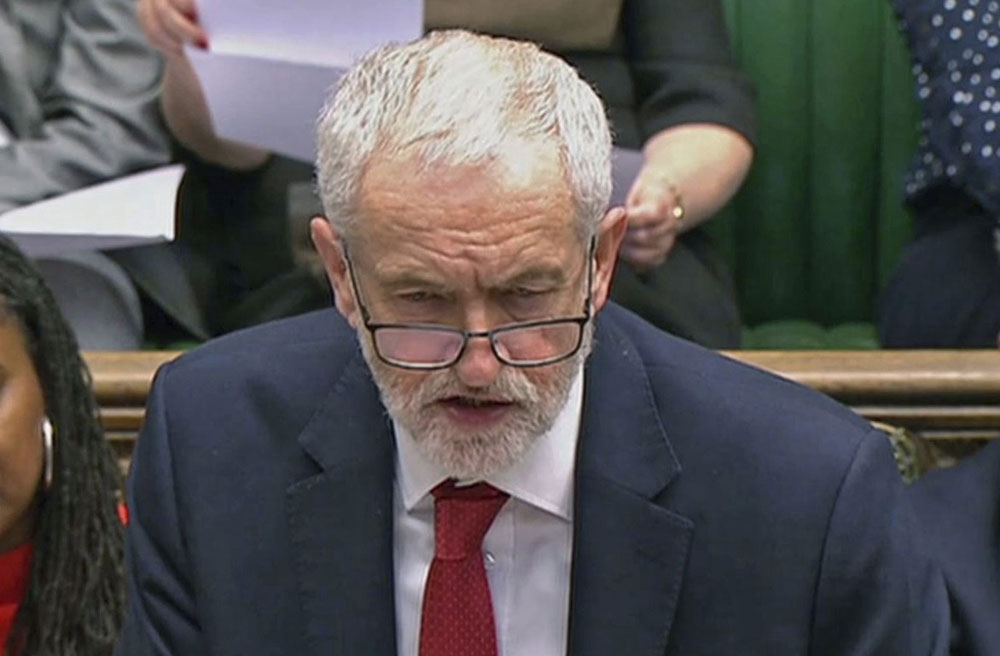 Labour leader Jeremy Corbyn speaks during Prime Minister's Questions in the House of Commons in London on Wednesday
Picture by AP
---
London
|
Published 03.04.19, 07:41 PM
|
---
The British Prime Minister, Theresa May, and Labour leader Jeremy Corbyn met for two hours on Wednesday, with further talks possible at the weekend, a BBC political correspondent reported.
In the Commons, an attempt by MPs to take control of the Brexit process was tied 310-310, with the Commons speaker John Bercow using his casting vote to strike down the motion. This was the first tie since 1980.
However, May's decision to seek the support of the Labour leader — effectively the enemy — was strongly opposed by sections of her own party.
Tory MP Nigel Adams resigned in protest as a minister in the Wales office and as a government Whip. He attacked the Prime Minister for pursuing a new plan "cooked up with a Marxist".
He said May was "simultaneously failing" to deliver the Brexit people voted for in the referendum and prevent "the calamity of a Corbyn government". There was another resignation — that of a Brexit minister, Cris Heaton-Harris, who quit because May had ruled out leaving the EU without a deal.
The former foreign secretary Boris Johnson, who wants to seize what could be his last chance to replace May as Prime Minister, accused her of "entrusting the final handling of Brexit to Labour".
Jacob Rees-Mogg, chairman of the pro-Brexit European Research Group in the Commons, slammed the Prime Minister of planning to collaborate with "a known Marxist" — an extreme view taken by some of the Labour leader.
Corbyn is such a divisive figure that British soldiers from the 3rd Battalion Parachute Regiment deployed in Afghanistan have been using a photograph of the Labour leader for target practice (although with hardened wax and not real bullets).
After incriminating footage appeared on social media, an army spokesman said: "This behaviour is totally unacceptable and falls well below the high standards the army expects. A full investigation has been launched."
In a letter to Tory MPs, May explained why she had offered to hold a summit with Corbyn after a cabinet meeting lasting seven hours on Tuesday.
"Dear colleague," the Prime Minister wrote, "I know some of you would like us to leave without a deal on 12 April. I have always been clear that we could make a success of leaving with no deal in the long term.
"But leaving with a deal is the best solution — for our economy, our security, and for our Union, particularly when Northern Ireland is without devolved government. "That is why, yesterday, Cabinet decided that we will need a further extension of Article 50 — one that is as short as possible and which we can bring to an end as soon as Parliament ratifies the deal for our departure.
"The question is how can we get Parliament to ratify the deal? The Government would have preferred to do so based on Conservative and DUP votes. But, having tried three times, it is clear that is unlikely to happen. So yesterday we agreed to take action to break the logjam. I offered to sit down with the Leader of the Opposition to try to agree a plan to ensure that we leave the European Union and that we do so with a deal.
"If we cannot agree something which the Government is satisfied delivers on the result of the referendum, we will try to agree a number of options that we could put to the House in a series of votes to determine which course to pursue. We stand ready to abide by the decision of the House, but to make this process work the Opposition would need to agree to this too."
"The other element of any deal will need to be a timetable for the Withdrawal Agreement Bill which ensures it receives Royal Assent before 22 May, allowing us to ratify the deal and not have to hold elections to the European Parliament." It remains to be seen what concessions Corbyn will demand in return for Labour support. For many Tory MPs "a customs union" — which is official Labour policy — would be a red line.
Prominent Brexiteer Sir John Redwood said that if May "effectively become the leader of the Labour Party for this most important item and she can command the Labour majority, the fact that I should think well over 100 Conservative MPs would say, 'We don't wish to break our manifesto promise on the customs union,' wouldn't matter. …. I would urge her not to do that."
The BBC's political editor Laura Kuenssberg said there was not much difference between the government's and Labour's version of
Brexit, but there did not seem to be "an enormous amount of confidence" a political consensus could be reached from either party.