Macron, Trump in tense exchange
Leaders put forth duelling visions for Nato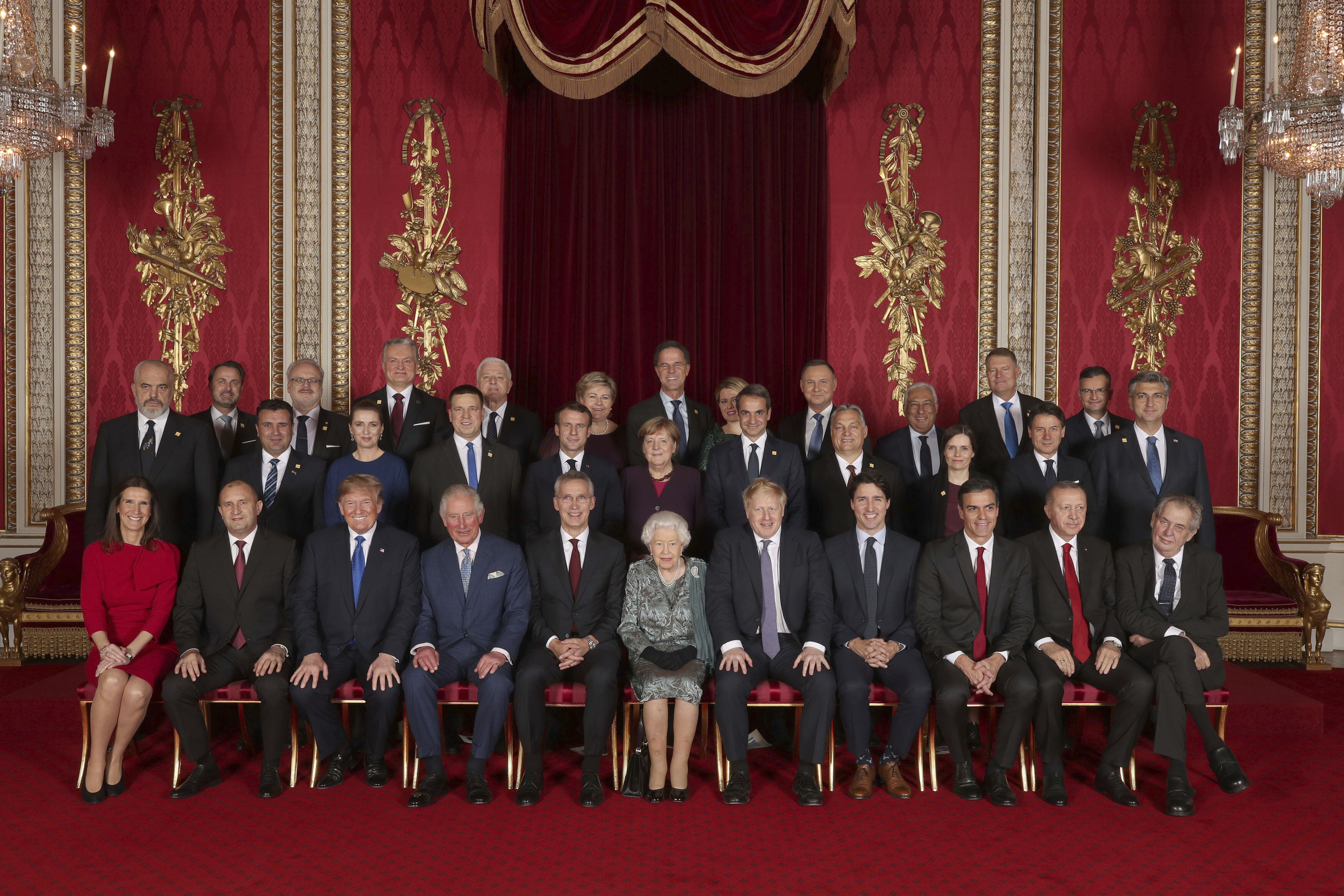 Leaders of the NATO alliance countries, and its secretary general, join Britain's Queen Elizabeth II and Prince Charles the Prince of Wales, during a reception at Buckingham Palace in London on December 3, 2019
(AP)
---
London
|
Published 03.12.19, 09:16 PM
|
---
A once-cordial relationship between President Trump and President Emmanuel Macron of France devolved in a dramatic fashion on Tuesday, as the two leaders publicly sparred over their approach to containing the threat of terrorism and a shared vision for the future of Nato.
In a lengthy appearance before reporters, the US President met a cool reception from Macron, who earlier in the day Trump derided as "very insulting" for his recent remarks on the "brain death" of the alliance. When asked to address his earlier comments on the French leader, Trump, a leader averse to face-to-face confrontation, initially demurred, but Macron was direct.
"My statement created some reactions," Macron said. "I do stand by it."
What followed was an extended, terse back-and-forth over trade, immigration, and Trump's relationship with President Recep Tayyip Erdogan of Turkey.
Trump's interactions with the Turkish President are also sure to be closely watched. Erdogan, who has already upset Nato allies by purchasing a sophisticated Russian antiaircraft missile system, the S-400, is now threatening to oppose Nato's plans to update the defence of Poland and the Baltic countries if the alliance does not join him in labelling some Kurdish groups as terrorists.
"Who is the enemy today?" Macron asked. "And let's be clear and work together on that."
The meeting continued to devolve as the two discussed the containment of IS fighters in Syria. Hunched forward, Trump tried to jokingly offer captive fighters to the French.
"Would you like some nice IS fighters?" Trump said.
"Let's be serious," a stone-faced Macron replied. Macron said that he and Trump "don't have the same definition of terrorism around the table".
"When I look at Turkey, they are fighting against those who fight with us," he added, referring to Kurdish fighters.
The contentious tone was baked into the day's proceedings. Hours earlier, in a meeting with Jens Stoltenberg, the secretary general of Nato, Trump said President Macron of France had been "very insulting" to the alliance.