Truss sacks Suella Braverman whose attack on Indian Visa 'overstayers' sank UK hopes of India trade deal
Former home secretary of Indian-origin is expected to rally behind Britain's Right-wing over broken immigration promises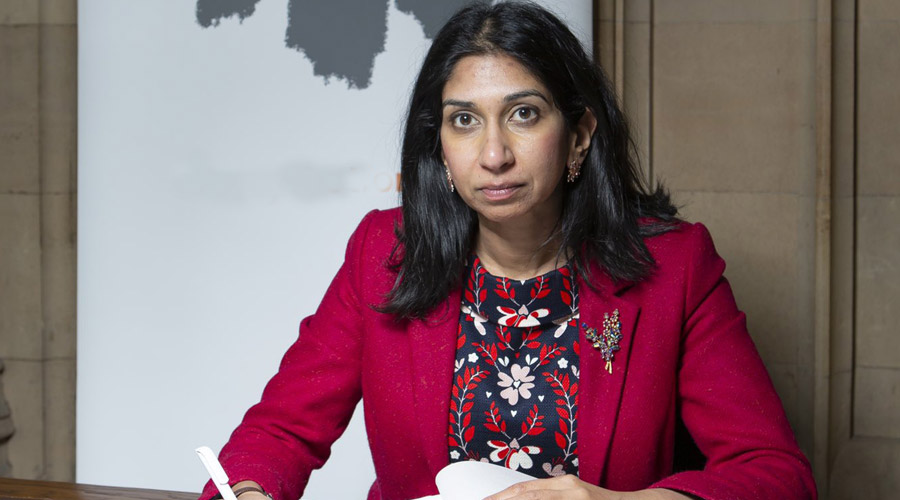 Suella Braverman
Twitter / @SuellaBraverman
---
Published 20.10.22, 11:07 AM
|
---
British Prime Minister Liz Truss has sacked Suella Braverman, the home minister whose claims that Indians were the worst visa overstayers torpedoed UK hopes of an early trade deal with India.
But Braverman, whose 43-day tenure makes her Britain's shortest-serving home secretary since 1834, has not gone quietly. In her resignation letter, she blasted Truss for not taking responsibility for her own mistakes and resigning.
The government initially said Braverman, who belongs to the Conservatives' far-right wing, had to quit because she had broken secrecy rules bysending a draft immigration plan to a party MP. But it became immediately obvious this was just an excuse for forcing her out of government.
Braverman's departure late Wednesday added to the chaos ripping apart the Conservative government which was said to be on the verge ofcollapse after days of high political drama.
Braverman, who is of Tamil and Goan origin, fired off an angry resignation letter accusing the government of "breaking key pledges" it had made to voters and party members.
"I have had serious concerns about this government's commitment" to "reducing overall migration numbers and stopping illegal migration," she wrote.
More seriously, Braverman wrote in a direct attack on Truss: "Pretending we haven't made mistakes, carrying on as if everyone can't see that we have made them, and hoping that things will magically come right, is not serious politics."
Braverman's hardline views on immigration are seen as positioning her to take a leading role on the party's far-right. Her exit adds to the almost surreal turmoil that has surrounded the current government.
The high drama of Braverman's exit was followed by unprecedented scenes in which Conservative MPs were dragged into the parliamentary chamber to vote on a controversial bill to reinstate fracking that is hotly opposed by many members of the party. Truss ended up not voting on the divisive legislation claiming there had been a mixup about her vote.  Earlier this month, Braverman sank the British government's bid to sign a trade deal with India by Diwali when she opposed all efforts to loosen visa terms 
Braverman's replacement as Home Secretary is Grant Shapps who's also from the party's centre. Shapps' appointment indicates that power isslipping out of Truss's hands and is being retaken by the party's centre grouping.
Shapp's appointment was a surprise as he had voiced doubts earlier this week whether she would survive as leader, saying, "she needs to thread the eye of a needle with the lights off, it's that difficult." 
Truss's entire libertarian agenda has been jettisoned. Just six days ago, Truss fired Kwasi Kwarteng as her chancellor of the exchequer in a bid to appease Conservative MPs after they mutinied over his radical mini-budget that caused the pound and the markets to go into freefall.
Two of the four so-called great offices of state have changed hands under Truss who is now seeking to appeal to a broader middle-of-theroad political base rather than her uber-right loyalists.
Truss replaced Kwarteng with Jeremy Hunt, a centrist who had been a staunch opponent of the prime minister's brand of right-wing politics.
In a move to steady financial markets, Hunt, who's regarded as a safe pair of hands politically, junked the tax-cutting economic gameplan drawn up by Truss and Kwarteng that involved huge borrowings.
Hunt is now being described as the government's CEO with Prime Minister Liz Truss as the almost non-executive chairman.