Last protesters seek way out
Beijing has said it is committed to the "one country, two systems" formula granting Hong Kong autonomy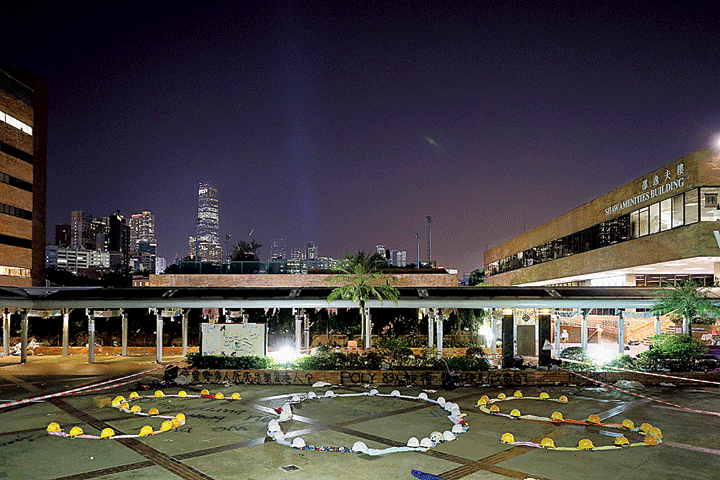 ---
---
Inside the increasingly empty and trashed campus of a Hong Kong university only a handful of activists held out on Thursday as they desperately searched for ways to escape or hide while squads of police encircled the grounds.
Hong Kong's Polytechnic University is the last campus still occupied after a week that has seen the most intense violence since anti-government protests escalated more than five months ago.
Demonstrators are angry at what they see as Chinese meddling in freedoms promised to Hong Kong when the former British colony returned to Chinese rule in 1997.
Beijing has said it is committed to the "one country, two systems" formula granting Hong Kong autonomy.
For more than a week-and-a-half, hundreds of protesters had fortified Polytechnic University's Kowloon peninsula campus and often fought fiery street battles with riot police.
But now the number of protesters has dwindled to fewer than 100, turning the grounds that normally teem with 33,000 students and staff into an eerily empty compound scattered with debris and defaced with political slogans.
"I am by myself, all my peers have left, but I am too scared to escape," said Yan, a man in his 30s who said he had been helping in the canteen used by the protesters during the siege.
Unshaven and shoeless, Yan said he was avoiding contact with the handful of others still on the campus because he feared running into undercover police.
He had been hiding in a building for the past two days, and when he heard the sound of Reuters journalists approaching tried to take cover in a stationery cupboard.
"I don't dare to walk around, I don't talk to people," he told Reuters. "I feel scared and helpless. I am stuck."