King's brother returns home
The return of Prince Ahmed bin Abdulaziz comes amid an international backlash against the kingdom after the brutal death of Khashoggi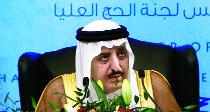 ---
London
|
Published 01.11.18, 08:05 AM
|
---
A senior member of the Saudi royal family, who had feared returning to the kingdom, flew back to Riyadh from London on Tuesday in the most significant move in the royal family since the killing of the dissident Jamal Khashoggi.
The return of Prince Ahmed bin Abdulaziz, which was confirmed by three Saudis close to him, comes amid an international backlash against the kingdom after the brutal death of Khashoggi.
Prince Ahmed, the younger brother of King Salman, had been afraid to return, associates of his family said, since he had made public comments last month that appeared to criticise Crown Prince Mohammed bin Salman, 33, the king's favourite son and the de facto ruler of the kingdom.
As one of the most senior figures in the royal family, Prince Ahmed, in his 70s, could help bestow legitimacy on any family response to the furore over Khashoggi's killing — whether that response might be some effort to limit the crown prince's unrivalled power or instead to reinforce his grip on the kingdom.
"His return is a significant indication of maneuvering within the royal family," said Gregory Gause, a scholar of Saudi Arabia at the Bush School of Government and Public Service at Texas A&M University. "Something is up."
The October 2 killing of Khashoggi, a Virginia resident and Washington Post columnist, has mired the rulers of the kingdom in their most significant international crisis since the terrorist attacks of September 11, 2001, when a majority of the attackers were Saudis.
It took the rulers of the kingdom more than two weeks after Khashoggi vanished inside the Saudi Consulate in Istanbul to acknowledge that he was assassinated there by a team of Saudi agents.
Turkish officials have said they have audio recordings and other evidence showing that the agents quickly dismembered him with a bone saw to dispose of the body, an operation they say could only have been carried out with authorisation from the highest levels of the royal court.
Saudi officials have portrayed the killing as a rogue act, insisting that Crown Prince Mohammed did not order or condone it.