Judge Amy Coney Barrett says she will not be a Trump pawn
Supreme Court nominee refused to weigh in on critical matters, including a possible poll dispute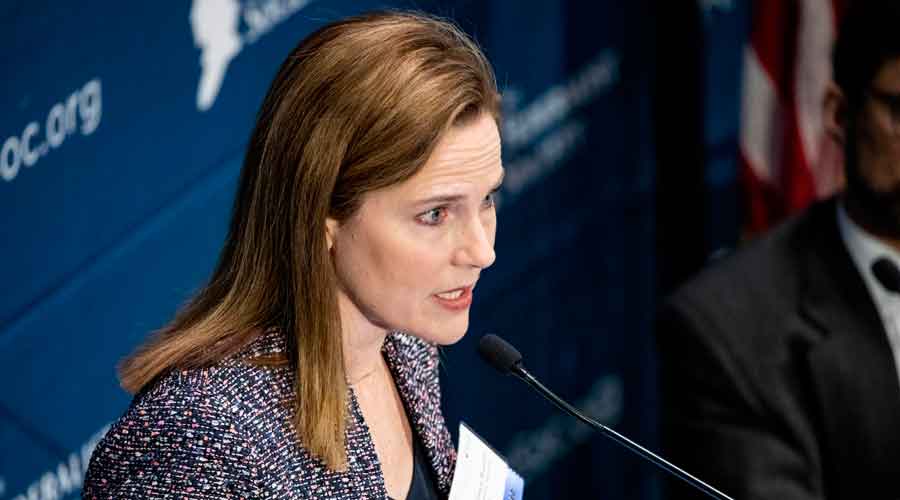 Amy Coney Barrett
File picture
---
New York
|
Published 15.10.20, 01:21 AM
|
---
Judge Amy Coney Barrett flatly refused on Tuesday to pledge that she would recuse herself if a dispute over the November 3 election came before the Supreme Court, insisting that despite her nomination by President Trump, she would not "allow myself to be used as a pawn to decide this election for the American people".
During a nearly 12-hour question-and-answer session, Judge Barrett evaded Democratic senators' attempts to pin down her views on the Affordable Care Act, abortion rights, gay marriage and a possible election-related case. 
She played down her history of taking conservative stances in legal writings and personal statements, arguing that she might view issues differently as a sitting justice.
"I have not made any commitments or deals or anything like that," she told the Senate Judiciary Committee on her second day of confirmation hearings. "I'm not here on a mission to destroy the Affordable Care Act. I'm just here to apply the law and adhere to the rule of law."
After days of hammering Judge Barrett over the health care law, Democrats dismissed her assurances as essentially meaningless. Trump did not need to secure any specific promises from Judge Barrett, they argued. The President selected her precisely because her honestly held legal views would achieve the end he was after.
"I am then left with looking at the tracks of your record and where it leads the American people," said Senator Amy Klobuchar, Democrat of Minnesota, "and I think it leads us to a place that's going to have severe repercussions for them".
Judge Barrett's refusal to discuss specific cases or commit to recusing from particular matters was in line with a decades-old playbook used by Supreme Court nominees to avoid giving substantive answers during confirmation hearings. But her attempts to deflect such questions were more conspicuous than usual, given how explicit Trump has been about how he would want his nominees to rule.
The President has stated that he wants Judge Barrett confirmed by Election Day given that he anticipates an election dispute and is "counting" on the court to "look at the ballots". And he has said he wants justices who would "do the right thing" and invalidate the Affordable Care Act.
"I am gravely concerned by what I see," said Senator Chris Coons, Democrat of Delaware. "I believe your views are sincere, but I also think you genuinely think the Affordable Care Act is unconstitutional."
Referring to Justice Ruth Bader Ginsburg, whose seat she would be taking if confirmed, he added that if Trump and Republicans "are able to swing the court out of balance by replacing Justice Ginsburg by someone whose views may be significantly to the right, the health of a majority of Americans may well be in peril."
Republicans, rushing to secure Judge Barrett's confirmation before the election, lavished her with praise for her legal qualifications and personal virtues. Senator Lindsey Graham of South Carolina, the judiciary panel's chairman, called her "one of the most qualified people of your generation", while Senator John Cornyn of Texas encouraged her to hold up the blank notepad in front of her at the witness table to show that she was speaking entirely without notes.
"That is impressive," he said.
The marathon day of televised questioning offered senators and Americans their first look at Judge Barrett's conservative legal philosophy, heavily influenced by former Justice Antonin Scalia, and a window into her personal life as a 48-year-old judge and mother of seven children. 
Judge Barrett was most eager to discuss her legal philosophy on broad strokes. She expounded at length on the tenets of textualism and originalism, approaches made popular by Justice Scalia that privilege plain reading of legal texts and seek to minimise a judge's own interpretations of statute or the Constitution.
"Judges cannot just wake up one day and say, 'I have an agenda — I like guns, I hate guns, I like abortion, I hate abortion,' and walk in like a royal queen and impose their will on the world," she said. 
New York Times News Service