Jokes are flying thick and fast about Rishi Sunak, the flavour is distinctly Indian
One meme titled Lunch Today @10 Downing Street has people tucking into a banana-leaf lunch, another shows 'a full English breakfast" of dosas and vadas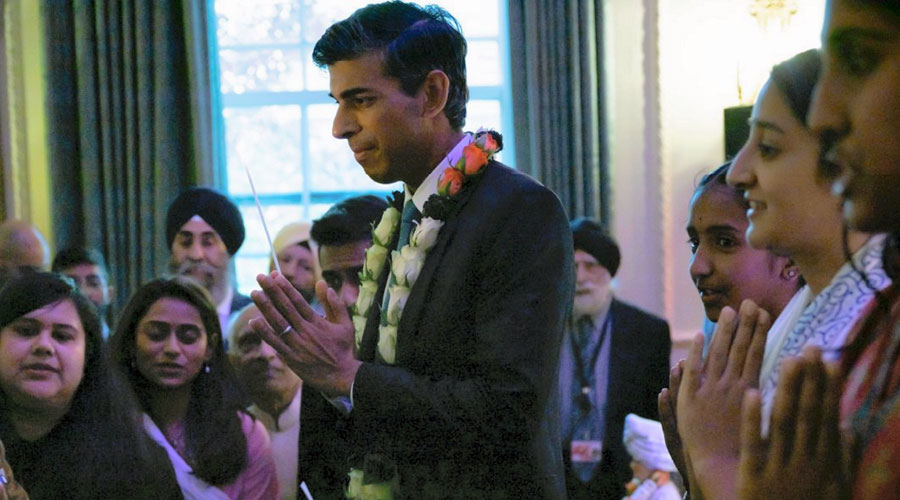 ---
Published 02.11.22, 12:00 PM
|
---
The jokes are flying fast and thick once again. For 44 days, the victim was Britain's short-lived prime minister Liz Truss. But now Rishi Sunak's walked in through the revolving doors at No 10 Downing Street – and becoming the new target of jesters.
This time, though, the jokes have a distinctly Indian flavour to them. One cartoon shows two ministers exiting No 10 and one saying: "Rishi Sunak just discussed his grand economic revival plan for UK with me…. BTW, what's jugaad?" And now that the Sunaks have moved in, all guests must obviously leave their shoes at the doorstep of Number 10, according to a much-forwarded meme.
Meanwhile in UK 😀 pic.twitter.com/JxYC7Qz14k

— Porinju Veliyath (@porinju) October 25, 2022
Shoes left on the doorstep would be a major culture shift in the UK. But what about the new-look lunches at Downing Street? One meme titled Lunch Today @10 Downing Street has people who look like Indians tucking into a banana-leaf lunch. In the same vein, another meme shows dosas and vadas with the appropriate chutneys and the obviously ludicrous caption: "A full English breakfast".
Then, there are the Sunak lookalikes – which means almost any slender young Indian male. One topless lookalike is having a great time at an Ibiza club with a glass in one hand and the other arm up in the air and doing what's clearly a victory jig. The comment with the photo is: @rishisunakmp trying to win the Ibiza crowd over today." The dancer's also been given a snappy nickname: Raving Rishi.
🚨|BREAKING: Larry the Cat glues himself to the floor in protest to Rishi Sunak pic.twitter.com/OYZJUsGgPV

— Political Nation (@PoliNATlON) October 25, 2022
Speaking of lookalikes, one has been pulled off the cricket pitch. Cricketer Ashish Nehra's photo has been placed next to Sunak's with a 'separated at birth' caption.
Industrialist Harsh Goenka came up with his own Sunak joke involving securing the return of the Kohinoor diamond to India.
Rishi Sunak and Ashish Nehra seem to be brothers who were estranged in Kumbh Ka Mela.#Rumor
😜😆 pic.twitter.com/rMSrFOZb3r

— SOCRATES (@DJSingh85016049) October 24, 2022
Goenka tweeted: "My friend's idea to get back Kohinoor: 1. Invite Rishi Sunak to India. 2. Kidnap him when he is stuck in Bangalore traffic to visit his in-laws. 3. Send instead Ashish Nehra as UK PM. No one will realise it. 4. Nehra will be told to pass the bill to return Kohinoor.
My friend's idea to get back #Kohinoor:
1. Invite #RishiSunak to India
2. Kidnap him when he is stuck in Bangalore traffic to visit his in-laws
3. Send instead Ashish Nehra as UK PM. No one will realise it.
4. Nehra will be told to pass the bill to return Kohinoor

💎 in ! 😀😀

— Harsh Goenka (@hvgoenka) October 25, 2022
The Infosys Murthy family – about as serious a group of relations as can be found -- has also, unsurprisingly, come in for plenty of ribbing. "Infosys acquires Britain. Not by law but in-law," was the one joke punchline. And, "As Sunak wins and Akshata Murthy, Narayan Murthy and Sudha Murthy move into 10 Downing Street, then it can be renamed Teen Murthy Bhavan," said another humorist who insisted this was "Twitter wit at its best".
As everyone waited for Liz Truss's time in office to come to a merciful end, one cartoon showed two removal men hanging around Downing Street and telling an inquiring policeman: "We were in the neighbourhood so thought we might as well wait." In another cartoon, Sunak, too, has a team of removal men but they're taking a piece of furniture into No 10. "Rishi Sunak has a very smart new cabinet today!!!" the caption helpfully tells us. It should be added that his cabinet colleagues are exciting much less enthusiasm.
#UnitedKingdom #RishiSunak #Infosys
Celebration Time @Infosys 😂😂
👇👇 pic.twitter.com/C1H0ufPBOi

— Mabrin Batliwalla (@MabrinB) October 25, 2022
The short-lived Truss reign appears to have triggered a rich vein of British humour. Opposition Labour Party Leader Keir Starmer landed a well-placed blow by declaring that Sunak had faced several defeats before he made it to Number 10. Starmer raised a volley of laughs when he said of Sunak that, "The only time he ran in a competitive election, he got trounced by the former prime minister, who herself got beaten by a lettuce." This was a reference to the Daily Star tabloid and its jibe that its supermarket lettuce would stay green and outlast Truss's brief time in office.
About his face-off with Starmer, another crack was, "Rishi Sunak praised for his environmental commitments, after recycling the same rubbish as the last two prime ministers." In Britain, the prime minister and the leader of the opposition face off in a direct confrontation against each other every Wednesday during Prime Minister's Questions (PMQ). This was a comment on PMQs and Sunak's waffly replies to the questions he faced.
Some changes are happening at 10 Downing Street pic.twitter.com/e8VAXtMFZ4

— Harsh Goenka (@hvgoenka) October 30, 2022
Inevitably, Sunak's wealth also becomes a subject for mirth. Former Prime Minister Boris Johnson famously was unhappy about the Downing Street wallpaper and determined to replace it a very expensive alternative. And since he couldn't afford the new wallpaper, he persuaded a 'generous' Conservative backer to pay for it. Sunak, by contrast, is too rich to need donors. Says one wit: "Sunak becomes the richest-ever prime minister. Which means he ought to be able to afford his own wallpaper."
But Sunak can't possibly match the vacuous Truss when it comes to stirring mirth. Over the weekend, it was revealed that Truss's phone had been tapped by the Russians for a year. One meme shows Putin looking puzzled as he gazes at her phone and says: "There's nothing here…"
Will Sunak remain in the firing line of countless humourists? Of course. The longest resident of Number 10 is said to be Larry the Cat, the house's champion mouser, who has seen six prime ministers come and go. Larry's first reaction to Sunak's win was joyous anticipation of how his meals might improve. "His family is loaded, so caviar and lobster on the menu for me from tomorrow," Larry tweeted.
Larry has since declared that the Sunak family Labrador, Nova, is well-behaved and disciplined just like his master. Larry's been pictured at his own lectern in front of Number 10. Amidst the chaos of this era of Britain's politics, Larry is probably going to be remembered as the lone survivor, the cat who knew how to "Keep Calm and Carry On."