Israel-Gaza violence challenges Biden's approach
Even before the recent fury, analysts agreed that prospects for a successful negotiation look hopeless, with neither side prepared to make concessions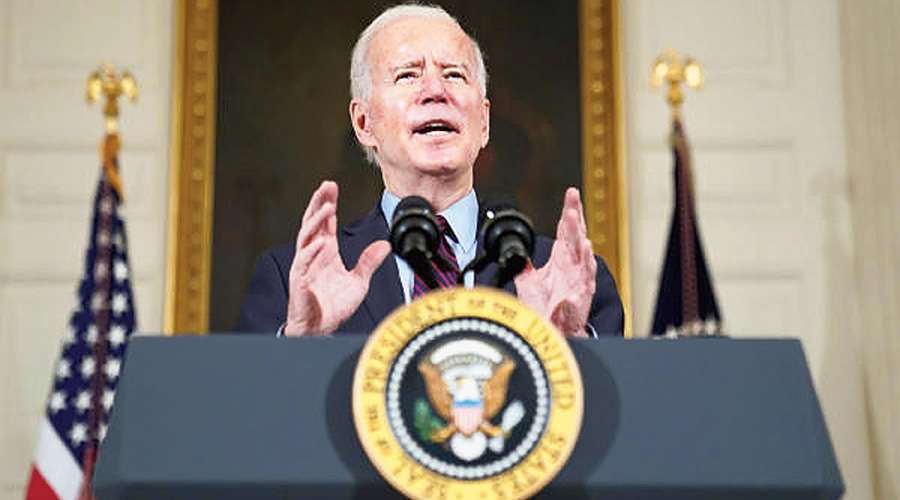 US President Joe Biden
File Picture
---
Washington
|
Published 13.05.21, 02:34 AM
|
---
President Biden took office in January with little interest in pursuing an Israeli-Palestinian peace agreement, for understandable reasons.
President Bill Clinton hosted an Israeli-Palestinian summit during his first year in the White House. President Barack Obama appointed a West Asia peace envoy on his second full day in office. And before his swearing-in, Donald J. Trump vowed to secure an Israeli-Palestinian peace deal "which no one else has managed to get".
All of them failed to achieve a peace deal, as did President George W. Bush, who took up the cause later in his presidency.
Even before the recent explosion of violence in Israel and Gaza, analysts agreed that prospects for a successful negotiation look hopeless in the near term, with neither side prepared to make concessions the other would demand.
Biden and his senior advisers have largely accepted that status quo. Determined to shift the focus of American foreign policy to China from West Asia and seeing no reliable partner in an unstable Israeli government led by an embattled Prime Minister Benjamin Netanyahu, who has pursued hardline positions towards the Palestinians, Biden has issued familiar endorsements of a two-state solution while making little effort to push the parties toward one.
But as spiralling riots, rocket attacks on Tel Aviv and airstrikes on Gaza threaten to escalate into a major conflict, calls are growing in the Democratic Party for Biden to play a more active role. Some liberals urge him to more firmly challenge Israeli settlement activity, which makes a peaceful resolution with the Palestinians harder to achieve.
"The problem with the Middle East is that you can try to turn your back on it, but it won't turn its back on you," said Martin S. Indyk, a former US ambassador to Israel.
Biden administration officials on Tuesday publicly called for both sides to show restraint. In recent days, US officials have also pressed Israeli and Palestinian officials in private conversations to avoid inflaming tensions, and issued a successful plea for the postponement of an Israeli court ruling on the eviction of Palestinian families in East Jerusalem that helped lead to recent clashes in the city.
Indyk said he did not blame Biden's approach of "conflict management, rather than conflict resolution", given the dim prospects for peace after Trump's presidency.
New York Times News Service