Iran, South Korea cases spark global fears of novel coronavirus
New infections add to worries that outbreak spreading across Asia with dangerous speed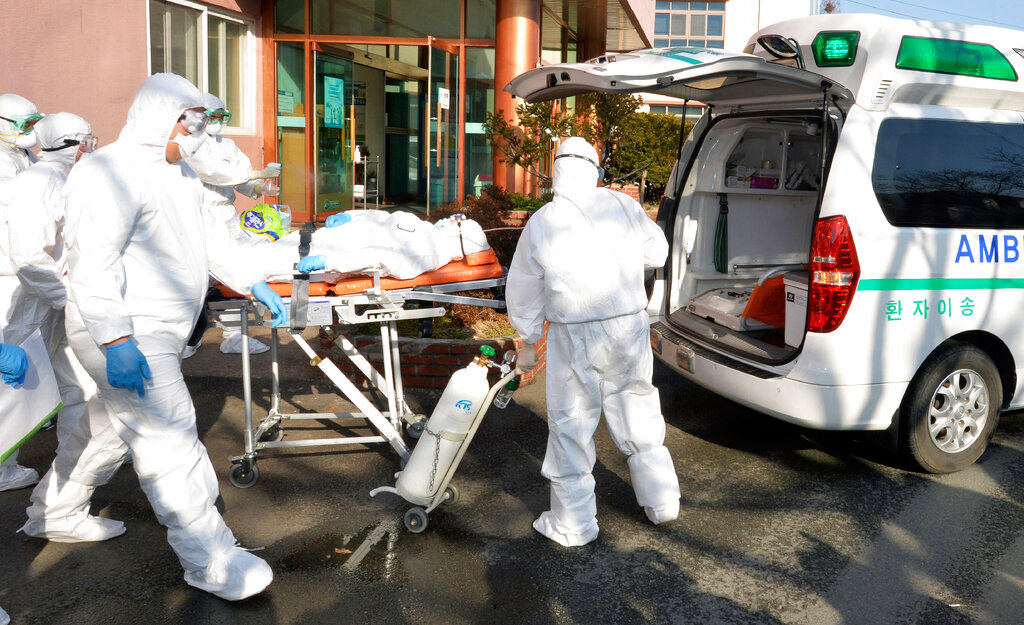 Medical workers wearing protective gears carry a patient suspected of contracting the new coronavirus toward an ambulance at Daenam Hospital in Cheongdo on Friday
(AP)
---
New York
|
Published 21.02.20, 08:55 PM
|
---
The coronavirus outbreak showed dangerous signs of breaking out beyond China on Friday, as new cases were reported in West Asia and large clusters emerged around Asia.
Countries were closing their borders with Iran as health officials scrambled to make sense of reports out of Tehran suggesting that the virus was being transmitted more widely than officials there have publicly acknowledged.
As recently as Tuesday, Iranian officials had said there were no cases of the virus in the country. By Friday, however, they acknowledged 18 cases in three cities, with four deaths. It was not immediately known how the virus made its way to Iran. But the numbers suggested wider transmission that, if verified, would raise the chances of a pandemic.
At the same time, a surge in cases in South Korea — where the total figure soared above 200 on Friday and scores more were being monitored for symptoms — added to fears that the virus was also spreading across Asia with dangerous speed.
Those cases have been tied to a secretive church.
The South Korean authorities are racing to trace people who have come into contact with the infected congregation members, but have struggled to find all of those connected to the church's hundreds of members.
The disturbing new clusters were announced on the same day that Chinese officials acknowledged that their repeated shifts in methodology for counting new cases had sown confusion.
Officials in Hubei revised their case tallies again because of shifting definitions of a confirmed case and what officials described as previously unknown information.
The acknowledgment by provincial leaders came as national officials announced that 889 new coronavirus cases had been reported in China in the previous 24 hours, raising the overall total above 75,000. The death toll went up by 118, to 2,236.
China is now counting "lab-confirmed" and "suspect" cases. On Friday, Tedros Adhanom Ghebreyesus, the WHO's director general, praised that decision as "adding clarity" and noted that the same approach was used in Ebola outbreaks, in which many people die without every case being laboratory tested.
Beyond Hubei
The coronavirus has infected hundreds of people in Chinese prisons, authorities said on Friday, contributing to a jump in reported cases beyond the epicentre in Hubei province.
The 234 infections among prisoners outside Hubei ended 16 straight days of declines in new mainland cases excluding that province, where the virus first emerged in December in its now locked-down capital, Wuhan.
State TV quoted Communist Party rulers as saying the outbreak had not yet peaked, and more than 30 cases in a hospital in Beijing highlighted a sharp jump in the tally there.
US stock index futures lurched downwards as the rise in infections sent investors looking for safer assets such as gold and government bonds.
Adding to the gloomy mood, data showed Japan's factory activity suffered its steepest contraction in seven years in February, underlining the risk of a recession there.