Iran oil tanker hit by missiles, says report
The circumstances of the attack remained murky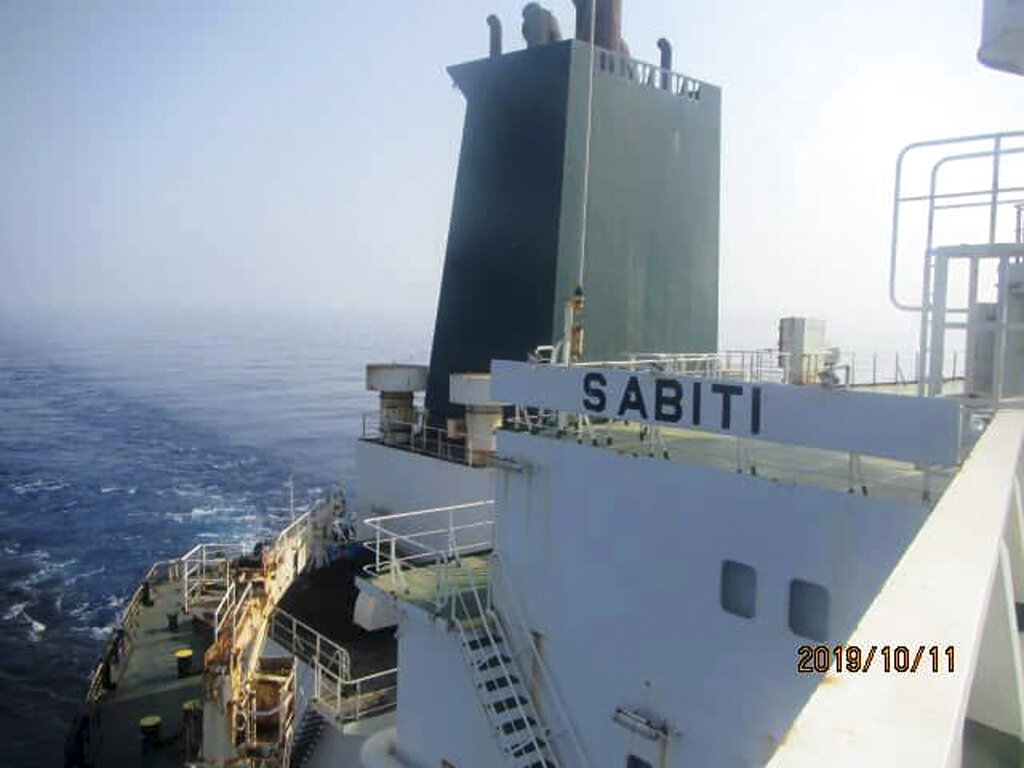 This photo released by the official news agency of the Iranian Oil Ministry, SHANA, shows Iranian oil tanker Sabiti traveling through the Red Sea on Friday, Oct. 11, 2019.
AP
---
New York
|
Published 11.10.19, 07:32 PM
|
---
Explosions rocked an Iranian oil tanker in the Red Sea early Friday, in what the state news media described as a missile attack, raising fears about increasing tensions in an already volatile and economically crucial region.
The circumstances of the attack remained murky, with conflicting reports in the state news media about whether the ship was on fire, whether an oil spill had been stopped and even whether the tanker had been hit by missiles in the first place.
The National Iranian Oil Company, which owns the tanker, said the ship had been struck by missiles at 5am and again at 5.20am, state-run news outlets reported, adding that it had suffered damage about 60 miles from Jeddah, Saudi Arabia.
The crew members were safe and the ship was in stable condition, the state news media reported, even though its two main tanks had been struck and the hull was damaged. The price of oil jumped on news of the explosion, as Brent crude rose about 2 per cent in futures markets.
Abbas Mousavi, a foreign ministry spokesman, condemned what the state-run IRNA news agency described as the targeting of the Iranian tanker, although he did not elaborate on how the ship was targeted or by whom. Later in the day, IRNA reported that the National Iranian Oil Company had dismissed the possibility that the ship was hit by missiles.
Iranian state television identified the tanker as the Sabiti. But the ship tracker website Marine Traffic showed that the vessel had not transmitted any location data since mid-August.
The reports of a missile attack will almost certainly ratchet up tensions in the region, where a rivalry between Saudi Arabia and Iran has been playing out in various ways, including the seizure of a number of oil tankers and an attack on Saudi Arabia's oil infrastructure.
The location of Friday's episode, in the Red Sea, was on the other side of Saudi Arabia from the Persian Gulf, where many of the high-profile confrontations involving Iran have taken place, but still along a main oil transport route. Several hours after the attack, no country or organisation had stepped forward to claim responsibility.