'Indo-Pak alliance' deals body blow to UK PM Boris Johnson
This is the first recorded instance in British history of people of Indian and Pakistan origins plotting together to bring about the downfall of the man who had given them their jobs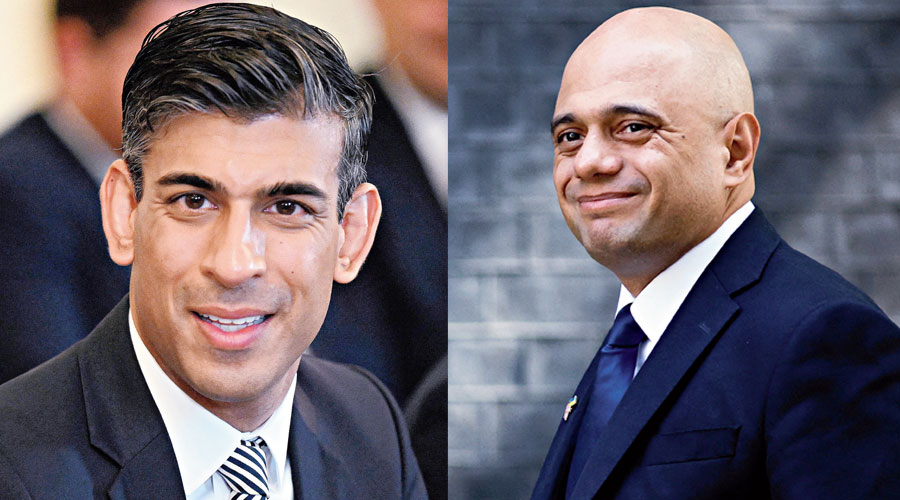 Rishi Sunak and Sajid Javid
Telegraph picture
---
London
|
Published 07.07.22, 02:23 AM
|
---
An unusual Indo-Pakistani alliance has been operating at the heart of British politics between Rishi Sunak and Sajid Javid, who have coordinated their efforts towards ousting 
Boris Johnson as Prime Minister.
Javid was the first to tweet he had resigned as health secretary at 6pm on Tuesday. At 6.11pm came the even more dramatic news that Sunak too was stepping down as chancellor, the second most powerful position in the cabinet.
This might strike many as ironic but this is the first recorded instance in British history of people of Indian and Pakistan origins plotting together to bring about the downfall of the man who had given them their jobs.
By Wednesday afternoon, after Boris had told the Commons that he intended to stay on as Prime Minister and Javid had made a devastating "personal statement" setting out why he could no longer give "the captain of the team" the benefit of the doubt, the number of resignations had reached 32.
Boris's position appeared untenable. Nor did he deny that one of the most senior cabinet ministers, Michael Gove, had asked him to go.
The headline in The Daily Telegraph summed up the predicament for the Prime Minister: "Johnson hanging by a thread as Sunak and Javid walk out."
One of its columnists, Philip Johnston, wrote: "After waiting for months to see if any senior member of the cabinet had a backbone, we now find that there are at least two vertebrates. Maybe more will show their spines today."
Johnston wrote: "Rishi Sunak stepped down as chancellor possibly wishing he had gone a few weeks ago when he was handed a fine by the metropolitan police for unwittingly wandering in on one of No. 10's Bacchanalian lockdown parties. Since then, he has been briefed against by allies of the Prime Minister over his wife's tax status and his own personal wealth to undermine his credibility as a potential leader. It is hardly surprising that he has had enough.
"Perhaps Mr Johnson will try to rebuild his team, but it is hard to see how he could do so with credibility. Any cabinet minister who wants a future career will need to abandon ship now. The battle for the Tory party is about to begin."
The leader in The Times was even harsher: "Boris Johnson is still clinging to office in Downing Street, despite the resignations yesterday of Rishi Sunak, the chancellor, and Sajid Javid, the health secretary. That is a mistake. He has lost the confidence of his party and the country.
"There is no conceivable chance that Mr Johnson, who failed to secure the backing of 148 MPs in a confidence vote last month, can recover his authority to provide the effective leadership that the country needs at a time of acute national crisis. Every day that he remains deepens the sense of chaos. For the good of the country, he should go.
"If Mr Johnson will not quit, the 1922 Committee should make clear that it will move swiftly to change the party rules to facilitate a new confidence vote. There is still time, if it moves fast, for the Conservative Party under honest, respected, responsible leadership to recover its reputation and win the next general election. Under Mr Johnson, there is no chance."
Indian opinion in the Conservative Party appeared divided.
One Indian told this correspondent that he had been "stunned" by Sunak's resignation. "He's made a blunder. He should have shown loyalty. A lotus growing in a swamp remains affected. Why did he have to behave like Mother Teresa? Two Asians have resigned. Why not any of the white cabinet ministers?"
It is said in British politics that Tory party members will not reward Sunak because "the hand that wields the knife shall never wear the crown".
However, The Daily Telegraph is offering odds on the runners and riders and the top contenders to take the throne: "Rishi Sunak (3/1); Sajid Javid (10/1); Jeremy Hunt (8/1); Liz Truss (8/1); Penny Mordaunt (4/1); Nadhim Zahawi (the former education secretary who has replaced Sunak as chancellor) (10/1)."
A senior Indian Tory source said that in the leadership contest that he and many others now think is inevitable, "it is Sajid who will run for leader, supported by Rishi".
Javid is 52, and "has much more experience. He has held five cabinet posts (communities, culture, home, chancellor and health)."
Sunak is 10 years younger but was seen as the obvious successor to Boris --- till his reputation was damaged by his wife Akshata Murty's non-dom status.
Another peer agreed that an Indo-Pakistani alliance was possible. "Rishi and Sajid have been friends for a long time and like each other," the peer said.
"When Sajid was communities secretary, Rishi was a junior minister under him. And when Sajid was chancellor, Rishi worked under him as chief secretary to the treasury. When Sajid resigned as chancellor in February 2020 and Rishi took over, he was immensely respectful to Sajid. So it is possible they will work together."