Indians punish Corbyn over Kashmir
Labour leader 'polarised Hindu-Muslim relations in a policy of divide and rule'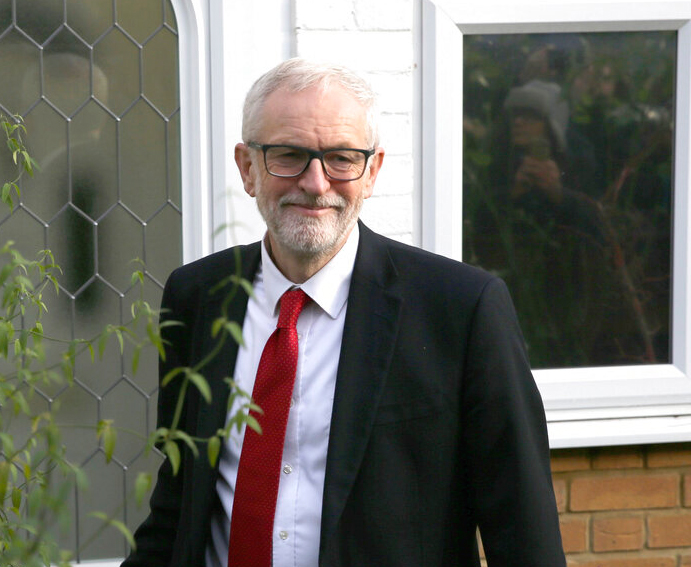 Britain's Labour Party leader Jeremy Corbyn leaves his home in Islington, north London, Friday December 13, 2019, after Prime Minister Boris Johnson led his Conservative Party to a landslide victory in Britain's election that was dominated by Brexit.
(AP)
---
London
|
Published 13.12.19, 07:32 PM
|
---
The Labour leader Jeremy Corbyn appears to have reaped an Indian whirlwind after adopting what was widely perceived to be a pro-Pakistan position on Kashmir.
He was condemned by one of his own MPs, Virendra Sharma, who retained Ealing Southall for Labour but with his 2017 majority reduced by 6,006 to 16,084.
It is not necessarily the case that all British Indians back Narendra Modi's controversial actions in Kashmir but they were certainly angered by Corbyn's willingness to enthusiastically embrace the aggressive line dictated by his Pakistani-origin MPs. Many Indians also felt he polarised Hindu-Muslim relations in a policy of divide and rule.
Commenting on Labour's worst performance since the 1930s, Sharma told The Telegraph: "The result is a disaster for Labour and a mandate for change. British Indians have rejected the idea that Britain has a neo-colonial role to play dictating the affairs of other nations.
"Kashmir has been proven again to be an internal matter for Kashmir and India to be dealt with under the laws and Constitution of India. We need to listen more and engage more with the Indian community."
Meanwhile, Boris Johnson, who has spoken of his good relations with "Narendrabhai", was congratulated by the Indian Prime Minister: "Many congratulations to PM @BorisJohnson for his return with a thumping majority. I wish him the best and look forward to working together for closer India-UK ties."
The Tory peer Jitesh Gadhia, who accompanied Boris to the Swaminarayan Mandir in Neasden, north London, last week, said: "As well as a huge sigh of relief in Britain at this decisive election outcome, I am sure there will be quiet satisfaction in India too. Jeremy Corbyn alienated multiple sections of UK society.
"Amongst them were members of the Indian community, with his partisan and ill-conceived attitude towards Kashmir, seeking to interfere in the internal matters of another sovereign nation. Prime Minister Corbyn in Downing Street would have been a clear foreign policy setback for the Indian government.
"In contrast, Boris Johnson has reached out to the Indian community to reassure them that he would stand-up to anti-India prejudice and support the efforts of Prime Minister Modi to build a new India."
The BBC's exit poll indicating a Tory victory of 86 was immediately retweeted by the Tory peer, Rami Ranger, chairman of Conservative Friends of India, who also went with Boris to the Neasden temple.
"First time Indians came together because of the Labour Party's stand on Kashmir and attack on India," was his immediate reaction.
"Indians have overwhelmingly voted for the Conservatives," he said later. "Labour policy on Kashmir united Indian voters as never before."
The Hindu-Muslim divide was made apparent when Anil Bhanot, a founder member of the Hindu Council UK and now its director of inter-faith relations, backed Britain's chief rabbi Ephraim Mirvis who had alleged there was anti-Semitism in Labour ranks.
Bhanot issued an open letter of his own, claiming Labour was also "anti-Indian" and "anti-Hindu".
This was a refrain taken up by Boris when he spoke at the Neasden Temple.
"Fantastic result for British Indians and India," Bhanot declared.
"Jeremy Corbyn's divisive policy on Kashmir will go with him as soon as he resigns."
However, the Labour peer and economist Meghnad Desai was not entirely convinced Labour's Kashmir policy will change.
"Corbyn and his policies are now open for challenge and change," he agreed. "But Indians have left the Labour Party so the remaining South Asian Diaspora — the Pakistani Mirpuris in the Labour Party — will push the Kashmir issue. But it does not matter as Tories are here for five if not ten years.
"UK India relations should improve with Priti (Patel, home secretary) and Rishi (Sunak, chief secretary to the treasury) in high positions."
Indian anger was evident in Leicester East where the sitting Labour MP Keith Vaz was made to step down after 32 years, while a Corbyn supporter, Claudia Webbe, was parachuted in — even though she had chaired the session at the Labour Party conference where an emergency resolution on Kashmir was adopted.
Vaz's 22,428 majority from 2017 was too big to overturn but the Tory candidate, Bhupen Dave, got 19,071 votes and reduced Webbe's majority to 6,019.
In Harrow East, the sitting Tory MP, Bob Blackman, who was in danger because he got in with only 1,757 votes in 2017, increased his majority to 8,170 — thanks to Indian support.
At the Neasden Temple, Boris offered him a helping hand: "There's Bob, who is, if you don't mind me pointing out, standing again in Harrow East and who was the leader of Brent Council when this temple secured its planning permission.
"Bob has, I can tell you, been one of the strongest champions for the Indian community in parliament."
The crossbench peer, Karan Bilimoria, chancellor of Birmingham University and next year's president of the Confederation of Indian Industry, said: "I think UK-India relations are going to flourish and go to even higher levels than ever before. I have always said, that India, along with the USA, is one of the two countries in the world with which Britain has a special relationship.
"The government has also removed the net migration target and will hopefully bring in immigration policies that will allow skilled workers from India, be they IT workers or chefs, to be allowed to come and work in the UK.
"I know personally, having worked with Boris Johnson as a member of his Promote London Council while he was Mayor of London, how much he genuinely loves India."
The Muslim Council of Britain, which claims to be politically neutral but in reality backed Labour, said in statement: "Mr Johnson commands a majority, but there is a palpable sense of fear amongst Muslim communities around the country. We entered the election campaign period with long standing concerns about bigotry in our politics and our governing party.
"Now we worry that Islamophobia is 'oven-ready' for government."
Earlier it had said: "The organisation's research has identified 31 marginal constituencies where Muslim votes may have a deciding role."
Muslims are certainly more active in British politics. One media outlet, the Muslim News, calculated there were a total of 103 Muslim candidates of all parties who stood in Thursday's general election. It said that 15 sitting Muslim MPs were hoping to hold their seats — and that does seem to have happened.
According to a research body, British Future, there are now 65 ethnic MPs in the Commons — 22 Conservative, 41 Labour, and 2 Lib Dem. "A diversity milestone has been reached in the 2019 general election, producing the most diverse parliament ever with 10 per cent of MPs now from an ethnic minority background," it said.
New entrants include Gagan Mohindra, in South West Hertfordshire, Claire Coutinho, East Surrey, and Saqib Bhatti, in Meriden, for the Tories, and Navendu Mishra, in Stockport, for Labour.