India-origin BBC scribe faces racist abuse
We will not tolerate racism or abuse of our staff: Broadcaster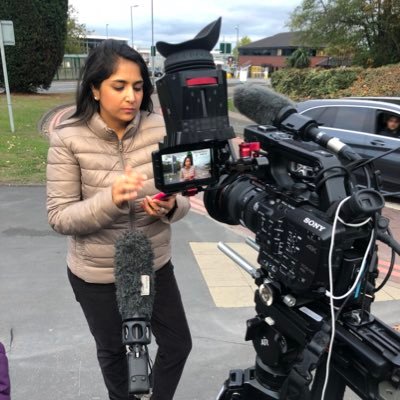 ---
|
London
|
Published 13.05.20, 12:46 AM
---
The BBC pulled a live broadcast from the centre of Leicester after one of its Indian women reporters was allegedly subjected to a torrent of racist abuse.
The journalist, Sima Kotecha, was about to interview a number of people she had lined on what they thought about Boris Johnson's plans to ease the lockdown but she had to send them away.
Sima explained her predicament in a tweet: "Apologies — but a man shouting terrible things at me has ruined it for everyone. I'm afraid not going to make it on the special programme."
She added: "Apologies to our guests who we had to send home without putting on air after myself and team were subjected to racist and abusive behaviour —sad obstruction of reporting of a national crisis. Yes I'm furious."
The BBC said in a statement: "While preparing to broadcast, our reporter, her production team and guests were subjected to racist and abusive behaviour. "We are appalled by what happened and will be reporting the incident to the police."
We will not tolerate racism or abuse of our staff."
The BBC press team promised to report the incident to the police. BBC chiefs pulled the broadcast over fears the alleged abusive words would be heard live on air.
Sima received hundreds of messages of support, including two from well-known TV journalists — Krishnan Guru-Murthy, who is also of Indian origin, from Channel 4, and Kirstie Allsopp, presenter of Location, Location, Location, a property programme.
The latter said: "You have every right to be absolutely furious, I'd be incandescent. What a vile experience."
Another supporter said: "I cannot tell you how ashamed I am that it happened in Leicester. But then it only takes one idiot to spoil it for the majority. I hope Leicester Police investigate and find those who abused your guests and you."
After the incident quickly escalated into a national issue, Leicestershire's chief constable, Simon Cole, responded to Sima's tweets and encouraged her to report the incident to his team.
Police in Leicester then moved with remarkable alacrity to arrest the alleged culprit on Monday night following the incident on Sunday.
Appearing at Leicester Magistrates' Court by videolink, Russell Rawlingson pleaded not guilty to causing racially aggravated alarm or distress.
The 50-year-old, of Glenfield Road in Leicester, was bailed to appear at Leicester Crown Court on June 15. This means he might be sent to jail by the higher court if found guilty.
Sima began her career in local BBC radio 2003 and has since worked on some of the BBC's biggest shows, including Panorama, Radio 4's Today Programme and BBC News.
During her career, she has reported from Helmand province during the Afghanistan war, covered the devastating Haiti earthquake in 2010, as well as from Lebanon during the Syrian refugee crisis.
It is ironic the incident took place in Leicester, the first city in the UK where non-whites make up more than 50 per cent of the population.
Keith Vaz was the Labour MP for Leicester East for 32 years until he stepped down last December.
It has a statue of Mahatma Gandhi and one of the biggest Indian populations in the UK, mainly because of Gujarati refugees from Uganda settled in Leicester after Idi Amin's expulsion in 1972.
This is not the first time Sima has had to confront racist behaviour. She was doing a vox pop in Basingstoke in 2016 on Brexit when said after one interview: "In utter shock: just been called p**i in my home town! Haven't heard that word here since the 80s..!"
"Paki" is short for Pakistani but unlike "Pak", as used by the media in India, it is considered a term of abuse in the UK.