India emissions terms
India is on track to "definitely overshoot" its pledge to reduce 30 to 35 per cent emissions intensity by 2030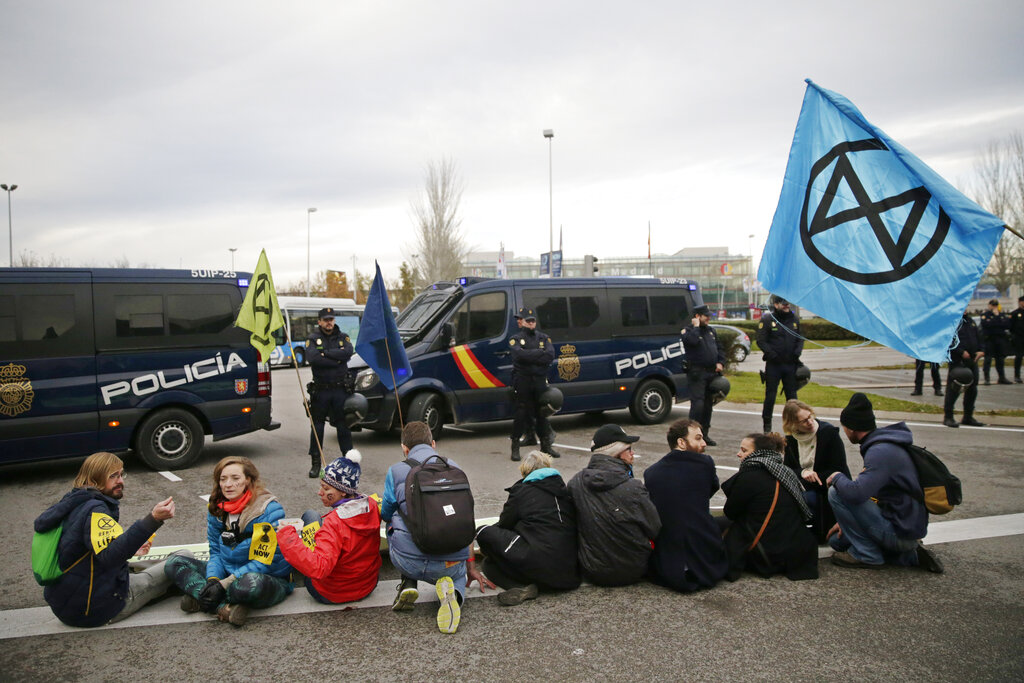 Police watch as activists from the international group called Extinction Rebellion sit blocking the street during a protest against climate change outside the COP25 Climate summit in Madrid, Spain, Monday, Dec. 9, 2019.
AP
---
Madrid
|
Published 09.12.19, 09:02 PM
|
---
India is prepared to give the developed countries two to three years extra time to complete their commitments to cut greenhouse gas emissions due by 2020 under the 1997 Kyoto climate pact.
Indian environment, forests and climate change minister Prakash Javadekar speaking on the sidelines of the UN climate change conference in Madrid, also said India is on track to "definitely overshoot" its pledge to reduce 30 to 35 per cent emissions intensity by 2030 compared to 2005.
However, Javadekar said India is not thinking about any ambitious emissions cuts now over and above what it has pledged under the 2015 Paris climate pact. It may consider such an agenda in 2023 in a planned global stock take. "It is futile to talk (about) new target now" said Javarekar.
"If the developed countries want, they can declare their pre-2020 action targets here and then, if they require, can take two to three (more) years to implement (Kyoto target) fully, that can be adjusted," Javadekar said, stressing the need for developed countries to honour their commitments.
Kyoto's second commitment is yet to be ratified as adequate number of developed countries have not signed it, thus making it a voluntary obligation.
"We will not allow (them) to forget their commitments, these (commitments of developed countries) are historical responses based on historical responsibility and Kyoto protocol parties should take the responsibility," the minister said.
However, climate change negotiators from developing countries told The Telegraph that the demand to fulfill commitments under the Kyoto protocol in the post-2020 period when the Paris pact takes effect could lead to double accounting of emissions cuts.
"Extending the Kyoto protocol will add to confusion, running parallel to the Paris pact," said Sanjay Vashisht, an analyst with Climate Action Network, South Asia.
Under the 1997, Kyoto protocol, developed countries — historically the largest greenhouse gas emitters — were expected to make emissions cuts up to 2020 when the Paris pact comes into effect.