Hurricane Ian's staggering wreckage
The storm pulverised roads, toppled trees, gutted downtown storefronts and set cars afloat, leaving a soggy scar of ruined homes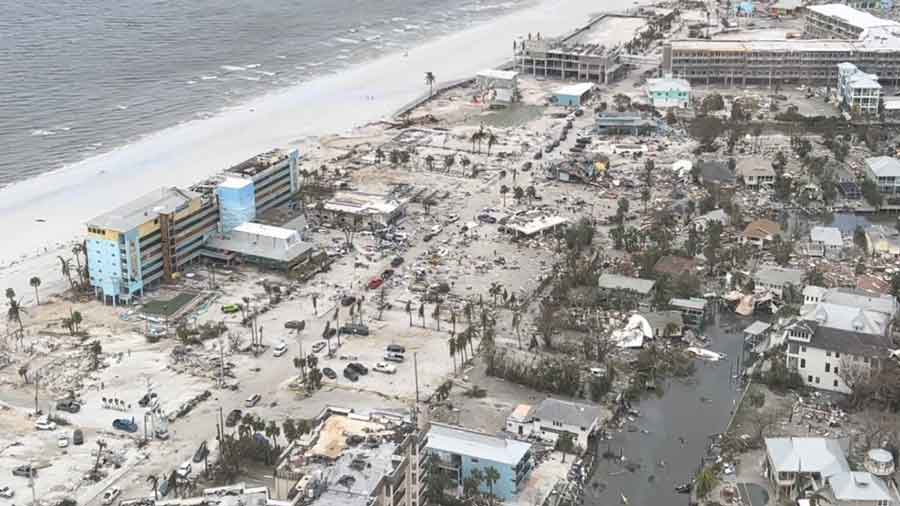 Fort Myers Beach after Hurricane Ian hit the area.
Twitter
---
Fort Myers, Florida
|
Published 01.10.22, 01:27 AM
|
---
The extent of Hurricane Ian's destruction became clearer on Thursday as people across southwestern Florida, left without electricity, drinking water or inhabitable homes, began to assess the damage and gird for what governor Ron DeSantis said would be a years-long recovery. 
The scale of the wreckage was staggering, even to Florida residents who had survived and rebuilt after other powerful hurricanes. The storm pulverised roads, toppled trees, gutted downtown storefronts and set cars afloat, leaving a soggy scar of ruined homes and businesses from the coastal cities of Naples and Fort Myers to inland communities around Orlando. 
Although state officials had not released a death toll by late in the day, DeSantis said Thursday night that "we absolutely expect" to learn of storm-related fatalities as rescuers work through a backlog of 911 calls and scour the most devastated neighbourhoods. More than 500 people in Charlotte and Lee Counties, the hardest hit, had been rescued on Thursday, the Florida Division of Emergency Management said; the small town of Fort Myers Beach, on a barrier island just off the coast, appeared decimated. 
While Ian left Florida on Thursday afternoon as a tropical storm, South Carolina residents were bracing for lashing winds and heavy rain as it quickly became a hurricane again at sea; forecasters said it could strengthen again before doubling back onto land there by Friday. Photos from several areas of the state showed homes crunched together in a chaotic jumble or smashed into what looked like toothpicks. Fishing boats and pleasure cruisers had been hurled onto the ground as if they were bathtub toys. 
The streets were a perilous obstacle course of toppled trees and downed wires. In North Fort Myers, where Marion Burkholder, 84, survived the storm by clambering into a dinghy inside a neighbour's screened-in porch and floating up with the rising waters, on Thursday brought dreaded news. Her carpets were sopping and her floors were covered with a dark brown liquid. Her fridge lay on its side. 
"Everything floated," said Marvis Long, 96, who lives nearby. 
"The water was coming in just like waves in here." Mayors, sheriffs and other officials surveying the damage struggled to even describe its scope. The sheriff in Volusia County, near Orlando on the state's east coast, said by text message that the coastal county was seeing "unprecedented flooding." 
DeSantis said there had been "biblical" storm surge on Sanibel Island, normally a tourist haven of gleaming beaches and mangroves southwest of Fort Myers. 
"The damage that was done has been historic," DeSantis said in a briefing on Thursday. "We've never seen a flood event like this. ." On Fort Myers Beach, a strip dotted with hotels, bars and restaurants that for many residents offered an escape from the mainland, the storm had laid waste to beloved landmarks.
New York Times News Service