How confinement has affected Spain's children
'The first time we left our house, she was nervous about being stopped by police'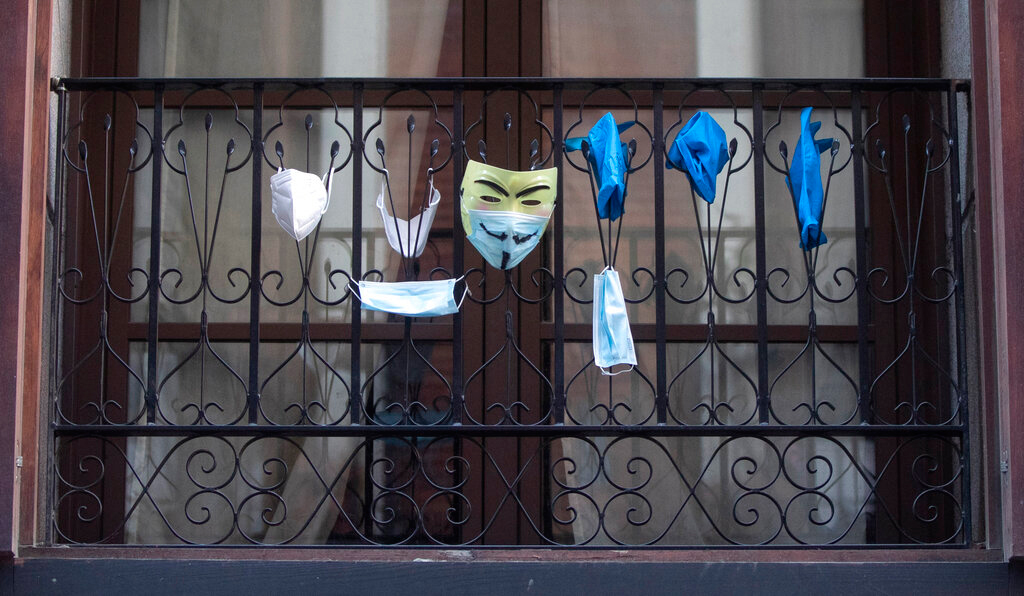 Face masks and gloves hang from a balcony in Madrid on Wednesday
(AP photo)
---
New York
|
Published 21.05.20, 08:13 PM
|
---
On March 14, Spain imposed one of the most stringent lockdowns in Europe, especially for kids.
Although dogs were allowed regular walks and adults could still run essential errands, it wasn't until April 26 that Spanish minors were finally permitted to leave home for one hour, within allotted time slots and a half-mile radius.
On May 4, people in areas with fewer Covid-19 infections started to enjoy additional freedom, including travel within their own province. But not everyone is bolting out the front door.
The confinement of millions of kids for six consecutive weeks, many in small apartments, has taken a psychological toll.
A new study from Miguel Hernández University, under review by the journal Frontiers in Psychology, examined the psychological impact of the confinement on children in Spain and Italy. About 90 per cent of 431 Spanish parents surveyed described emotional and behavioural changes in their kids, including difficulty concentrating, irritability and anxiety.
The ongoing quarantine in Valencia, Spain's third largest city, is an example of the stresses children are undergoing, with helicopters tracking movements and shining spotlights into homes, waking them at all hours of the night.
On children's first day out in Valencia, police hovered above beaches and parks, booming down via loudspeakers: "This is the police speaking to you, respect the rules!"
The Voss family lives near the centre of Valencia with their 7-year-old daughter. "By week four she was suffering from eye ticks, stomach pains, insomnia and a nervous cough," the mother, who withheld her daughter's first name to protect her medical privacy, said. "I was really hopeful going outside would help things, but the first time we left our house, she was very nervous about being stopped by police. Since then, she hasn't been very interested in going outside."
Experts are growing increasingly concerned about the potential long-term effects of this pandemic on children's health and psychological development not just in extreme cases, like Spain, but across the world, said Richard Meiser-Stedman, a trauma expert and professor of clinical psychology at the University of East Anglia in England.
The longer this situation goes on, the more of a concern it is, he said, adding that while we're still living through it, there are simple and effective ways to help children cope.
Trauma subjective
On May 8, the Spanish chapter of the child-rights nonprofit Save the Children warned that social isolation measures imposed during this pandemic may cause "permanent psychological disorders". The organisation interviewed 6,000 people in Germany, Finland, Spain, the US and Britain, measuring the emotional and psychological impact of Covid-19 confinement in these populations.
In Spain, where the organisation interviewed nearly 2,000 families, their largest sample size, about 40 per cent reported higher levels of distress than normal, including many children struggling with fear and anxiety.
"Trauma is subjective," meaning a shared experience may feel traumatic, or lead to symptoms of post-traumatic stress in some but not others, explained Meiser-Stedman.
The American Psychological Association defines trauma as "an emotional response to a terrible event like an accident, rape or natural disaster. Immediately after the event, shock and denial are typical. Longer term reactions include unpredictable emotions, flashbacks, strained relationships and even physical symptoms like headaches or nausea. While these feelings are normal, some people have difficulty moving on with their lives."
In Morocco, where the lockdown also is severe, some families are feeling the effects of the strain, said Amanda Ponzio-Mouttaki, a mother of three living in an apartment in Marrakesh.
"We're not allowed outside unless we have a permission slip. One slip per household and only for essential shopping." Her two teens "have some version of trauma and fear from not being allowed out", which she said manifests through intense anxiety. "They think that just stepping outside means they'll get sick and that automatically means being very sick, or death," he said.
Outside is crucial
Grim as it may seem now, there are ways to combat the potential negative psychological effects of the pandemic on kids, both in the short and long term. Spain's quarantine situation may hold two critical lessons for parents worldwide. First is that despite the need for social distance, children benefit from being outdoors each day.
"People who are outside regularly have a lower activity in the part of the brain that focuses on repetitive negative emotions," Anne-Sophie Dybdal, senior child protection adviser at the mental health and psychosocial support unit of Save the Children, said in a report from the organization. "This is one of the reasons children can slide into negative feelings or even depression."
Several studies in the last two decades have shown the beneficial impacts of contact with the outdoors on children and adults. In the Miguel Hernández University study, Italian kids fared better than the Spanish ones, which the authors linked to the differing quarantine conditions.
"In Italy, at the time we did the study, children were allowed to take a short walk near home. In Spain, however, children could not leave their house. Being outdoors breaks the routine of being at home and can improve the well-being of children."
New York Times News Service