Hong Kong universities turn into battlegrounds
Police raid campuses to make arrests, leading student activists to engage them in pitched clashes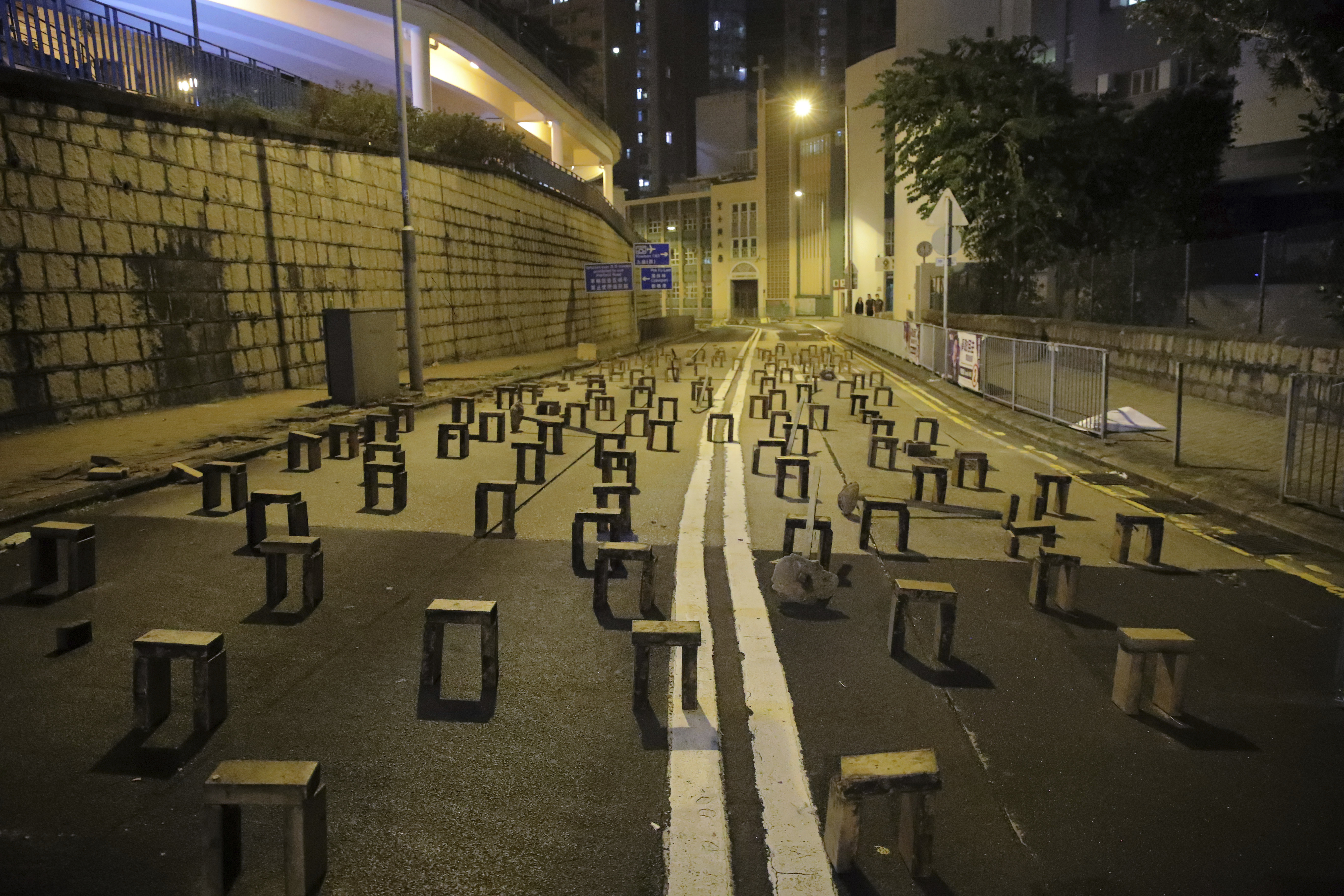 ---
---
During hourslong standoffs with students this week, the Hong Kong police broke an unspoken rule to keep off campuses.
Confronted by lines of riot police, black-clad students at the city's largest universities erected makeshift barricades and threw bricks. The police responded by firing non-lethal projectiles for the first time on campuses.
In six months of anti-government protests, universities around Hong Kong had served as sanctuaries for the students at the core of the movement, homes where they could strategise and classrooms where they could debate politics.
The most dramatic clash unfolded late on Tuesday night at a bridge leading to the campus of the Chinese University of Hong Kong. For hours, police officers fired hundreds of rounds of tear gas and rubber bullets and students hurled Molotov cocktails and bricks, and practiced firing bows with flaming arrows.
More than 100 injured students were brought to a makeshift first-aid clinic in a gym.
By targeting campuses, the police have breached the last refuge of the protesters, a move that brings the violence to the heart of the universities and invokes the pivotal and fraught role of student activism in the global history of democracy movements.
"One thing that people have realised is that the protests, the movement, the conflict, is unavoidable," Gabriel Fung, a 19-year-old second-year student at the University of Hong Kong, said. "It's going to reach you wherever you are at some point."
It is at these universities where young leaders and other students have been organising revolts against the Chinese Communist Party and spreading the pro-democracy ideas that undergird the protests. And here too, that the students discuss the wealth inequality that has led to visions of a bleak future among many of their generation.
In Hong Kong, university administrators and professors now find themselves in a difficult position, trying to preach tolerance and walk a tightrope of furious demands from students, the police and government officials. Two schools on Wednesday ended their semesters weeks early.
"Not a single place in Hong Kong is exempt from the rule of law, and that includes universities," John Lee, the secretary for security, said on Wednesday at a news conference. "Universities are not supposed to be the breeding ground of violence."
The showdown has been brewing for years, going back to the pro-democracy Umbrella Movement of 2014.
Student activists in Hong Kong have lived by an exhausting weekly rhythm since the movement began in early June: protest on weekends, show up on Mondays for class, study for exams and apply for internships or jobs in between it all. Many argue with parents who disagree with their politics or tactics. Hundreds have been arrested in recent months and quickly released by the police, as required by law.
It was the death of a university student this month that set off the current round of protests and violence. Chow Tsz-lok, a student at the Hong Kong University of Science and Technology, sustained a fatal injury after falling from a parking garage near a police action on November 4.
Thousands attended candle-lit memorial rallies last weekend and his photograph is on posters and makeshift shrines all over campuses, since he is now a martyr for other students.
Roiled by the latest unrest, universities cancelled classes from Monday to Thursday. That meant protesters were able to hit the streets at dawn on weekdays after sleeping a few hours.
The fraught situation led police officers on Wednesday to organise an evacuation of dozens of mainland Chinese students across the border to Shenzhen, where hotels offered them free rooms.
One graduate student at Hong Kong University said he and others from the mainland still felt safer on campuses than on the streets. He said many students do not openly express pro-Beijing opinions and sometimes avoid speaking loudly in Mandarin, the dominant language back home.