Hindi novel Tomb of Sand wins 2022 International Booker Prize
Book claims the title despite not having been reviewed by a major British newspaper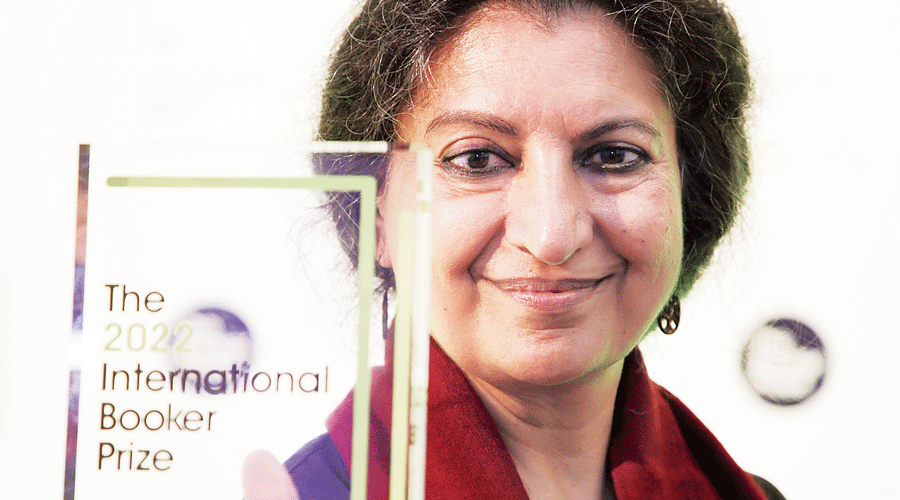 Shree with the International Booker award in London on Thursday.
AP/PTI
---
London
|
Published 28.05.22, 02:06 AM
|
---
A "luminous novel of India and Partition", Tomb of Sand, has won the 2022 International Booker Prize with the £50,000 reward to be shared between the author, Geetanjali Shree, and Daisy Rockwell, an American who translated the book into English from the Hindi original.
The novel is the first in an Indian language to win the International Booker Prize, the prestigious award for fiction translated into English. It claimed the title despite not having been reviewed by a major British newspaper.
Author and translator embraced as the winning novel, whose Hindi title is Ret Samadhi, was revealed.
The judges considered 135 books, picking the eventual winner from a shortlist of six.
There is now hope that many more translations of books in Indian vernacular languages will be published in Britain, America and the West in general.
Shree, who was born in Mainpuri in Uttar Pradesh in 1957 and lives in Delhi, has now become something of a star. She and Rockwell will appear at the prestigious Hay Festival in the UK on May 29.
The author of three novels and several story collections, Shree has been translated into English, French, German, Serbian and Korean. But this is the first time she has been published in the UK, which often establishes the international reputation of Indian authors.
Originally published in Hindi in 2018, Tomb of Sand was awarded one of English PEN's coveted translation awards. The book was published in English by Tilted Axis Press in August 2021.
Announcing that Tomb of Sand had won at a ceremony in London on Wednesday, Frank Wynne, chair of judges, said: "This has been an exceptionally strong shortlist, and it was gradually, regretfully, that we winnowed these six down to one after a long and impassioned debate. Ultimately, we were captivated by the power, the poignancy and the playfulness of Tomb of Sand, Geetanjali Shree's polyphonic novel of identity and belonging, in Daisy Rockwell's exuberant, coruscating translation.
"This is a luminous novel of India and Partition, but one whose spellbinding brio and fierce compassion weaves youth and age, male and female, family and nation into a kaleidoscopic whole."
He went on to describe it as "enormously engaging and charming and funny and light, despite the various subjects it's dealing with… a perfectly decent beach read for absolutely everyone".
Rockwell's translation was "stunningly realised, the more so because so much of the original depends on wordplay, on the sounds and cadences of Hindi", he added.
"Despite the fact that Britain has a very long relationship with the Indian subcontinent, very few books are translated from Indian languages, from Hindi, from Urdu, from Malayalam, from Bengali," Wynne said.
"I think that's a pity and I think, in part, it happens because a subsection of Indian writers write in English, and perhaps we feel that we already have the Indian writers we need but unfortunately there are many, many Indian writers of whom we're unaware simply because they have not been translated."
The International Booker Prize is awarded every year to the best book translated into English and published in Britain or Ireland. It is separate from the better-known Booker Prize, awarded for novels originally written in English, but comes with the same prize money and has helped turn some authors into stars.
The Booker has been won by, among others, V.S. Naipaul, Salman Rushdie, Arundhati Roy, Kiran Desai and Aravind Adiga.
The judges provided a helpful synopsis of the novel which will boost sales further: "Tomb of Sand is set in northern India, and follows an 80-year-old woman who slips into a deep depression at the death of her husband, then resurfaces to gain a new lease on life.
"Her determination to fly in the face of convention — including striking up a friendship with a hijra person — confuses her bohemian daughter, who is used to thinking of herself as the more 'modern' of the two.
"To her family's consternation, Ma insists on travelling to Pakistan, simultaneously confronting the unresolved trauma of her teenage experiences of Partition, and re-evaluating what it means to be a mother, a daughter, a woman, a feminist.
"Rather than respond to tragedy with seriousness, Geetanjali Shree's playful tone and exuberant wordplay results in a book that is engaging, funny and utterly original, at the same time as being an urgent and timely protest against the destructive impact of borders and boundaries, whether between religions, countries or genders."
Rockwell is a painter, writer and translator living in Vermont, the US. She was born in 1969 in Massachusetts.
She has translated several classic works of Hindi and Urdu literature, including Upendranath Ashk's Falling Walls, Bhisham Sahni's Tamas, and Khadija Mastur's The Women's Courtyard.
The judging panel included author and academic Merve Emre; writer and lawyer Petina Gappah; writer, comedian and TV, radio and podcast presenter Viv Groskop; and translator and author Jeremy Tiang. This is the first time a translator has chaired the panel.
Wynne said the judges had a "passionate debate" but "when it came down to it, this was overwhelmingly the book chosen by the judges".
Also shortlisted was Cursed Bunny by Bora Chung, translated by Anton Hur from Korean; A New Name: Septology VI-VII by Jon Fosse, translated by Damion Searls from Norwegian; Heaven by Mieka Kawakami, translated by Sam Bett and David Boyd from Japanese; Elena Knows by Claudia Pineiro, translated by Frances Riddle from Spanish; and The Books of Jacob by Olga Tokarczuk, translated by Jennifer Croft from Polish.
Additional reporting by New York Times News Service