Heat wave fuels violent fires in France, Spain
Two people killed in Spain, Prime Minister links calamity to global warming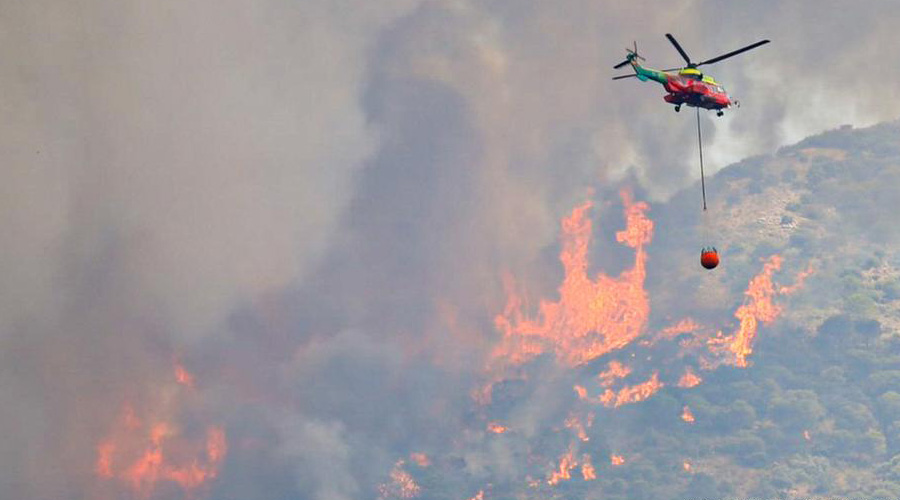 Wildfires, like the one seen here in Sierra de Mijas mountain range in Spain, have burned thousands of hectares of land
Deutsche Welle
---
La Teste-De-Buch
|
Published 19.07.22, 01:08 AM
|
---
A heat wave broiling Europe spilled northwards on Monday to Britain and fuelled ferocious wildfires in Spain and France, which evacuated thousands of people and scrambled water-bombing planes and firefighters to battle flames spreading through tinder-dry forests.
Two people were killed in the blazes in Spain that the country's Prime Minister linked to global warming, saying: "Climate change kills."
In recent days, unusually high temperatures have gripped swathes of Europe, triggering wildfires from Portugal to the Balkan region.
Some countries are also experiencing extended droughts. Climate change makes such life-threatening extremes less of a rarity — and has brought heat waves even to places like Britain, which braced for possibly record-breaking temperatures.
French forecasters also warned of possible record temperatures as swirling hot winds complicated firefighting efforts. "The fire is literally exploding," said Marc Vermeulen, the regional fire service chief who described tree trunks shattering as flames consumed them, sending burning embers into the air and further spreading the blazes. 
Authorities started evacuating more towns, moving another 11,500 people from areas at risk of finding themselves in the path of the fires and their thick clouds of choking smoke.
That will take the number of people who have been forced out of their homes in the Gironde region to nearly 28,000 since the wildfires began July 12.  Spain reported a second fatality in two days as it battled its own blazes.
The body of a 69-year-old sheep farmer was found on Monday in the same hilly area where a 62-year-old firefighter died a day earlier in Zamora province.