Gandhi statue defiled in London
A sculpture of Winston Churchill in Parliament Square was also daubed with the word 'racist'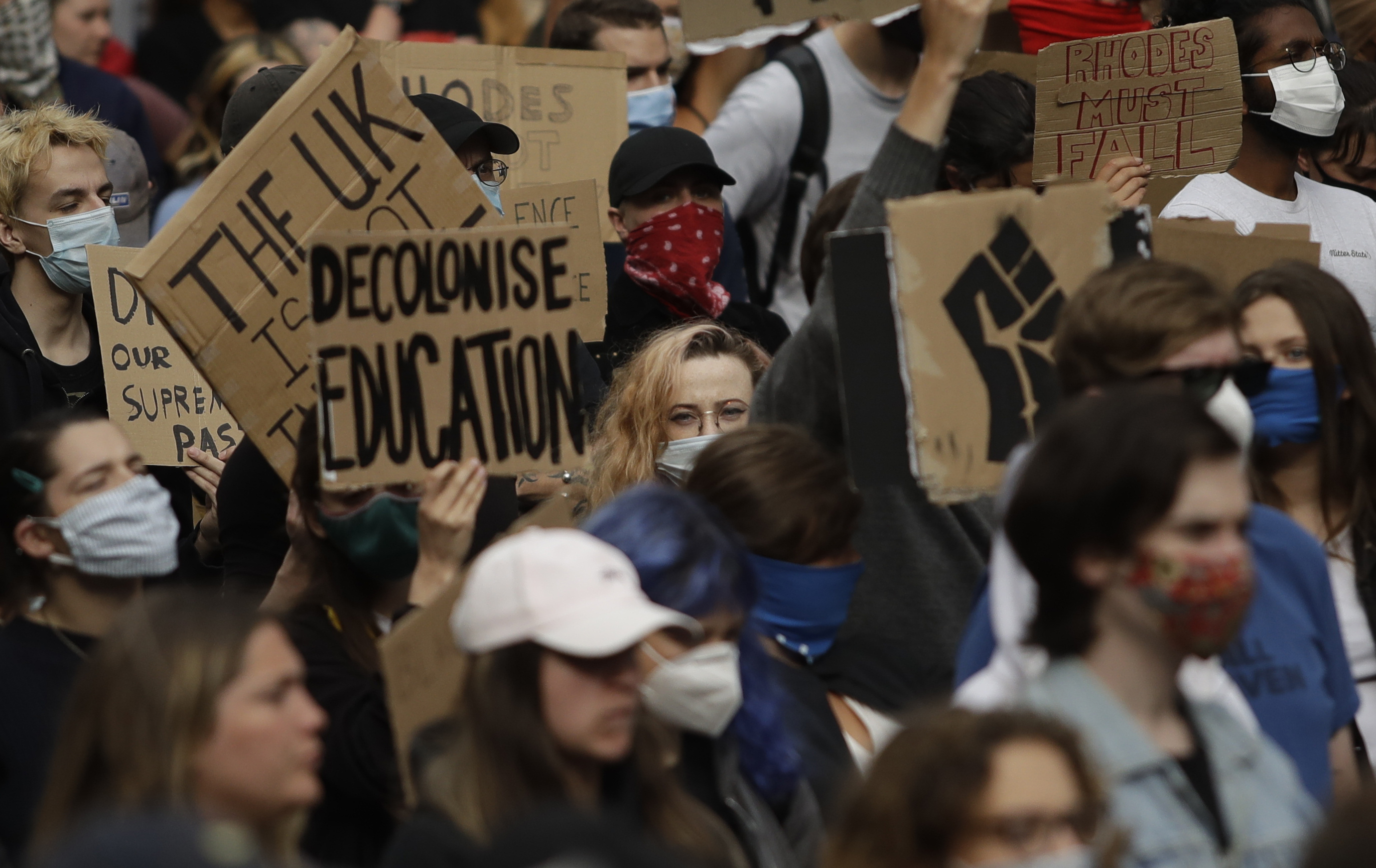 Supporters of the Rhodes Must Fall group participate in a protest calling for the removal of a statue of Cecil Rhodes
(AP photo)
---
London
|
Published 09.06.20, 08:58 PM
|
---
Black Lives Matter protesters have vandalised Mahatma Gandhi's statue in Parliament Square, London, daubing "racist" on the pedestal steps and throwing a little white paint on the burnished bronze.
Their action was condemned by the Labour peer Meghnad Desai, chairman of the Gandhi Memorial Trust which raised the funds for the statue. It was installed at its current location in March 2015.
"It is sad that a man who dedicated himself to fight prejudice, oppression and imperialism has been treated with such callous disrespect," said Desai, who admitted he was "shocked" by the act.
"Gandhi was not a racist," he stressed. "As Nelson Mandela, who should know, said about him, 'The values of tolerance, mutual respect and unity for which he stood and acted had a profound influence on our liberation movement and my own thinking.' "
Desai said the protesters had a blinkered view of history: "White lives matter, black lives matter, Asian lives matter, all lives matter."
What began in the UK as demonstrations in sympathy with the death of George Floyd in America now appears to have been hijacked by a hooligan element.
On consecutive nights, the statue of Winston Churchill in Parliament Square was also daubed with the word "racist".
Matters came to a head on Sunday when the statue of 17th century slave trader Edward Colston was toppled from its pedestal in Bristol, dragged to the edge of the nearby Bristol Harbour and pushed into the water.
Prime Minister Boris Johnson expressed sympathy for those who have suffered from racism, However, the "thuggery" of the violent fringe was condemned by the Prime Minister and by the home secretary Priti Patel, who said the vandals would be prosecuted. Priti also demanded an explanation from police in Bristol for why they had not intervened.
A total of 50 police officers have so far been injured in the clashes. Further demonstrations were planned to coincide with Floyd's funeral. Crowds were expected to gather in front of the statue of Mandela in Parliament Square, which happens to be situated to the right of Gandhi's statue.
The mayor of London, Sadiq Khan, has set up a "Commission for Diversity in the Public Realm" which will recommend which statues in London should be removed.
If he is serious, objections can be raised in theory to the vast majority of statues in London. As Desai told The Telegraph: "Almost every white man was a 'racist'."
The mayor told BBC's Radio 4: "When you look at the public realm — street names, street squares, murals — not only are there some of slavers that I think should be taken down, and the commission will advise us on that, but actually we don't have enough representation of people of colour, black people, women, those from the LGBT community.
"It is an uncomfortable truth that our nation and city owes a large part of its wealth to its role in the slave trade and while this is reflected in our public realm, the contribution of many of our communities to life in our capital has been wilfully ignored. This cannot continue."
"The Black Lives Matter protests have rightly brought this to the public's attention, but it's important that we take the right steps to work together to bring change and ensure that we can all be proud of our public landscape."
The commission will be co-chaired by Debbie Weekes-Bernard, the deputy mayor for social integration, social mobility and community engagement, and deputy mayor for culture and creative industries Justine Simons. It will also include historians as well as arts, council and community leaders.
Sadiq did not think Churchill was at risk. He said pupils needed to be educated about famous figures, "warts and all", and that "nobody was perfect", including the likes of Churchill, Gandhi and Malcolm X.
But it has been reported that statues of slave traders and owners Robert Milligan, William Beckford, John Cass and Thomas Guy are likely to be targeted by his commission.
The Black Lives Matter movement is now starting to resemble a tiger that has tasted human blood. Anti-racist demonstrators were planning to call for the removal of a statue dedicated to British imperialist Cecil Rhodes, based in Oxford, on Tuesday evening.
A sculpture representing the head of a black man has been removed from above the 18th century Greenman pub sign in Ashbourne, Derbyshire, "for safe keeping".
A Historic England spokesman said: "England's buildings, monuments and places sometimes bring us face-to-face with parts of our history that are uncomfortable or shameful by today's standards."