Boris, Biden agree to renew Atlantic Charter in first meeting
Core of US President's message during the trip: The US and its allies are engaged in an existential struggle between democracy and autocracy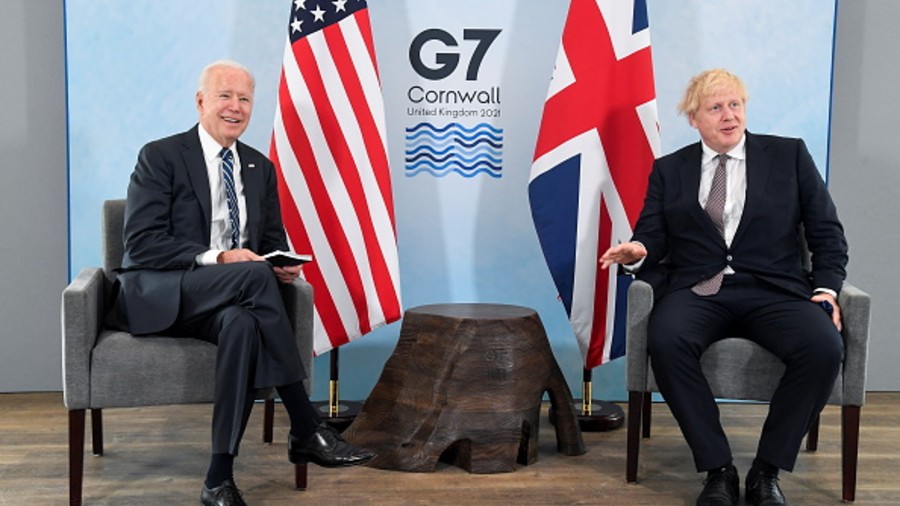 Britain's Prime Minister Boris Johnson meets with U.S. President Joe Biden, ahead of the G7 summit, at Carbis Bay Hotel
Getty Images
---
London
|
Published 11.06.21, 01:16 AM
|
---
With the world confronting the immediate crisis of a pandemic and the long-term challenge of climate change, President Joe Biden and Prime Minister Boris Johnson of Britain on Thursday turned for inspiration to another period of peril and deep uncertainty.
After meeting face to face for the first time since Biden assumed the presidency, they announced a renewal of the Atlantic Charter — the declaration of cooperation that Prime Minister Winston Churchill and President Franklin D. Roosevelt laid out during World War II.
While the two current stewards of the "special relationship" between Britain and the US have disagreed on critical issues, on Thursday they stressed the enduring strength of the alliance.
When the original Atlantic Charter was signed on August 14, 1941, the Nazis had conquered much of Europe, Britain stood largely alone and the US had yet to join the war.
But the symbolic import of the Atlantic Charter declaration had been backed up by the passage of the Lend-Lease Act only a short time earlier, allowing the US to provide critical military equipment to allies.
Before Biden and Johnson signed the new document, a senior US official called it a "profound statement of purpose" that echoes the 80-year-old charter by underscoring the original declaration: that "the democratic model is the right and the just and the best" one for confronting the world's challenges.
The official, who spoke to reporters on the condition of anonymity before the meeting between the two leaders, said the charter did not envision a new Cold War between great powers, but rather a world whose problems — including climate change, pandemics, technological warfare and economic competition — are complex and often nuanced.
However, at the core of the President's message during the trip is a central animating theme: The US and its allies are engaged in an existential struggle between democracy and autocracy.
"I believe we're in an inflection point in world history," Biden said on Wednesday evening in a speech to troops stationed at RAF Mildenhall at the start of his European visit. "A moment where it falls to us to prove that democracies not just endure, but they will excel as we rise to seize enormous opportunities in the new age."
By playing a leading role in the effort to vaccinate the world and providing resources to confront the gravest public health challenges, officials said the US was reclaiming a role it has sought to play since the end of World War II.
Johnson, who is eager to use the summit as a showcase for a post-Brexit identity branded "Global Britain", has also outlined ambitious plans to help end the pandemic. In the run up to the summit, Johnson called on leaders to commit to vaccinating every person in the world against the coronavirus by the end of 2022.
New York Times News Service