G7 nations pledge to phase out Russian oil imports
The move represents the latest attempt by the West to put pressure on Vladimir Putin for his country's invasion of Ukraine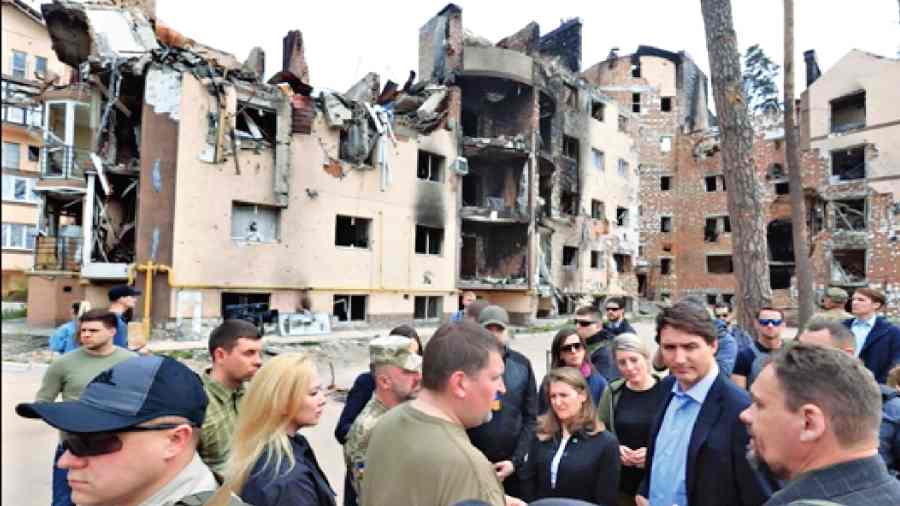 Canadian Prime Minister Justin Trudeau made an unannounced visit on Sunday to the Ukrainian town of Irpin, which was retaken from Russian troops in late March after fierce fighting, the town's mayor said on Telegram.
AP/PTI
---
Wilmington (Delaware)
|
Published 09.05.22, 01:30 AM
|
---
Group of Seven (G7) nations committed on Sunday to ban or phase out imports of Russian oil and the US unveiled sanctions against Gazprombank executives and other businesses to punish Moscow for its war against Ukraine.
The move represents the latest attempt by the West to put pressure on Russian President Vladimir Putin for his country's invasion of Ukraine.
President Joe Biden joined G7 leaders in a videoconference call with Ukrainian President Volodymyr Zelensky to discuss the war, support for Ukraine, and additional measures against Moscow.
"We commit to phase out our dependency on Russian energy, including by phasing out or banning the import of Russian oil. We will ensure that we do so in a timely and orderly fashion," G7 leaders said in a joint statement.
"We will work together and with our partners to ensure stable and sustainable global energy supplies and affordable prices for consumers."
Sanctions
The US unveiled sanctions against three Russian television stations, banned Americans from providing accounting and consulting services to Russians and imposed some 2,600 visa restrictions on Russian and Belarusian officials.
The measures levelled against Gazprombank executives were the first involving the giant Russian gas exporter.
"This is not a full block. We're not freezing the assets of Gazprombank or prohibiting any transactions with Gazprombank," a senior Biden administration official told reporters. "What we're signalling is that Gazprombank is not a safe haven, and so we're sanctioning some of their top business executives... to create a chilling effect."
Eight executives from Sberbank, which holds one-third of Russia's banking assets, were added to the latest US sanctions list. Moscow Industrial Bank and its 10 subsidiaries were also added.
Promtekhnologiya, a weapons maker, was sanctioned, along with seven shipping companies and a marine towing firm. The Nuclear Regulatory Commission will suspend licences for exports of special nuclear material to Russia.
The sanctioned television stations are directly or indirectly state-controlled, the White House said, and included Joint Stock Company Channel One Russia, Television Station Russia-1, and Joint Stock Company NTV Broadcasting Company.