Fragile Israel-Hamas ceasefire takes hold
10 days of fighting paused as people on both sides of divide wait nervously to see if truce will last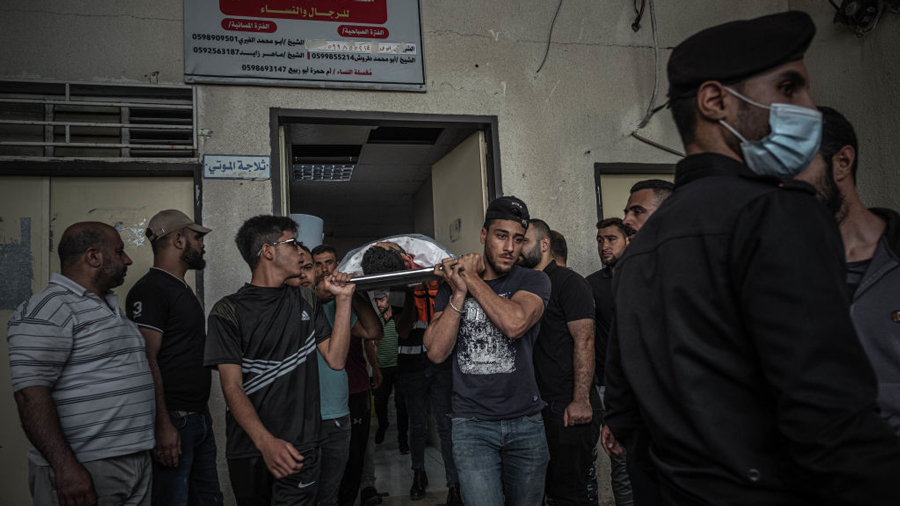 Relatives of Palestinian Hashem al-Shorafa, who was said to be killed during an Israeli raid on North Gaza City, mourn during his funeral on May 20, 2021 in Gaza City, Gaza.
Fatima Shbair/Getty Images
---
Published 22.05.21, 01:03 AM
|
---
The sirens across southern Israel were silent early Friday morning, and the thunder of bombs bursting in Gaza City was replaced by sounds of celebratory gunfire as a fragile ceasefire between Israel and Hamas went into force, bringing an end to more than 10 days of fighting that claimed more than 200 lives.
The truce, mediated by Egypt, began at 2am (local time) in Israel as people on either side of the divide watched nervously to see whether it would hold.
As morning dawned with no reported violations of the truce, both sides were beginning to take stock of the deadliest Israeli-Palestinian fighting in seven years.
A small skirmish was reported outside the al-Aqsa Mosque compound in Jerusalem on Friday afternoon between Palestinians and the Israeli police, but they appeared limited in scope.
However, tensions remained high, and past cease-fires between Israel and Hamas have proved fragile, so both sides were watching developments nervously.
The Israeli aerial and artillery campaign killed more than 230 people in Gaza, many of them civilians, according to the Gaza health ministry, and badly damaged the impoverished territory's infrastructure, including the fresh water and sewer systems, the electrical grid, hospitals, schools and roads.
The primary target was Hamas's extensive network of tunnels for moving fighters and munitions, and Israel also sought to kill Hamas leaders and fighters.
More than 4,000 rockets had been fired at Israel from Gaza since May 10, killing 12 people, mostly civilians. Hamas and Israel have been engaged in some form of conflict since the Palestinian group was founded in the 1980s. This particular round of military action began as Hamas fired a barrage of rockets at Jerusalem in response to several police raids on the mosque, one of the holiest sites in Islam, and the planned evictions of several Palestinian families from their homes in the city.
Even with the pause in fighting, the underlying causes of the conflict remain: the dispute over land rights in Jerusalem and the West Bank, religious tensions in the Old City of Jerusalem and the absence of a peace process to resolve the conflict. Gaza remains under a punishing blockade by Israel and Egypt.
But the immediate concern for world leaders was the rapidly escalating humanitarian crisis in Gaza and the growing death toll — which included dozens of Palestinian children.
President Biden spoke to Prime Minister Benjamin Netanyahu of Israel six times in recent days — turning increasingly blunt as the crisis stretched on. He warned the Israeli leader that he could not withstand mounting international criticism of the Gaza strikes for long.
The President's advisers said he believed he could quietly push Netanyahu, whom he has known for 40 years, to bring an end to the violence. And in the hours before the ceasefire announcement, Biden also held a call with President Abdel Fattah el-Sisi of Egypt to discuss the possibility of brokering a deal.
Pakistan support
Ten of thousands of Pakistanis marched in support of the Palestinians on Friday, but a bomb blast killed six people at one rally in Chaman, southwest Pakistan. People waved Palestinian flags and placards that read "All unite to free Palestine" and "Boycott Israel" at the rallies.
New York Times News Service and Reuters