Former US secretary of state Colin Powell dies of Covid complications
He had undergone treatment for multiple myeloma, which compromised his immune system, a spokeswoman said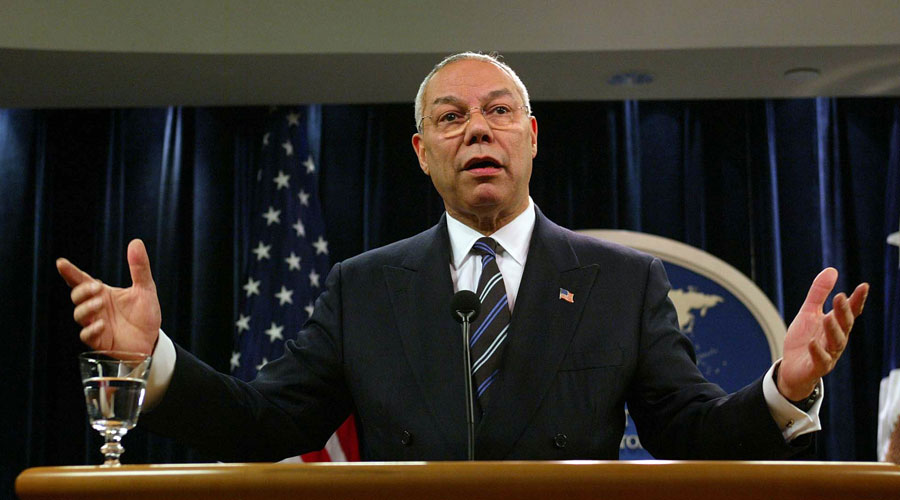 FILE — Secretary of State Colin Powell speaks to reporters during a news conference at the State Department in Washington on Jan. 8, 2004.
(Doug Mills/ The New York Times)
---
Washington
|
Published 19.10.21, 01:00 AM
|
---
Colin Powell, the son of Jamaican immigrants who rose to become the first black US secretary of state and top military officer but whose reputation was tainted in 2003 when he touted spurious intelligence to the UN to make the case for war with Iraq despite deep misgivings, died on Monday at the age of 84.
Despite being fully vaccinated against Covid-19, his family said, he died due to complication from the disease.
Powell had undergone treatment for multiple myeloma, which compromised his immune system, a spokeswoman said. She said he was supposed to receive a booster shot for his vaccine last week but could not because he had fallen ill.
Powell was one of America's foremost black figures for decades. He was named to senior posts by three Republican Presidents and reached the top of the US military as it was regaining its vigour after the trauma of the Vietnam War.
Powell, who was wounded in Vietnam, served as US national security adviser under President Ronald Reagan from 1987 to 1989. As a four-star army general, he was chairman of the military's Joint Chiefs of Staff under President George H.W. Bush during the 1991 Gulf War in which US-led forces expelled Iraqi troops from neighbouring Kuwait.
Powell, a moderate Republican and a pragmatist, considered a bid to become the first black President in 1996 but his wife Alma's worries about his safety helped him decide otherwise. In 2008, he broke with his party to endorse Democrat Barack Obama, who became the first black person elected to the White House.
Powell will forever be associated with his controversial presentation on February 5, 2003, to the UN Security Council, making President George W. Bush's case that Iraqi President Saddam Hussein constituted an imminent danger to the world because of its stockpiles of chemical and biological weapons.
He admitted later that the presentation was rife with inaccuracies and twisted intelligence provided by others in the Bush administration and represented "a blot" that will "always be a part of my record".
Bush had picked Powell, the top US military officer during his father's presidency, as secretary of state in 2001.
Powell endured four stormy years as the top US diplomat, often outmaneuvered by Vice-President Dick Chene and defence Secretary Donald Rumsfeld.
With US troops already fighting a war in Afghanistan launched after Afghan-based al Qaida leaders plotted the September 11, 2001, attacks on the US, hawks within the Bush administration began to advocate war with Iraq.
Powell argued within the administration to let diplomacy run its course on Iraq. He held grave reservations about a war, as well as the veracity of intelligence about Iraqi weapons, and the Pentagon's insistence on a relatively small invasion force.
Powell privately warned Bush about the monumental difficulties of invading and occupying Iraq, invoking the so-called Pottery Barn rule: "You break it, you own it."
Nevertheless, Powell — the most respected member of the Bush cabinet globally —agreed to publicly sell the case for war in order to gather international support.
In the Security Council chamber, he displayed photographs and diagrams purporting to detail Iraqi weapons of mass destruction, as well as translations from US intelligence intercepts.
At one point, Powell brandished a small vial containing a teaspoon of simulated anthrax, warning that Iraq had not accounted for "tens upon tens upon tens of thousands of teaspoons" of the deadly pathogen.
The invasion came six weeks later but no such weapons were found, undermining American credibility for years. US forces fought in Iraq from 2003 to 2011, with nearly 4,500 American troops killed and 32,000 wounded.
Powell told the author of a 2006 book that he spent five days ahead of the UN presentation "trimming the garbage" that Cheney's staff had provided as evidence of Saddam's weapons programmes and al-leged links to al Qaida.