First blow to Blair as Cook quits over war
Read more below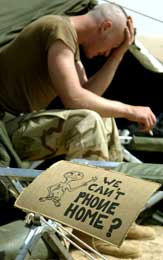 ---
Published 18.03.03, 12:00 AM
|
---
Labour parliamentary leader, Robin Cook, in London on Monday. (Reuters) A sign at a US camp outside Kuwait City on Monday. (Reuters)
London, March 17 (Reuters): British Prime Minister Tony Blair suffered his biggest political hit of the Iraq crisis today when a senior Cabinet minister resigned in protest at his hawkish stance.
"It is with regret I have today resigned from Cabinet," the government's parliamentary leader and former foreign secretary Robin Cook said in a statement.
"I can't accept collective responsibility for the decision to commit Britain now to military action in Iraq without international agreement or domestic support."
Blair's pro-American Iraq policy has set the centrist Labour leader against a large part of his party in the biggest crisis of his Premiership since taking power in 1997.
Cook, who had previously said he would not support a war without UN backing, resigned ahead of an emergency Cabinet meeting and as the US told Iraqi President Saddam Hussein he must leave the country or face war.
Another minister who has threatened to resign, international development secretary Clare Short, said she would make a statement later. Apart from those two, Blair is thought to have relatively solid Cabinet support.
Weighed down by Blair's political problems, Britain's sterling currency fell by late afternoon to a three-month low versus the US dollar at below $1.57.
On a more welcome note for Blair, his government's top lawyer countered claims from some quarters that war on Iraq would be illegal under international law by saying he believed it could be justified under a raft of existing UN resolutions.
"Authority to use force against Iraq exists from the combined effect of resolutions 678, 687 and 1441," attorney-general Lord Goldsmith said.
UN resolutions 678 and 687 were passed before and after the 1991 Gulf War. Resolution 1441 was unanimously voted through by the Security Council last year, demanding Saddam disarm or face "serious consequences".
President George W. Bush had given the UN an ultimatum to give its blessing to a resolution sanctioning the use of force to rid Iraq of suspected weapons of mass destruction.
But France restated a veto threat that effectively signalled the end of diplomacy.
Blair's ministers were being asked to make a final decision at their Cabinet meeting.
"Judgments will have to be reached as to whether we have come to the end of the diplomatic road," a government spokesman said.
The US has advised the UN to pull its weapons inspectors out of Iraq, the clearest signal to date that war is imminent.
Both London and Washington were training their verbal guns on Paris.
"The damage done by this threat of a French veto to the whole diplomatic process has been enormous," foreign office minister Mike O'Brien said.
The British embassy in Kuwait told its nationals to leave the country urgently while flights were still available.
Aides believe Blair can ride the political damage as long as war in Iraq is short and does not result in the deaths of thousands of innocents or British soldiers.
The government has yet to say whether it will give parliament the opportunity of a vote on the Iraq crisis but it is expected to be this week. There too, it faces trouble.
Last month, 122 Labour members of parliament, more than one in four, defied Blair's hawkish Iraq stance. Rebels in Blair's ruling party say that number could rise by another 40 this time.
But the support of opposition Conservatives will deliver Blair parliamentary support almost whatever the size of the Labour rebellion.