Father of all Brexits hits Boris
The British prime minister's dad, 80-year-old Stanley Johnson, jumps ship and applies for French citizenship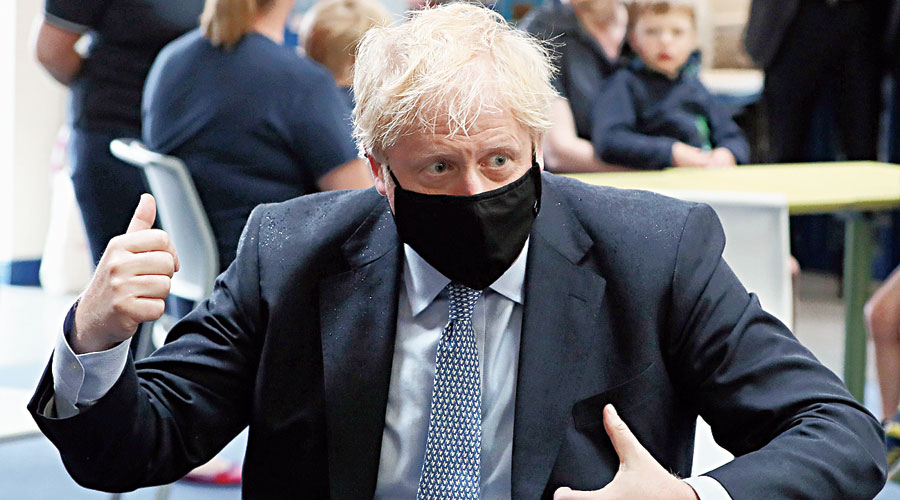 ---
London
|
Published 02.01.21, 12:16 AM
|
---
If leaving the EU is such an unmixed blessing for the UK, as is claimed by the British Prime Minister Boris Johnson, why has his own father, 80-year-old Stanley Johnson, jumped ship and applied for French citizenship?
This is the embarrassing question that Boris will have to answer as he sets out the advantages of Brexit, which appear to have eluded not only his father but also his younger siblings, brother Jo and his sister Rachel, all of whom campaigned for the UK to remain a member of the EU.
It was midnight in Europe but 11pm on new year's eve in Britain (because of the hour's time difference with GMT) when the chimes of Big Ben signalled the moment the two sides were formally divorced.
At almost exactly the same time it was announced from France that Stanley, no doubt keen not to lose all the advantages of EU membership —such as the right to visit any EU country for more than 90 days without a visa and also retain privileges of residency without seeking special permission — had applied for French citizenship.
To be sure, Stanley has long been seen as something of a maverick — qualities many people say he has passed on to Boris — but he provided elaborate reasons for his decision in an interview with the French radio station RTL.
He said: "It's not a question of becoming French. If I understand correctly I am French! My mother was born in France, her mother was completely French as was her grandfather.
"For me it's a question of obtaining what I already have and I am very happy about that."
He added: "I will always be European, that's for sure. You can't tell the English 'you're not European'. Europe is more than the single market, it's more than the EU."
"That said, to have a link like that with the EU is important," he concluded, apparently referring to an EU passport.
Why he did not apply before is not clear.
Stanley served as an MEP (Member of the European Parliament) 40 years ago, and was one of the first UK civil servants to work in Brussels after Britain joined the European Economic Community (EEC) in 1973. He went on to work for the European commission. He campaigned for the UK to remain in the EU, while Boris led the leave movement.
Stanley is among 350,000 Britons who have applied for dual nationality of another EU state. Close historical ties between Ireland and the UK put the country at the top of the league of EU passports held by dual-national Britons.
Before deciding which way to jump before the EU referendum in June 2016, Boris is said to have written two articles for his paper, the Daily Telegraph, one in favour of staying in and the other backing Brexit. In the end, he chose the latter course, much to the fury of David Cameron, who resigned as Prime Minister after the narrow "Leave" victory. His successor, Theresa May, was also ousted from office after her failure to deliver Brexit.
Boris, now hailed as the conquering hero by hardline Brexiteers in British politics, has written an exclusive new year's article for the Daily Telegraph, in which he said: "But before you shoot your head back under the (duvet) covers — let me offer some grounds for thinking that this New Year really is a year of change, and hope.
"Despite the many predictions of failure — and constant suggestions that the talks should be abandoned — we got a great new deal with our European friends and neighbours." Stanley, who clearly understands where his personal interests lie, does not appear to be entirely convinced by his son's arguments.
Outside EU's orbit
The UK began the New Year outside the EU's orbit on Friday after ending a tempestuous 48-year liaison with the European project, its most significant geopolitical shift since the loss of empire. Brexit took effect in substance on Thursday at the strike of midnight in Brussels, or 2300 London time (GMT).