Evil Belgian found guilty
Read more below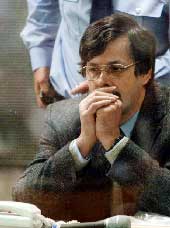 ---
Published 18.06.04, 12:00 AM
|
---
Marc Dutroux in an Arlon, Belgium, courthouse. (AFP)
Arlon (Belgium), June 17 (Reuters): Marc Dutroux, Belgium's most reviled man, was found guilty today of kidnapping and raping six girls and killing four of them in a trial that has gripped the country for months.
After three days of consideration, the jury found the man described by experts as a self-absorbed psychopath guilty on all counts for a series of crimes that shocked the country in 1996. Dutroux, 47, faces life in prison.
The crimes, which included the death by starvation of two girls in a dungeon in the basement of Dutroux's house near the southern city of Charleroi, have haunted the country for years.
Given the bungled investigation into the missing girls, many Belgians came to believe Dutroux worked under the protection of a child sex ring whose members included influential people.
In his testimony, Dutroux played on this widely held belief, describing himself as a reluctant accomplice who supplied girls to a mysterious ring for fear of his life.
Despite allusions to police helping kidnap girls and suggestions the ring had ties to a Satanic cult, Dutroux and his lawyers failed to produce evidence to support their claims.
During a brief recess in the proceedings, members of the victims' families came out of the courtroom expressing relief in the case of Dutroux and the two co-defendants. "I am happy," a smiling Paul Marchal told local television. "They are guilty for everything that they have done."
His daughter, An, and her friend were kidnapped while on holiday on the coast in 1995. Their bodies were dug up in the backyard of a house near Charleroi after Dutroux's 1996 arrest.
The jury found the two other co-defendants, including Dutroux's ex-wife Michelle Martin, guilty of similar charges.