Drug lord El Chapo gets life in prison
Sentence ends one of modern history's most brutal and notorious criminal careers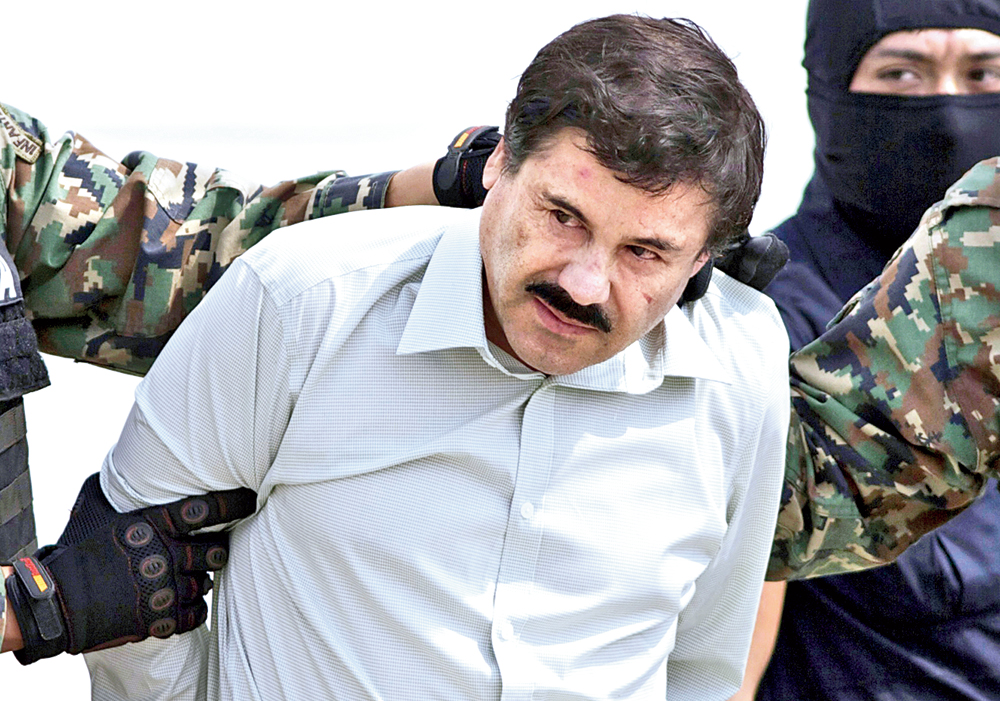 Joaquin "El Chapo" Guzman being escorted to a helicopter in Mexico City after his capture in the beach resort town of Mazatlan on February 22, 2014
(AP file photo)
---
New York
|
Published 17.07.19, 08:14 PM
|
---
Joaquin Guzman Loera, the Mexican drug lord known as El Chapo, was sentenced on Wednesday to life in prison, ending one of modern history's most brutal and notorious criminal careers.
The life sentence, mandated by law as a result of the severity of Guzman's crimes, was handed down in the Federal District Court in Brooklyn, where the kingpin was convicted last winter of drug, murder and money laundering charges after a sprawling three-month trial.
As some of the federal agents who had chased him for years looked on from the gallery, Judge Brian M. Cogan issued the life term and Guzman, 62, was hauled away to prepare himself — pending an appeal — for spending the rest of his life behind bars.
Judge Cogan said the "overwhelming evil" of Guzman's crimes were apparent. Besides giving him a life sentence plus 30 years, he ordered the drug lord to pay $12.6 billion in restitution.
Speaking for several minutes before his sentencing, Guzman said he had not received a fair trial and complained about his imprisonment in a federal jail in Manhattan, calling it "psychological, emotional and mental torture 24 hours a day".
"Since the government of the United States is going to send me to a prison where my name will never be heard again, I take advantage of this opportunity to say there was no justice here," he said.
Guzman almost certainly will be sent to the country's most forbidding federal prison, the US Penitentiary Administrative Maximum Facility, or ADX, in Florence, Colorado.
Guzman's career atop one of Mexico's most powerful cartels came to a close only after Mexico agreed to extradite him to the US in January 2017.
His ability to escape from prison and evade capture for years underscored the deep corruption of the Mexican authorities by his cartel, which employed bribery and intimidation to control not just local police departments, but the highest ranking officials in the national government.
"It's justice not only for the Mexican government, but for all of Guzman's victims in Mexico," said Raymond P. Donovan, the agent in charge of the New York office of the Drug Enforcement Administration, which was instrumental in capturing the kingpin twice.
The trial took place under intense media scrutiny and tight security that involved bomb-sniffing dogs, police snipers and federal marshals with radiation sensors.
Prosecutors levelled some of the most serious charges possible against him, presenting evidence that he sent hundreds of tons of drugs to the US from Mexico and caused the deaths of dozens of people to protect himself and his smuggling routes.
The case revealed in exacting detail the inner workings of the Sinaloa drug cartel — such as how it employed IT consultants and how it packaged its cocaine in rubber "condoms".
But given the defendant's fame and notoriety, the trial was also a boisterous legal circus, complete with a horde of international reporters, a steady trickle of curious "narco-tourists" and a cameo appearance by an actor who plays the drug lord on a Netflix show.
The verdict came after more than a week of deliberations by the jury. Ultimately, Guzman was found guilty on all 10 counts of the indictment.
As the verdict was read, he sat listening to a translator, looking stunned. When the reading of the verdict was complete, Guzman leaned back to glance at his wife, Emma Coronel Aispuro, who flashed him a thumbs up with tears in her eyes.
On that day, Richard P. Donoghue, the US attorney for the Eastern District of New York, called the guilty verdict a victory for law enforcement.
"There are those who say the war on drugs is not worth fighting," Donoghue said. "Those people are wrong."
Even Guzman's lawyers admitted defending the kingpin was a daunting task.
"I've never faced a case with so many cooperating witnesses and so much evidence," Jeffrey Lichtman, one of Guzman's lawyers, said. "We did all we could as defence lawyers." Two days after Guzman's conviction in February, two of the kingpin's sons were indicted by federal prosecutors.