Donald Trump shows no regret for inciting mob
President tells reporters that impeachment effort is causing 'tremendous anger'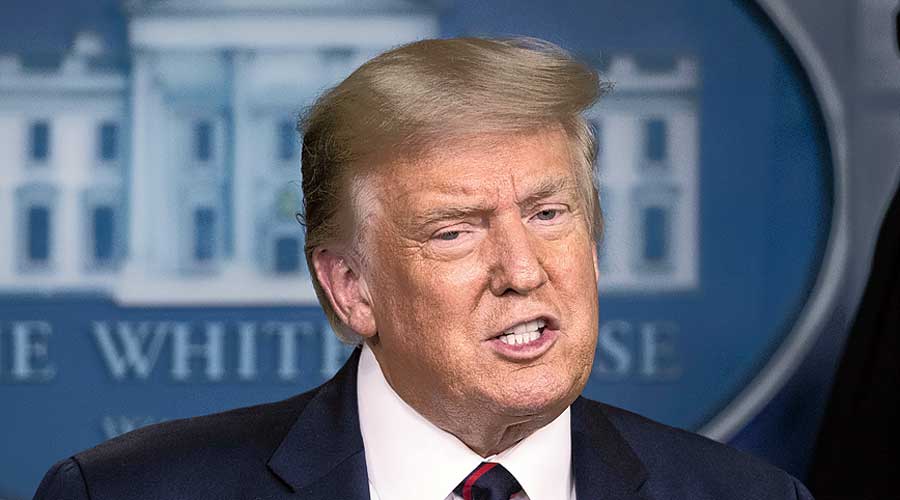 ---
|
New York
|
Published 13.01.21, 01:13 AM
---
President Trump on Tuesday showed no contrition or regret for instigating the mob that stormed the Capitol and threatened the lives of members of Congress and his vice-president, saying that his remarks to a rally beforehand were "totally appropriate" and that the effort by Congress to impeach and convict him was "causing tremendous anger".
Answering questions from reporters for the first time since the violence at the Capitol on Wednesday, the President sidestepped questions about his culpability in the deadly riot that shook the nation's long tradition of peaceful transfers of power.
"People thought what I said was totally appropriate," Trump told reporters at Joint Base Andrews, en route to Alamo, Texas, where he was set to visit the border wall. Instead, Trump claimed that racial justice protests over the summer were "the real problem".
"If you look at what other people have said, politicians at a high level about the riots during the summer, the horrible riots in Portland and Seattle and various other places, that was a real problem," he said.
Trump's defiance came despite near universal condemnation of his role in stoking the assault on the Capitol, including from within his own administration and some of his closest allies on Capitol Hill.
Earlier, he asserted that it was the impeachment charge, not the violence and ransacking of the Capitol, that was "causing tremendous anger".
Trump has been largely silent since Friday, when Twitter permanently suspended his Twitter account. When asked directly on Tuesday morning if he would resign with just nine days left in office, Trump said "I want no violence."
He did not address his own role in inciting the mob of Trump supporters. Instead, the President framed himself as a victim, calling impeachment a "continuation of the greatest witch hunt in the history of politics".
"I think it's causing tremendous anger," he said.
The aim of the trip to the border with Mexico is to promote the partially built border wall, which the Trump administration views as an accomplishment. The President is scheduled to land in Harlingen, then fly by helicopter the short distance to McAllen. From there, he is expected to visit a portion of the border wall in nearby Alamo.
Across the street from McAllen airport, pedestrian fences have been placed where the President's motorcade is expected to travel.
Vehicles from the McAllen Police and the US Border Patrol patrolled the area ahead of Trump's arrival.
At the Aztek Barber Shop in Alamo, Alejandro Silva, 27, said he held nothing against Trump.
"But he shouldn't be visiting now," said Silva, a mechanic. "He should leave office and leave everyone alone."
The President's supporters were planning two parades on Tuesday in Harlingen and McAllen, but a coalition of anti-border wall activists circulated a petition to urge politicians to cancel Trump's trip to Alamo.
New York Times News Service