Donald Trump 'not happy' with border deal but does not say if he will sign it
The US President all but ruled out another government shutdown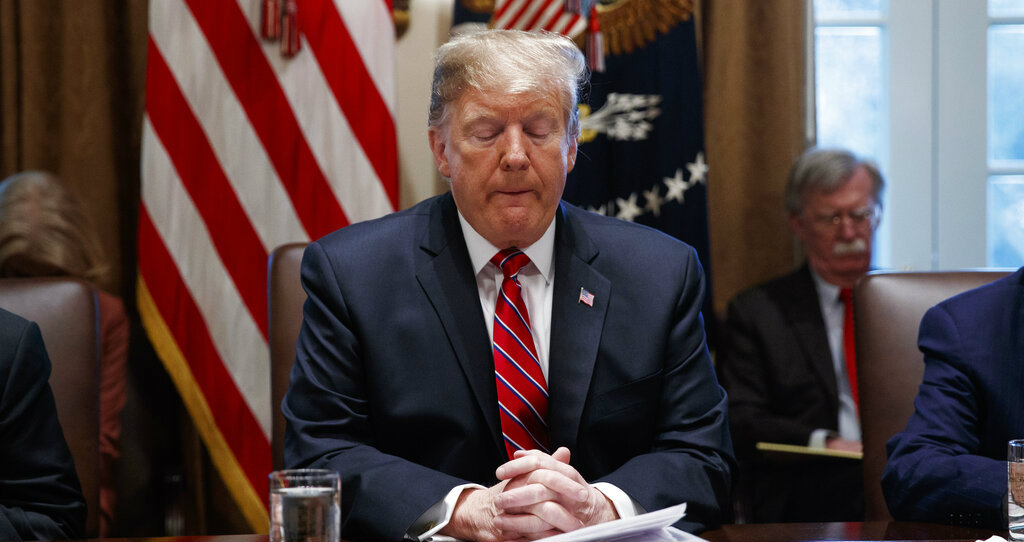 Donald Trump prays at the start of the Cabinet meeting at the White House on Tuesday.
AP
---
Washington
|
Published 13.02.19, 06:47 AM
|
---
President Donald Trump appeared poised on Tuesday to end two months of scorched-earth confrontation without the money he demanded for a border wall as Republicans pressured him to accept a bipartisan spending deal rather than close the government again on Friday.
Trump pronounced himself unsatisfied with the agreement brokered by House and Senate negotiators, and he refused to publicly commit to signing it. But he all but ruled out another government shutdown and emphasised that he would find "other methods" to finance a border barrier, leading aides and allies to predict he would grudgingly go along with the deal.
"Am I happy at first glance?" the President said, speaking with reporters at the beginning of a Cabinet meeting. "I just got to see it. The answer is no, I'm not. I'm not happy."
But he said he was "moving things around" in the budget from "far less important areas" to finance a wall even without explicit congressional approval, and he expressed no desire to repeat the standoff that shuttered many federal agencies for 35 days. "I don't think you're going to see a shutdown," he said.
Hours later, after a further briefing, Trump seemed to signal acceptance of the agreement, saying that it "will be hooked up with lots of money from other sources" and provide plenty of resources for border security even if not for the wall itself. "Regardless of Wall money," he wrote on Twitter on Tuesday evening, "it is being built as we speak!"
....Will be getting almost $23 BILLION for Border Security. Regardless of Wall money, it is being built as we speak!

— Donald J. Trump (@realDonaldTrump) February 12, 2019
I want to thank all Republicans for the work you have done in dealing with the Radical Left on Border Security. Not an easy task, but the Wall is being built and will be a great achievement and contributor toward life and safety within our Country!

— Donald J. Trump (@realDonaldTrump) February 13, 2019
The compromise measure, assembled by senior members of both parties on Monday night, includes just $1.375 billion for new fencing along the border with Mexico, far short of the $5.7 billion Trump sought for a steel or concrete wall — and less even than the deal that he rejected in December, prompting the longest government shutdown in US history.
The new measure will be taken up as early as Wednesday by the House, which is controlled by Democrats, followed by the Senate, which is run by Republicans.
While some conservatives denounced it as a sellout, Sen. Mitch McConnell, R-Ky., the majority leader, spoke with Trump by telephone on Tuesday and urged him to accept the compromise. "I hope he'll sign it," McConnell told reporters afterward. "I think he got a pretty good deal."
c.2019 New York Times News Service