Donald Trump linked military aid to probes: Ukraine envoy
Taylor sketched out a quid pro quo pressure campaign on Ukraine that Trump and his allies have long denied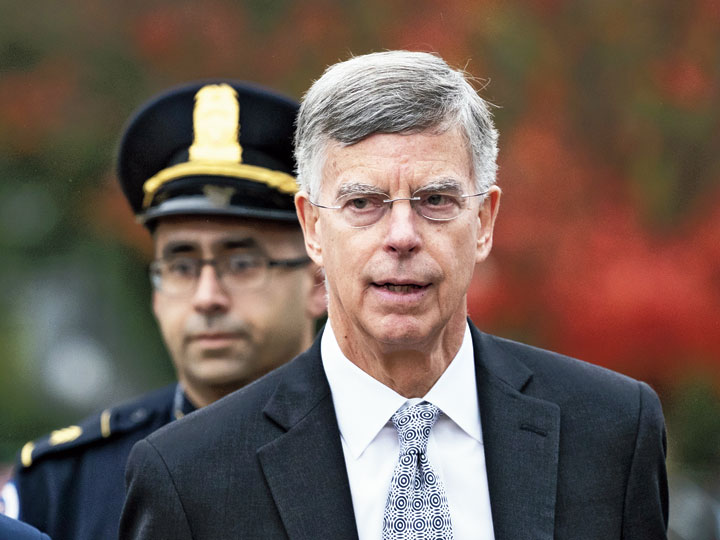 ---
---
The top American diplomat in Ukraine on Tuesday gave impeachment investigators a vivid and impassioned account of how multiple senior administration officials told him that President Trump blocked security aid to Ukraine and refused to meet the country's leader until he agreed to publicly pledge to investigate Trump's political rivals.
In testimony to impeachment investigators delivered in defiance of the state department orders, the diplomat, William B. Taylor Jr, sketched out in remarkable detail a quid pro quo pressure campaign on Ukraine that Trump and his allies have long denied.
He said the President sought to condition the entire US relationship with Ukraine — including a $391 million aid package whose delay put Ukrainian lives in danger — on a promise that the country would publicly investigate former Vice-President Joseph R. Biden Jr and his family.
His account implicated Trump, citing multiple sources inside the government. Those include a budget official who said during a secure National Security Council conference call in July that she had been instructed not to approve the security assistance for Ukraine, and that, Taylor said, "the directive had come from the President".
Taylor referred repeatedly to notes and memos — including a June 30 account of his conversation with the Ukrainian President — that could provide new and potentially explosive avenues of investigation for Democrats as they march toward writing articles of impeachment.
He said he shared his notes with the state department, which would not provide them to the committee, in line with its refusal to comply with a subpoena from impeachment investigators demanding documents about dealings with Ukraine. Lawmakers are now likely to redouble their efforts to obtain them.
It was the latest instance of a veteran civil servant expanding substantially on the allegations of an intelligence whistle-blower whose anonymous complaint accused Trump of trying to enlist a foreign power to interfere in the 2020 election on his behalf. That issue is at the heart of the impeachment inquiry.
Taylor un-spooled the story during a dramatic 40-minute recitation in a secure room in the Capitol, as lawmakers listened silently. He described an awkward West Wing meeting where senior American officials brought competing agendas, leaving Ukrainian officials confused; a directive by a top diplomat to bar the transcribing or monitoring of a June phone call between US officials and the Ukrainian President; and Taylor's own growing sense of alarm as he realised that state department diplomats were being sidelined.
In a statement issued on Tuesday evening, Stephanie Grisham, the White House press secretary, called the impeachment inquiry "a coordinated smear campaign from far-Left lawmakers and radical unelected bureaucrats waging war on the Constitution", adding that Trump "has done nothing wrong".
It was a striking description of Taylor, a West Point graduate with a nearly 50-year career as a diplomat, and the other officials who have testified to fill out the picture of the President's conduct.
In his opening statement obtained by The New York Times, Taylor described Rudolph W. Giuliani, the President's personal lawyer, at the centre of what he called an "irregular policy channel" that operated outside of — and at odds with — normal American policy making. He called the situation "a rancorous story about whistle-blowers, Giuliani, side channels, quid pro quos, corruption and interference in elections".
When he objected to Trump's efforts to tie security aid and a White House meeting to the investigations, Taylor said Gordon D. Sondland, the US ambassador to the EU and a Trump campaign donor, told him there was no quid pro quo.