Distance grows between Boris, Trump
Not so special relationship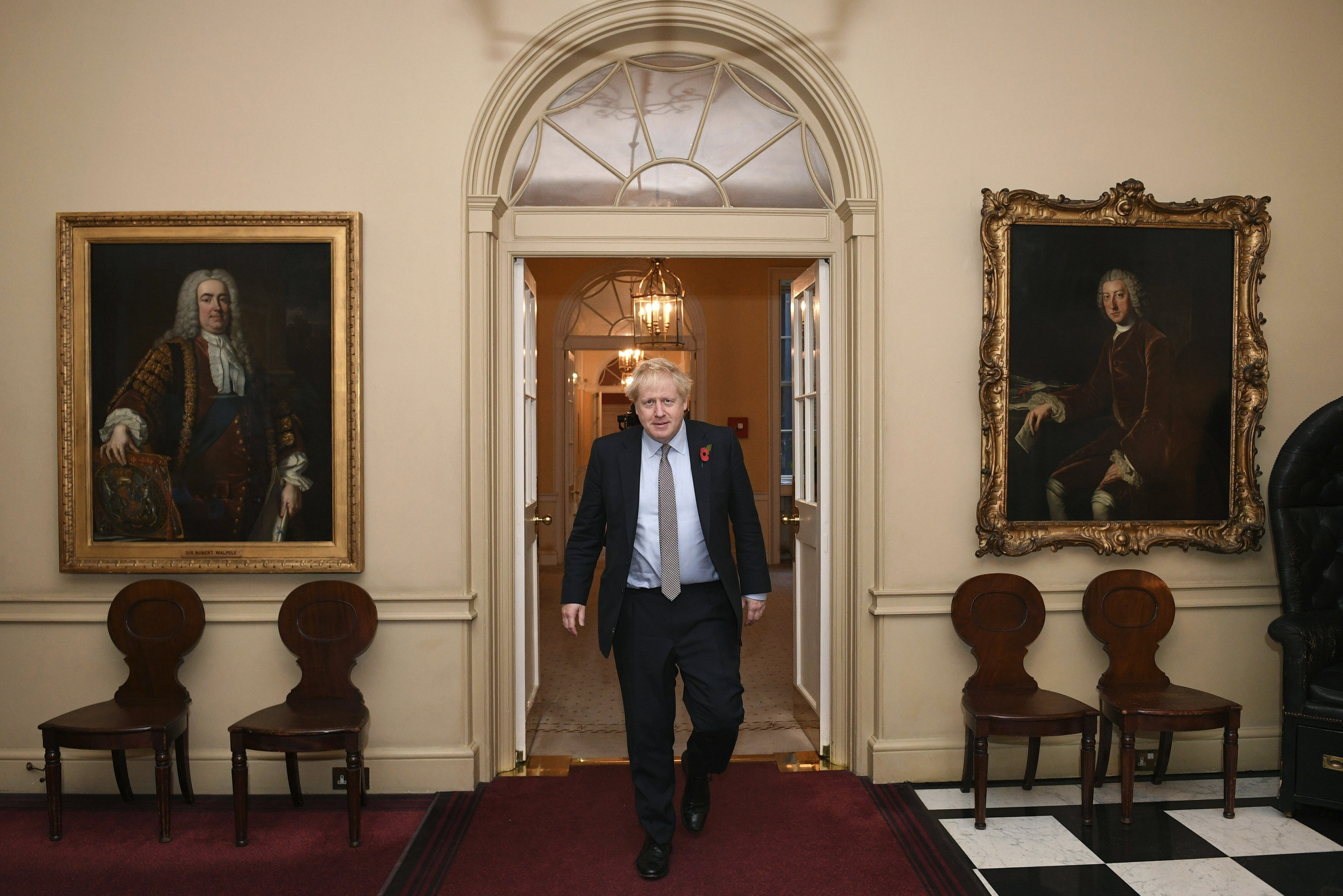 Boris Johnson walks to leave 10 Downing Street on route to Buckingham Palace ahead of an audience with Queen Elizabeth II in London, November 6, 2019
AP
---
London
|
Published 07.11.19, 08:26 PM
|
---
Prime Minister Boris Johnson of Britain spoke with President Trump by phone on Tuesday, and to judge by the duelling summaries of the call provided by the White House and 10 Downing Street, Johnson and Trump were involved in two completely different conversations.
The White House said the two leaders pledged to negotiate "a robust bilateral free trade agreement once the UK leaves the EU". Downing Street said nothing about a deal, noting instead that Johnson urged Trump to lift American tariffs on Scotch whisky.
Such divergent accounts of a leader-to-leader call are not unheard-of, but the timing of this one, on the eve of Britain's general election campaign, was telling. It shows just how much of a liability Trump has become for Johnson. Once, the Prime Minister talked up the benefits of having a close friend in the White House; now he is distancing himself from a figure who is radioactive to many Britons.
Trump was only one of a multitude of headaches for Johnson on Wednesday, as he kicked off his campaign in an election that will serve as a referendum on his Brexit policy — and was already shaping up as one of the most unpredictable, and consequential, of the post-World War II era in Britain.
While Johnson's Conservative Party leads the opposition Labour Party in the polls, the Prime Minister was hit by the resignation of one of his cabinet ministers in a legal scandal, accusations that his party doctored a TV interview with a Labour leader and questions about why his government was delaying a report on Russian influence in British politics until after the December 12 vote.
Trying to shrug off all the bad news, Johnson rallied supporters in the West Midlands with his message that only a vote for the Conservatives guarantees that Britain will leave the EU.
Elsewhere in the Midlands, the Labour leader, Jeremy Corbyn, drove home his counter-message: that Johnson would sell out Britain's state health system to a predatory Trump in a trade deal. "We'll never let Donald Trump get his hands on our National Health Service," he thundered.
Corbyn painted a dystopian picture of a Tory-led Britain that would mimic Trump's America. "They'll slash food standards to match the US," he said, referring darkly to rat hairs in paprika and maggots in orange juice, "and they'll put chlorinated chicken on our supermarket shelves".
Corbyn is hardly the first European politician to tap into anti-American sentiment to appeal to voters. But he has a rare opportunity with Trump, who has charted an unapologetically "America First" foreign policy and speaks effusively about his friendship with Johnson.
"Corbyn is trying to ensure that anything Trump says will be bad for Johnson — and history suggests he's not great at shutting up," said Anand Menon, a professor of politics at King's College in London.
The Labour Party will do its best to surgically attach the two men over the next five weeks.
On Tuesday, the party released a new advertisement showing Johnson in front of a blue bus emblazoned with a banner that said, "We'll send Trump £500m a week. Let's fund US drug firms, not our NHS."